Thumbnail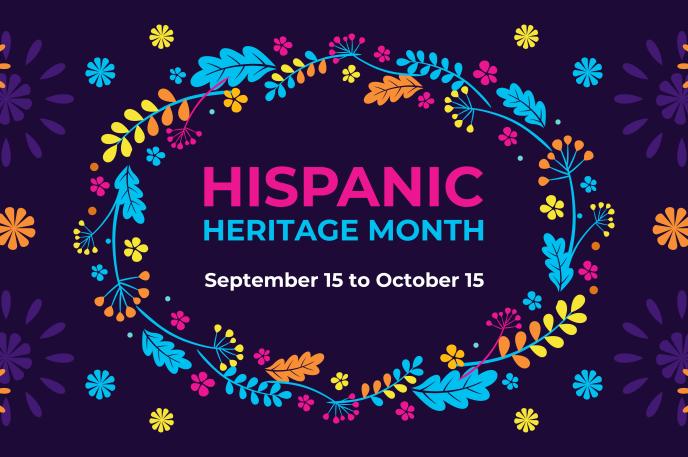 Celebrate Hispanic Heritage with Charlotte Mecklenburg Library
September 13, 2023
This blog was updated September 5, 2023 to reflect current Census data.
This blog was written by Darrell Anderson, marketing and communications specialist for Charlotte Mecklenburg Library.
Did you know that Hispanic Americans make up the largest immigrant group in the United States? In Mecklenburg County, an estimated 14% of the population, or 157,118 residents, is Hispanic.
Each year, from September 15 to October 15, Charlotte Mecklenburg Library joins in the national celebration of Hispanic Heritage Month, but we believe in celebrating el ritmo (the rhythm) of Hispanic culture yearlong! We honor the contributions of American citizens from Mexico, Central and South America, and the Caribbean, according to the Library of Congress' official website. Need resources or looking for ways to celebrate Hispanic culture and the Latinx community? We provide a few resources below.
Curious to learn about the rich, cultural presence and contributions of Hispanic people in the Queen City? Click here to read Con A de Arte: A history of Hispanic Presence in Charlotte which takes a closer look our culturally rich neighbors.
Looking for a great book that explores Hispanic culture? Click here to dive into curated book lists that cover topics for children, teens and adults – including detective and mystery fiction, Young Adult (YA) books with Latinx Voices and other Spanish-English bilingual reads.
In collaboration with Cine Casual (www.cinecasual.com), a Charlotte-based site that specializes in Ibero-American cinema, you can find a curated a list of books and films that tell the struggles of being Hispanic/Latinx in the United States, while also highlighting and celebrating the pride and accomplishments of the community.
As always, you can explore our calendar of events to see what programs and activities are coming up in celebration of National Hispanic Heritage Month. 
Looking for events around town? Check out the Latin American Coalition's 33nd Festival Latinoamericano on September 23, 2023 in Charlotte's east side and the 11th annual Hola Charlotte Festival hosted by Norsan Media in Uptown Charlotte on October 7, 2023.
We look forward to celebrating with you this month. Visit cmlibrary.org for more events, news and updates.
--
 Este blog se actualizó el 5 de septiembre de 2023 para reflejar los datos actuales del censo.
Este blog fue escrito por Darrell Anderson, especialista en marketing y comunicaciones de la biblioteca Charlotte Mecklenburg.
¿Sabía que los hispanoamericanos conforman el grupo de inmigrantes más grande de los EE. UU.? En el condado de Mecklenburg, se calcula que un 14 % de la población, es decir, 157,118 residentes, son hispanos.
Cada año, desde el 15 de septiembre hasta el 15 de octubre, la biblioteca Charlotte Mecklenburg se une a la celebración nacional del Mes de la Herencia Hispana, pero ¡creemos en celebrar el ritmo de la cultura hispana todo el año! Rendimos homenaje a los aportes de ciudadanos americanos de México, América Central, América del Sur y el Caribe, según se indica en el sitio web oficial de la Biblioteca del Congreso. ¿Necesita recursos o busca maneras de celebrar la cultura hispana y la comunidad latina? A continuación, encontrará algunos recursos.
¿Siente curiosidad por aprender acerca de la rica presencia cultural y los aportes de los hispanos en Queen City? Haga clic aquí para leer Con A de Arte: A history of Hispanic Presence in Charlotte (Con A de Arte: la historia de la presencia hispana en Charlotte) que analiza en detalle a nuestros vecinos rebosantes de cultura.
¿Busca un buen libro para descubrir la cultura hispana? Haga clic aquí para descubrir listas de libros seleccionados que cubren temas para niños, adolescentes y adultos, incluso ficción detectivesca y de misterio, libros para jóvenes adultos con voces latinas y otras lecturas bilingües en español y en inglés.
En colaboración con Cine Casual (www.cinecasual.com), un sitio con sede en Charlotte que se especializa en cine iberoamericano, podrá encontrar una lista de libros y películas seleccionados que detallan las dificultades de ser hispano o latino en los Estados Unidos, al mismo tiempo que destaca y celebra el orgullo y los logros de la comunidad.
Como siempre, puede explorar nuestro calendario de eventos para ver qué programas y actividades habrá para celebrar el Mes Nacional de la Herencia Hispana. 
¿En busca de eventos en la ciudad? Visite el 33.º Festival Latinoamericano de la Coalición Latinoamericana el 23 de septiembre de 2023 en el área este de Charlotte y el 11.º Hola Charlotte Festival anual organizado por Norsan Media en Uptown Charlotte el 7 de octubre de 2023.
Esperamos celebrar este mes juntos. Visite cmlibrary.org para descubrir más eventos, novedades y actualizaciones.
​