Outreach is for everyone!
Charlotte Mecklenburg Library's services extend beyond our physical locations. We are committed to providing all community members access to our staff, resources, and services. Our goal is to provide services to some of the highest need and under-served populations in our community. Whether a person is homebound, in senior housing, within correctional facilities, living with disabilities, living in transition, or new Americans, Outreach Services brings the Library experience and resources to the community.
 
Community Read
Contact: Meryle Leonard
Phone: 704-416-0558
Contact Outreach Services
 
Each year, Charlotte Mecklenburg Library hosts a big, exciting, community-wide book club known as Community Read. Everyone in the community can participate: read a book, share perspectives, attend a program, engage on social media and build a stronger community together. Join the conversations,  #communityread. 
 
Connections that Count/Conexiones que Cuentan
Contact: Veronica Corral
Phone: 704-416-0557
Contact Outreach Services/Contacto Servicios de Alcance
 
Locations/Ubicacións: Independence Regional, Cornelius, Scaleybark, Sugar Creek and Steele Creek
To address school readiness of Spanish speaking children, the Library has implemented Connections that Count. Our mission is to prepare children ages 0-5 to enter school. We provide literacy training for families, encouraging the formation of "neighborhood teachers" for the children of their communities. The programs are conducted in Spanish, but all are welcome to attend. Connections that Count is free of charge. There is no prior registration required for participation.
 
Día
Contact: Meryle A. Leonard
Phone: 704-416-0558
Contact Outreach Services/Contacto Servicios de Alcance
 
Día de los Niños, Día de los Libros is a very successful event that Charlotte Mecklenburg Library has celebrated since 1998. The Library has promoted Día state-wide with Pat Mora, author and founder of the national event. This celebration has experienced great growth and expansion. It began as a storytelling celebration, and today, it is an impactful community cultural celebration. This is a wonderful, low cost way for children and families to celebrate.
 
Latino Outreach Services
Contact: Irania Patterson
Phone: 704-416-0557
Contact Outreach Services/Contacto Servicios de Alcance
 
The Library offers specialized programs for Spanish speaking adults. These programs include activities at the Shamrock International Senior Center, Spanish Language classes, ESL, the annual celebration of "Con A de Arte" and book club meetings at a local jail.
Programa para los adultos en español CMLibrary ofrece programas especializados para adultos en español. Estos programs incluyen;actividades con los señores de la tecera edad en el Shamrock International senior Center, clases de espanol, ESL, la celebración anual del festival "Con A de Arte" y club de lectores en la cárcel local.
 
Community Bookshelf
Contact:  Jasmine McNeil
Phone: 704-416-0560
Contact Outreach Services
 
The Community Bookshelf is a program designed to provide literacy enriched areas in community centers for children and youth. This initiative includes community awareness, book distribution and opportunities for families to strengthen their literacy skills together. We place free bookshelves in high traffic communities with little resources. Children are able to take home and keep a book that they find on the community bookshelf, to help start or build an at home library.
Our Community Bookshelves are located at the following locations below: 
International House (1817 Central Ave. #215)
Atrium Rehabilitation Pediatrics Speech Therapy (427 N. Wendover Rd.)
Charlotte Family Housing Plaza Place ( 2410 The Plaza)
Charlotte Family Housing-St. Johns Baptist Church (300 Hawthorne Lane)
The Relatives On Ramp (2219 Freedom Dr.)
Safe Alliance (2 Locations) (601 E. 5th Street Ste 400) 
 
Reading In Color
Contact: Jasmine McNeil
Phone: 704-416-0560
Contact Outreach Services
 
Reading in Color is a weekly Outreach program. Reading in color focuses on promoting diverse characters in books and bridging the gap between avid readers and reluctant readers. This program is a partnership between The Charlotte Mecklenburg Library, Charlotte Mecklenburg Schools (CMS), and Communities in Schools (CIS). Through this program students gain/enhance literacy skills and improve their social and emotional skills. For more information on this program, please contact Jasmine McNeil. 
 
Library on Call
To access Library on Call: 980-331-7700
Contact: Emily Little
Phone: 704-416-4623
Contact Outreach Services
 
Library on Call is an outreach service of Charlotte Mecklenburg Library where customers can call a dedicated number to hear pre-recorded, frequently updated messages tailored for our senior audience. Selections include short stories, poems, chapters from classic books, jokes and more. At least one option will be offered in Spanish. Selections range in time from one to 30 minutes long. They can be heard any time, day or night, seven days a week. To hear a story for yourself or play one for someone else, just dial (980) 331-7700. You'll hear an automated menu. Make your selection, sit back, and enjoy.
 
Library @ Home
Contact: Pamela McCarter
Phone: 704-416-4662
Contact Outreach Services
 
Library @ Home is a weekly children's story times aired on Public Access Channel 21, in English and in Spanish. You can find us on Wednesdays at 9:30 - 10:00am & 4:30 – 5:00pm in English and 11:00 - 11:30am & 5:30 – 6:00pm in Spanish.
How can you watch us?
Spectrum: Charlotte / Mecklenburg County         21
Spectrum: Cornelius, Davidson, Huntersville        4
AT&T: Charlotte / Mecklenburg County                  99
Search for "Access21" when using the Streaming Boxes below:
Roku
Apple TV
Amazon Fire TV
 
Senior Outreach Services
Contact: Amrita Patel
Phone: 704-416-4621
Contact Outreach Services
 
Senior Outreach Services visits adult day cares, senior citizen nutrition programs, nursing homes, independent senior housing communities and jails to deliver literacy, workforce development and lifelong learning activities. Offerings include: memory kits that can be loaned to senior center activity directors and engaging workshops for center director and participants on Library services and resources.
 
Services to Correctional Facilities
Contact: Pamela McCarter
Phone: 704-416-4662
Contact Outreach Services
 
Outreach Services meets the Library needs of residents of correctional facilities in Charlotte and Mecklenburg County, in collaboration with Mecklenburg County Sheriff's Department.
 
Homebound Services/Library by Mail
The Library by Mail service is no longer accepting new homebound patrons. Current Library by Mail customers will still be able to use the program and there are options available for digital resources.
Questions?
Contact: Meryle Leonard, Assistant Director-Outreach 
Phone: 704-416-0558
Contact Outreach Services
Thumbnail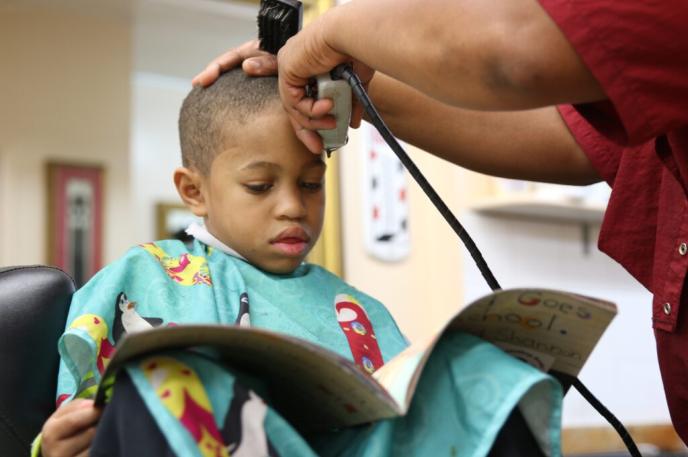 Barbershop Books
This summer, four library systems launched new initiatives focused on expanding reading opportunities for children with the help of a vital community hub, the barbershop. The Barbershop Books program model centers the barber as a trusted messenger for Black boys that enter their space. 
Learn More