Thumbnail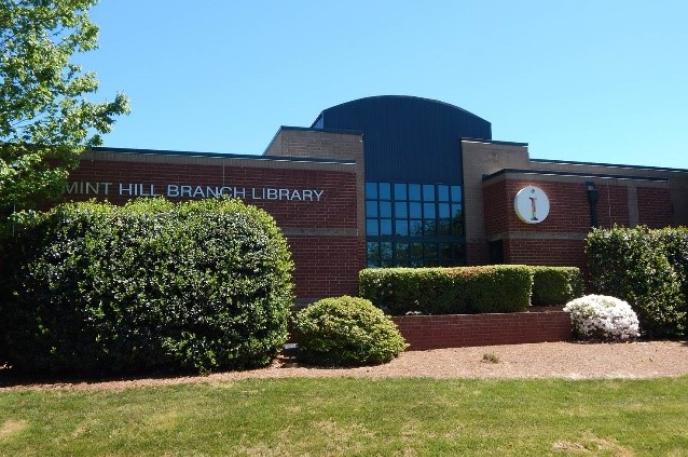 Get to know the Mint Hill Branch community
September 21, 2022
This blog post was written by Sally Deason, Librarian for Charlotte Mecklenburg Library.
The Mint Hill Branch Library is in the heart of Mint Hill and has been the home away from home for Mint Hill residents for over 60 years.  As the first town founded in Mecklenburg County, Mint Hill took shape in 1750 and built a solid community foundation. Mint Hill's growing population now boasts over 26,000 diverse residents. Once a hub of farming and dairy production, Mint Hill is still surrounded by farmland and heavily wooded neighborhoods. It offers homegrown entertainment in a quiet community.  
Part of the Charlotte metropolitan, the hopping suburb of Mint Hill is settled just outside of the city in the southeastern portion of Mecklenburg County.  Popular town activities include the annual Mint Hill Madness festival, Scarecrow contest, weekly farmers market, Christmas parade and more.  The Mint Hill Chamber of Commerce supports new businesses and promotes all commerce in the area as well as highlights nonprofit organizations. The Town Hall sits just down the road from the library in a recently constructed facility. Adjacent to that, is the new police station. All of these are within walking distance to neighborhoods, banks, shops, restaurants (including the Carolina Creamery- yum) and your local library! Don't forget to dig up some old-time fun with the Mint Hill Historical Society.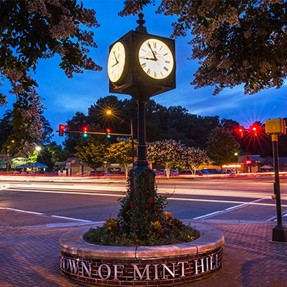 Just outside of the main intersection of Lawyers Road and Matthews-Mint Hill Rd, you will find several wonderful parks. Both the Mint Hill Park on Wilgrove as well as the Mint Hill Veterans Memorial Parks are maintained by the town of Mint Hill. The new Stevens Creek Nature Preserve is part of the Mecklenburg County Parks and Recreation division. All offer wonderful outdoor options for the family. Further towards Albemarle Road you will find the Simmons YMCA with the New Americans Welcome Center. The closest US Post Office is near the intersection of Lawyers Road and Wilson Grove Road, but there is a blue mailbox in front of the Mint Hill Barber Shop.  
New to Charlotte? Explore other neighborhoods through the Charlotte Mecklenburg Library blog and WelcomeCLT, a digital space created for newcomers to Charlotte.
Resources:
Mint Hill Branch Library | 6840 Matthews-Mint Hill Rd, Mint Hill, NC 28227 | 704-416-5200
Chamber of Commerce | 7900 Matthews-Mint Hill Rd bldg 2 ste b, Mint Hill, NC 28227 |704-573-8282
Mint Hill Parks & Recreation | 4430 Mint Hill Village Lane, Mint Hill, NC 28227 | 704-545-9726
Mint Hill Police Department | 7151 Matthews-Mint Hill Rd. Mint Hill, NC 28227 | 704-545-1085
Mint Hill Women's Club | MHWC at 14601 Barney Dr, Mint Hill NC 28227
Mint Hill Historical Society | 7601 Matthews-Mint Hill Rd, Mint Hill, NC 28227 | 704-583-0726
Servant's Heart | N 9229, Lawyers Rd, Mint Hill, NC 28227 | 704-680-6533
Simmons YMCA | 6824 Democracy Dr, Charlotte, NC 28212 | 704-716-6600
Town of Mint Hill | 4430 Mint Hill Village Lane, Mint Hill, NC 28227 | 704-545-9726