Users can search for items while logged into their account with the updated Interlibrary Loan service!
Image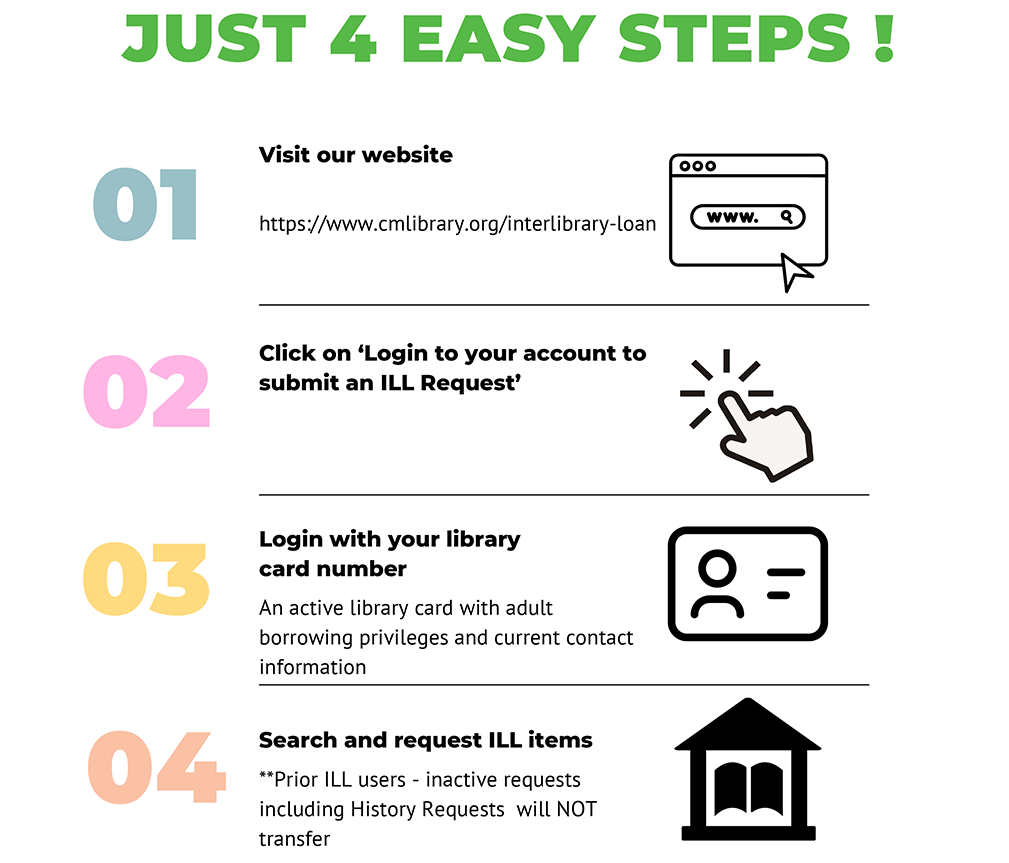 If we don't have it, another library might! 
 
The Interlibrary Loan (ILL) service allows libraries to borrow materials that they do not own, such as books or articles, from other libraries throughout the country. Please keep in mind that many libraries do not loan recently published, high-demand, rare, or fragile materials. 
Eligibility
You must have a current library card with adult borrowing privileges to request an ILL. You cannot have fees over $10 on your library account.
It usually takes between 2 to 6 weeks for a requested item to arrive, and you can have no more than 5 active requests at a time. A request is considered active from the time it is submitted to the time it is returned to the lending library.
Fees for Interlibrary Loan Requests
Due to increasing postage and processing costs, Charlotte Mecklenburg Library charges a small fee for the Interlibrary Loan service. This enables us to continue providing this valuable service to patrons.
 
Interlibrary Loan Books 
$2.00 fee for each Interlibrary Loan item (additional fees may apply from the Lenders) 
 
Interlibrary Loan Article Requests
$0.00 or Free, delivered electronically, additional fees may apply from Lenders
Interlibrary Loan Policies
Payment must be made at time of pick-up.

If items are not picked up, customers will still be assessed the fee.

If the request cannot be filled, the fee will not be charged.

Items will be held for seven days at the circulation desk at the pickup location.

Items are checked out for three weeks with one possible renewal for a total of six weeks.

You may return items to any branch. You MUST return items inside the branch. Do not use the book drop.

Damaged Items:  If a customer returns a damaged interlibrary loan item(s), their library card account will be assessed the full replacement cost of the item as determined by the lending facility.

$100.00 Lost Item Fee — The default price is $100.00. Please speak with ILL staff about lost items as we will need to discuss the matter. Many times the cost will be lower, however it may be higher. 

Amount Willing to Pay is required on the request form — 95% of items received are free, however if the owning library charges us, we must pass that to you. You should fill in the maximum fee you are willing to pay the owning library. If you do not want to pay a borrowing charge, put $0. The $2.00 fee CML charges will be assessed in any case 
 
Difficult to Obtain
Genealogical material

Material not published in the U.S. or not held by U.S. libraries

Very old or rare books

Very expensive books

Reference material
 
Items We Cannot Request
Audio books

Videotapes

DVD's

Compact Discs

Microfilm
Who do I contact if I have problems with or questions about interlibrary loan?
Interlibrary Loan office contact us.