Life Happens, Fines Don't.
That's Charlotte Mecklenburg Library's policy as of July 1, 2021. With this change, the Library is also offering a one time amnesty to all Library cardholders. This means on July 1, 2021,  all cardholders will see all fines and fees removed from their accounts and return to a $0.00 balance.
The elimination of late or overdue fines policy is part of the Library's Fiscal Year 2022 budget.  See the borrower policy page for more information.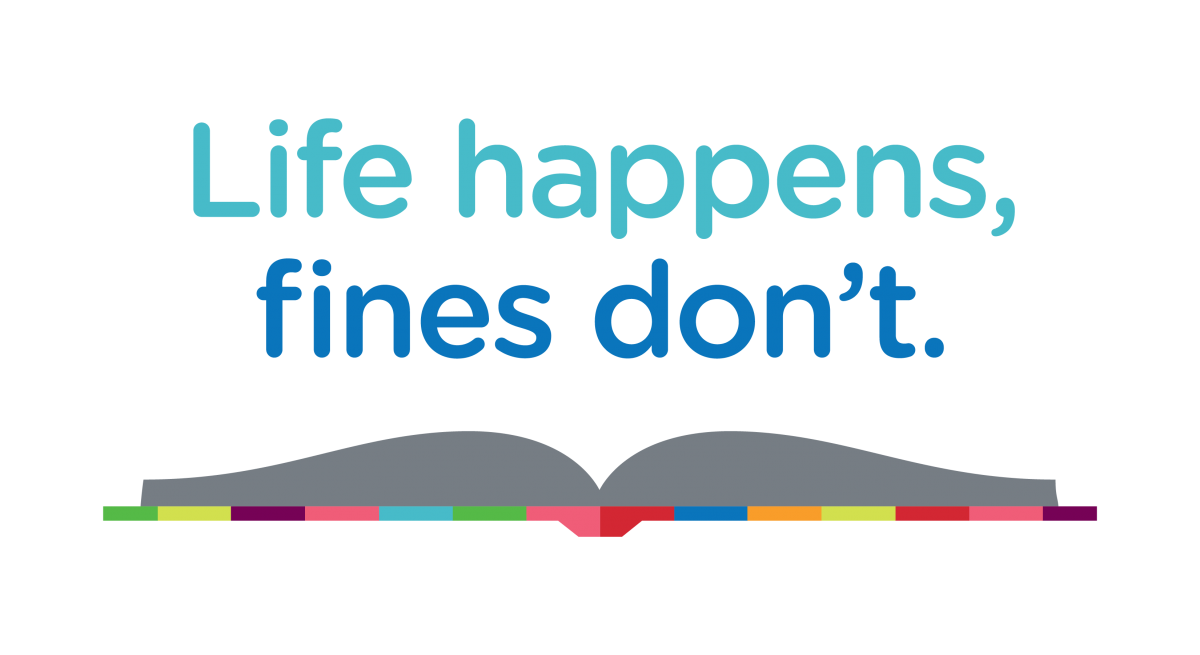 Why did the Library decide to eliminate late or overdue fines?
Currently, more than 150,000 cardholders who carry a balance of $10.00 or more are suspended from using Library resources, and more than 40,000 of these accounts were blocked in just the last three years.  Libraries are a place that offer equitable access to everyone in our community. Late or overdue fines have created barriers that discourage people who cannot pay their fines from using the Library. In eliminating fines, the Library encourages all users to come back to the Library, as well as attract new users to experience our resources, services, programs and offerings.
 
What exactly is a fine?
Fines were charged for late or overdue materials (previously at $0.25 per day, per item).  This fine will no longer be charged.
 
Will the Library still charge fees?
Yes. Fees are different than fines. 
The library will continue to charge fees for InterLibrary Loan materials, non-resident Library cards, photocopies, printing, meeting room rentals and lost items. The library will also continue to charge a replacement fee for severely damaged items. Once a customer's account reaches a $10.00 balance, that account will be suspended until the materials are returned or the fee(s) paid. You can find more information about our fees on the borrower policy page.
 
Wondering if you should return your overdue materials?
Yes. The Library still requests all materials be returned so that they can be shared throughout the system with other Library customers and you could incur a fee for lost materials.
If an item is overdue by 2 weeks (14 days), the borrower will be blocked from checking out materials until that item is returned.
An item is automatically declared lost by the Library if it has been overdue 30 days and at that time a replacement charge will be placed on the borrower's account. The cost is usually the retail cost at the time of purchase of the original item. If the item is older or the original cost is unknown, a default cost is applied.
Lost charges will be waived upon return of the material to any Library location, as long as they are returned within 12 months
If lost charges have already been paid, the Library will refund lost item payments upon presentation of the item within 12 months of payment. Thereafter, no refunds are made.
 
If there are no late/overdue fines, won't this make my wait time longer for books or materials?
Many library systems that have gone fine free report few negative effects on the rate of material returns. Other libraries have experienced an increase in returns after the adoption of fine free policies. When customers have late fines, they are less likely to visit the library again. The public library model depends on trusting relationships between customers and valued community resources. As always, the Library will monitor wait times and holds-to-copy ratios and make adjustments, as necessary.
 
Share your story with us
Have you been away from the Library because of late or overdue fines, or because your account was blocked, and now you full access again? We'd love to hear from you. Click here to share your story
 
You say you don't mind paying your late or overdue fines?
If you would like to pay your late fines, even though you do not have to, please show your support by making an unrestricted donation to the Charlotte Mecklenburg Library Foundation.
 
The mission of Charlotte Mecklenburg Library is to improve lives and build a stronger community. By going fine free, we continue to fulfill our promise to our community.  
 

La vida sucede, las multas no.
Esa es la política de eliminación de multas de la biblioteca Charlotte Mecklenburg a partir del 1 de julio de 2021. Con este cambio, la biblioteca también ofrece una amnistía por única vez a todos los miembros de la biblioteca. Esto significa que, el 1 de julio de 2021, se eliminarán las multas y tarifas aplicadas a las cuentas de todos los miembros y sus saldos regresarán a $0.00.
La política de eliminación de multas atrasadas o vencidas es parte del presupuesto para el año fiscal 2022 de la biblioteca.  Visite la página de políticas del usuario para obtener más información.
¿Por qué la biblioteca decidió eliminar las multas atrasadas o vencidas?
Actualmente, más de 150,000 miembros que tienen un balance de $10.00 o superior están suspendidos y no pueden usar los recursos de la biblioteca, y más de 40,000 de esas cuentas fueron bloqueadas en los últimos tres años.  Las bibliotecas son lugares que ofrecen acceso equitativo para todas las personas de nuestra comunidad. Las multas atrasadas o vencidas han creado barreras que disuaden a las personas que no pueden pagar las multas de usar la biblioteca. Al eliminar las multas, la biblioteca invita a todos sus usuarios a regresar y también atrae a nuevos usuarios para que experimenten nuestros recursos, servicios, programas y ofertas.
 
¿Qué es una multa exactamente?
Se cobraban multas por artículos atrasados o vencidos (el cargo solía ser de $0.25 por día, por artículo).  Esta multa ya no se cobrará más.
 
¿La biblioteca seguirá cobrando tarifas?
Sí. Las tarifas son diferentes a las multas.
La biblioteca seguirá cobrando tarifas por los préstamos interbibliotecarios, las tarjetas de biblioteca para no residentes, las fotocopias, las impresiones, el alquiler de la sala de reuniones y los artículos perdidos. La biblioteca también seguirá cobrando una tarifa por reemplazo para los artículos que presenten daños graves. Cuando la cuenta de un usuario acumule un saldo de $10.00, será suspendida hasta que se devuelvan los artículos o se paguen las tarifas. Encontrará más información sobre nuestras tarifas en la página de políticas del usuario.
 
¿Quiere saber si debería devolver sus artículos vencidos?
Sí. La biblioteca solicita que se devuelvan todos los artículos para que puedan compartirse con otros usuarios de la biblioteca. Además, se le podría cobrar una tarifa por artículos perdidos.
Si un artículo tiene un atraso de dos semanas (14 días), al usuario no se le permite retirar más artículos hasta que devuelva el artículo atrasado.
La biblioteca declara automáticamente perdido un artículo que no se haya devuelto después de 30 días de la fecha de vencimiento y se aplica un cargo por reemplazo en la cuenta del usuario. El costo suele ser el precio minorista que tenía el artículo original en el momento de su compra. Si el artículo es más antiguo o no se conoce su costo original, se aplica un costo estándar.
Los cargos por artículos perdidos se anulan luego de la devolución del artículo a cualquiera de las sucursales de la biblioteca si se devuelve dentro de los 12 meses.
Si ya se han pagado los cargos por artículo perdido, la biblioteca reembolsará los pagos por artículo perdido luego de la devolución del artículo dentro de los 12 meses siguientes a la fecha de pago. Pasado ese tiempo, no se harán reembolsos.
 
Si no cobran multas por atraso o vencimiento, ¿no aumentará el tiempo que debo esperar para retirar libros o artículos?
Muchos de los sistemas de bibliotecas que han eliminado las multas reportan pocos efectos negativos en las tasas de devolución de artículos. Otras bibliotecas han experimentado un aumento de devoluciones a partir de la implementación de la política de eliminación de multas. Cuando los clientes tienen multas atrasadas, es menos probable que regresen a visitar la biblioteca. El modelo de la biblioteca pública se basa en las relaciones de confianza establecidas entre los usuarios y los valiosos recursos comunitarios. Como siempre, la biblioteca monitoreará los tiempos de espera y la proporción de reservas y adquisiciones, y hará los ajustes necesarios.
 
Comparta su historia con nosotros
¿Ha dejado de venir a la biblioteca porque tenía multas atrasadas o vencidas, o porque su cuenta había sido bloqueada y ahora ha recuperado el acceso completo? Nos gustaría oír sus comentarios. HAGA CLIC AQUÍ PARA COMPARTIR SU HISTORIA
 
¿Dice que no le importa pagar sus multas atrasadas o vencidas?
Si quiere pagar sus multas atrasadas, aunque no es necesario que lo haga, muéstrenos su apoyo haciendo una donación libre a la Charlotte Mecklenburg Library Foundation.
La misión de la biblioteca Charlotte Mecklenburg es mejorar vidas y construir una comunidad más sólida. Al eliminar las multas, seguimos cumpliendo con nuestra promesa a la comunidad.