Charlotte Mecklenburg Library announces the return of Community Read in March 2022 with a focus on creating community dialogue around themes of gentrification and urban renewal. Community Read is the Library's month-long effort to have the community read (or listen) to books of current and relevant topics and participate in discussions, book clubs and events hosted by the Library and community partners. The signature title, Tomorrow's Bread by Anna Jean Mayhew, includes a scheduled appearance by the author on March 23, 2022. Adults are encouraged to read and discuss the main title, and the Library selected companion titles for children and teens including:
Windows by Julia Denos (children)
The Blue House by Phoebe Wahl (children)
Take Back the Block by Chrystal D. Giles (middle grade)
The Epic Fail of Arturo Zamora by Pablo Cartaya (middle grade)
Pride by Ibi Aanu Zoboi (teen)
Everyone in the community can participate: read a book, share perspectives, attend a program, engage on social media and build a stronger community together.  #communityread2022
ADDITIONAL SUPPORT FROM   
Our Community Spokespeople
New for this year, the Library is excited to welcome spokespeople to help amplify the significance of the Community Read program. Marcellus Turner, CEO and Chief Librarian for Charlotte Mecklenburg Library, along with Charlotte Mayor, Vi Lyles will serve as liaisons to lead, foster and encourage discourse within the community.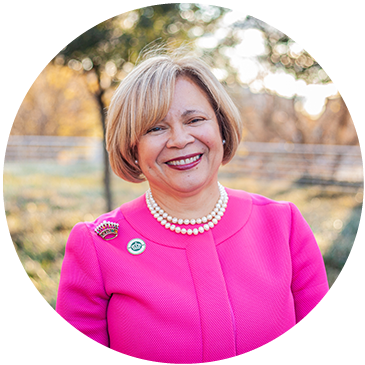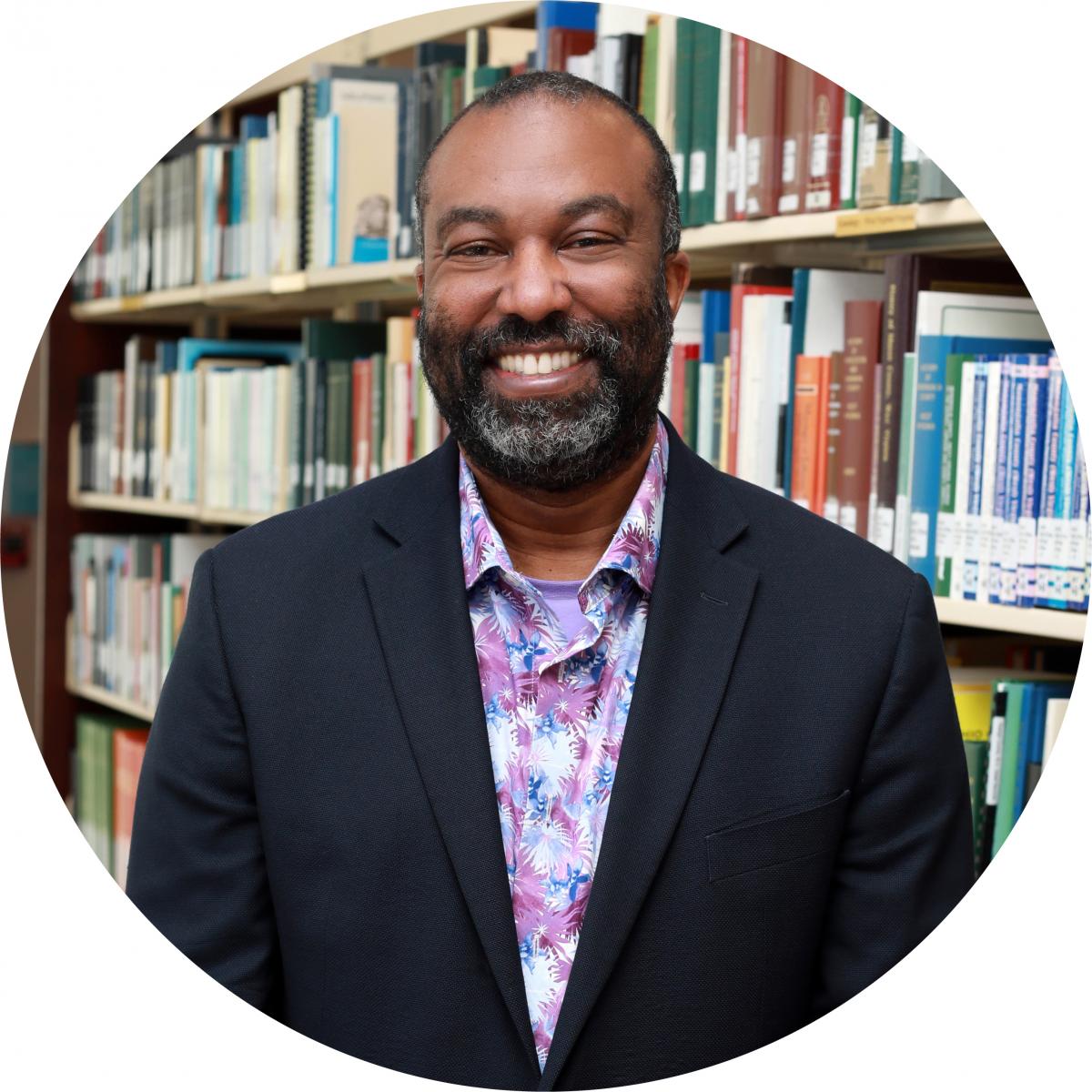 (left to right) Mayor Vi Lyles and Marcellus "MT" Turner
Our Community Partners
Levine Museum of the New South · DreamKey Partners · YWCA Central Carolinas · Communities In Schools · Grooming Greatness Foundation · City of Charlotte, Housing & Neighborhood Services · Community Building Initiative · Charlotte Center City Partners · City of Charlotte/Charlotte Fire Dept. · Queens University of Charlotte · Metrolina Regional Scholars Academy · She Built This City · Hip Hop Smoothies · Community Link · Mecklenburg County Senior Citizen Nutrition Program · Carolina Metro Reds Baseball · OwnHers · Johnson & Wales University Library · Charlotte Lit · First Presbyterian Charlotte
Participate in a program
Register for one of our Library and community partner led programs all month long.
Download March Program calendar
Library-led programs and events         Partner-led programs and events
 
Register for the Community Read challenge on Beanstack
Log your reading and activity time using the Beanstack tracker and track your progress. Log in to your existing Beanstack account from Summer Break or create a new one and take the Community Read challenge today.
Take the Community Read Challenge
 
Community Read FAQs
Have questions about Community Read? View our FAQs page.
Be counted!
We hope to engage 100,000 people - 10% of Mecklenburg County! - in Community Read 2022. If your book club, classroom or organization has discussed one of the books or participated as a group in a program, please let us know so we can count you! 
 
If you are interested in becoming a community partner to host events, discussions or events during Community Read 2022, please reach out to Meryle Leonard at maleonard@cmlibrary.org
Selected Titles
See All Community Read 2022 Titles here
ADULTS
In 1961 Charlotte, North Carolina, the predominantly black neighborhood of Brooklyn is a bustling city within a city. Self-contained and vibrant, it has its own restaurants, schools, theaters, churches, and night clubs. There are shotgun shacks and poverty, along with well-maintained houses like the one Loraylee Hawkins shares with her young son, Hawk, her Uncle Ray, and her grandmother, Bibi. Loraylee's love for Archibald Griffin, Hawk's white father and manager of the cafeteria where she works, must be kept secret in the segregated South. Loraylee has heard rumors that the city plans to bulldoze her neighborhood, claiming it's dilapidated and dangerous.
The government promises to provide new housing and relocate businesses. But locals like Pastor Ebenezer Polk, who's facing the demolition of his church, know the value of Brooklyn does not lie in bricks and mortar. Generations have lived, loved, and died here, supporting and strengthening each other.
Yet street by street, longtime residents are being forced out. And Loraylee, searching for a way to keep her family together, will form new alliances--and find an unexpected path that may yet lead her home.
Community Read 2022: "Tomorrow's Bread" Suggested Reading
TEENS
Pride by Ibi Zoboi
Zuri Benitez has pride. Brooklyn pride, family pride, and pride in her Afro-Latino roots. But pride might not be enough to save her rapidly gentrifying neighborhood from becoming unrecognizable. When the wealthy Darcy family moves in across the street, Zuri wants nothing to do with their two teenage sons, even as her older sister, Janae, starts to fall for the charming Ainsley. She especially can't stand the judgmental and arrogant Darius.
Yet as Zuri and Darius are forced to find common ground, their initial dislike shifts into an unexpected understanding. But with four wild sisters pulling her in different directions, cute boy Warren vying for her attention, and college applications hovering on the horizon, Zuri fights to find her place in Bushwick's changing landscape, or lose it all.
In a timely update of Jane Austen's Pride and Prejudice, critically acclaimed author Ibi Zoboi skillfully balances cultural identity, class, and gentrification against the heady magic of first love in her vibrant reimagining of this beloved classic.
Community Read 2022: "Pride" Suggested Reading List
Community Read 2022: Teen Retellings
PRETEENS
Wes Henderson has the best style in sixth grade. That--and hanging out with his crew (his best friends since little-kid days) and playing video games--is what he wants to be thinking about at the start of the school year, not the protests his parents are always dragging him to.
But when a real estate developer makes an offer to buy Kensington Oaks, the neighborhood Wes has lived his whole life, everything changes. The grownups are suppposed to have all the answers, but all they're doing is arguing. Even Wes's best friends are fighting. And some of them may be moving. Wes isn't about to give up the only home he's ever known. Wes has always been good at puzzles, and he knows there has to be a missing piece that will solve this puzzle and save the Oaks. But can he find it . . . before it's too late?
Exploring community, gentrification, justice, and friendship, Take Back the Block introduces an irresistible 6th grader and asks what it means to belong--to a place and a movement--and to fight for what you believe in.
Community Read 2022: "Take Back the Block" Suggested Reading 
Save the restaurant. Save the town. Get the girl. Make Abuela proud. Can thirteen-year-old Arturo Zamora do it all or is he in for a BIG, EPIC FAIL?
For Arturo, summetime in Miami means playing basketball until dark, sipping mango smoothies, and keeping cool under banyan trees. And maybe a few shifts as junior lunchtime dishwasher at Abuela's restaurant. Maybe. But this summer also includes Carmen, a cute poetry enthusiast who moves into Arturo's apartment complex and turns his stomach into a deep fryer. He almost doesn't notice the smarmy land developer who rolls into town and threatens to change it. Arturo refuses to let his family and community go down without a fight, and as he schemes with Carmen, Arturo discovers the power of poetry and protest through untold family stories and the work of Jose Marti.
Community Read 2022: "The Epic Fail of Arturo Zamora" Suggested Reading
CHILDREN
For as long as he can remember, Leo has lived in the blue house with his dad, but lately the neighborhood is changing. People are leaving, houses are being knocked down and shiny new buildings are going up in their place. When Leo and his dad are forced to leave, they aren't happy about it. They howl and rage and dance out their feelings. When the time comes, they leave the blue house behind--there was never any choice, not really--but little by little, they find a way to keep its memory alive in their new home.
Community Read 2022: "The Blue House" Suggested Reading
Windows by Julia Denos
Walking his dog at dusk, one boy catches glimpses of the lives around him in this lovely ode to autumn evenings, exploring your neighborhood, and coming home.
Before your city goes to sleep, you might head out for a walk, your dog at your side as you go out the door and into the almost-night. Anything can happen on such a walk: you might pass a cat, or a friend, or even an early raccoon. And as you go down your street and around the corner, the windows around you light up one by one until you are walking through a maze of paper lanterns, each one granting you a brief, glowing snapshot of your neighbors as families come together and folks settle in for the night. With a setting that feels both specific and universal and a story full of homages to The Snowy Day, Julia Denos and E. B. Goodale have created a singular book — at once about the idea of home and the magic of curiosity, but also about how a sense of safety and belonging is something to which every child is entitled.
Author Visits
Read the books, then meet the authors!
Anna Jean Mayhew, author of Tomorrow's Bread, will visit on March 23, 2022.
Celebrate reading and meet Anna Jean Mayhew, author of Tomorrow's Bread, our Community Read signature title, on March 23, 2022.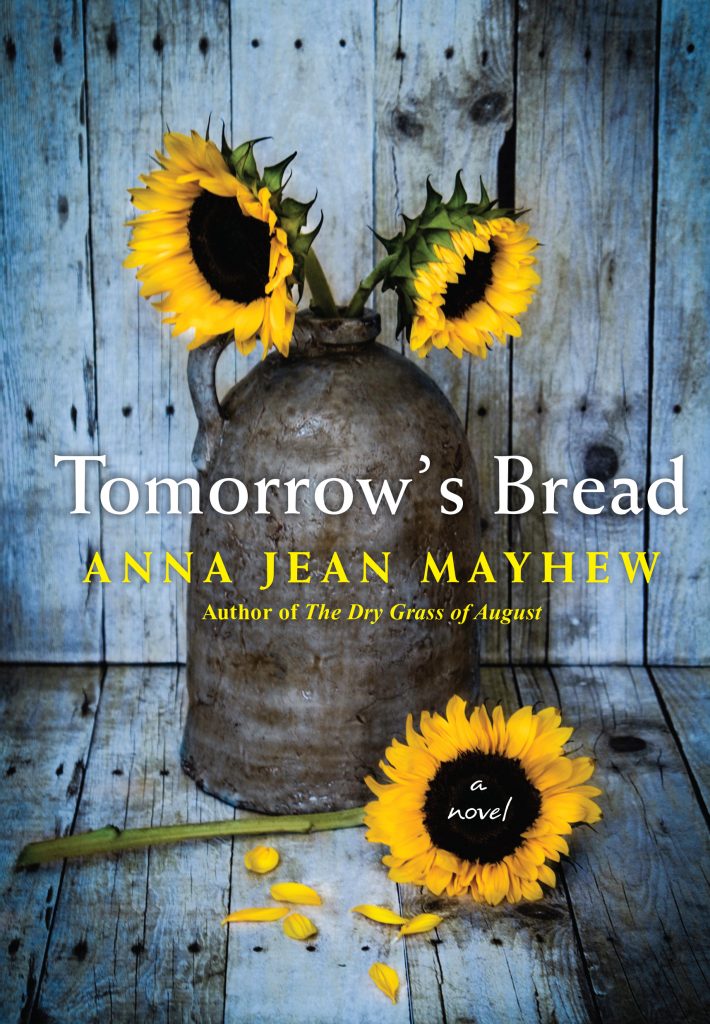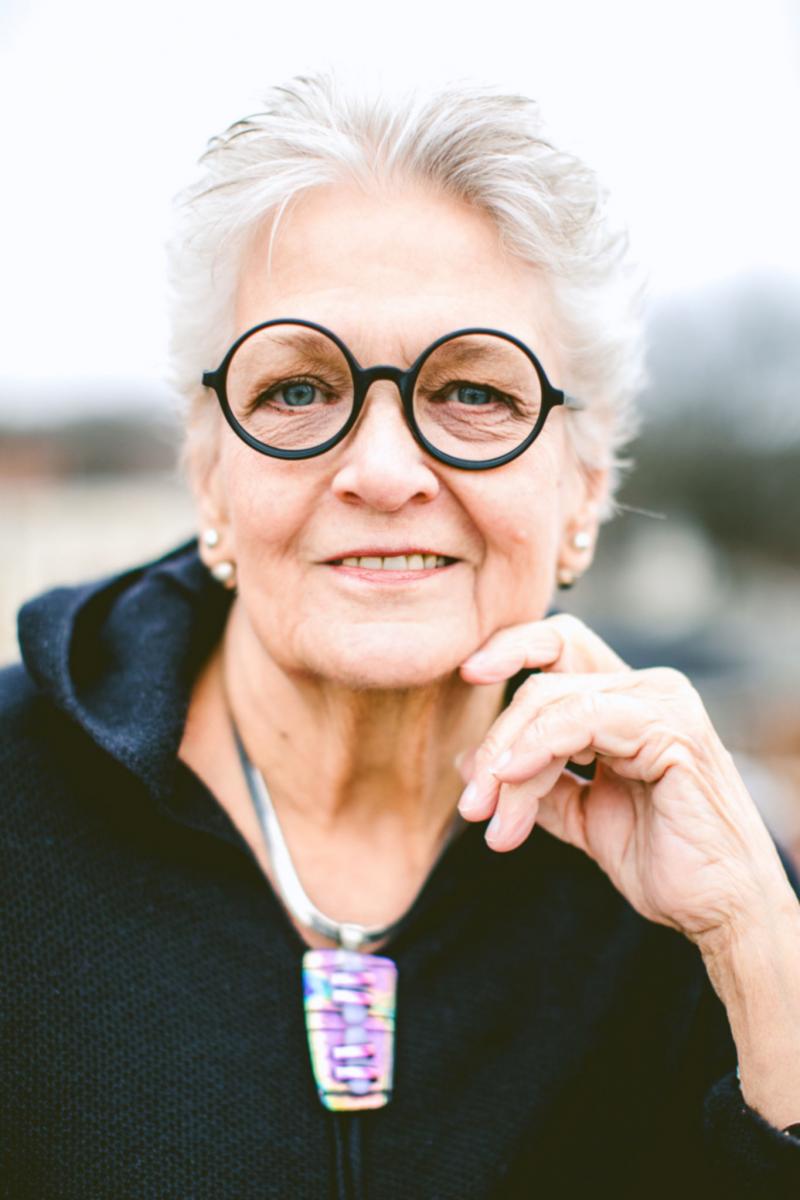 Chrystal D. Giles, author of Take Back the Block, will visit on March 8, 2022.
Celebrate reading and join Chrystal D. Giles, author of the Community Read preteen companion title, Take Back the Block.  Learn about her writing process and inspiration for the critically-acclaimed book. This event will be livestreamed with Q&A from CMS students to Ms. Giles.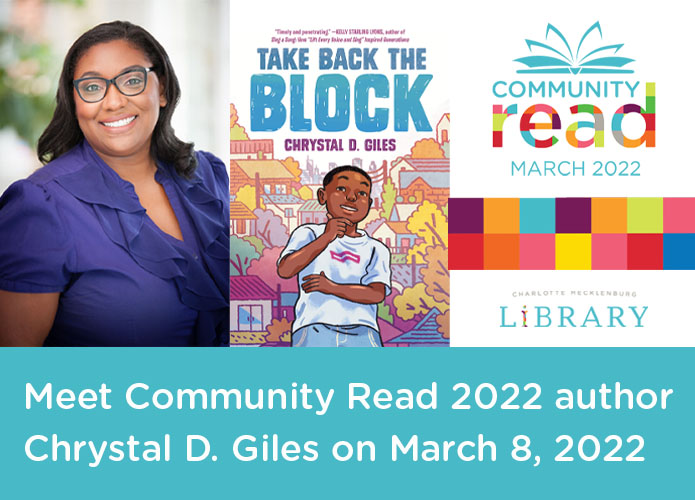 Pablo Cartaya, author of The Epic Fail of Arturo Zamora, will visit on March 16, 2022.
Celebrate reading and join Pablo Cartaya, award-winning author of the Community Read preteen companion title, The Epic Fail of Arturo Zamora.  Learn about his writing process and inspiration for the book.  This event will be livestreamed with Q&A from CMS students to Mr. Cartaya.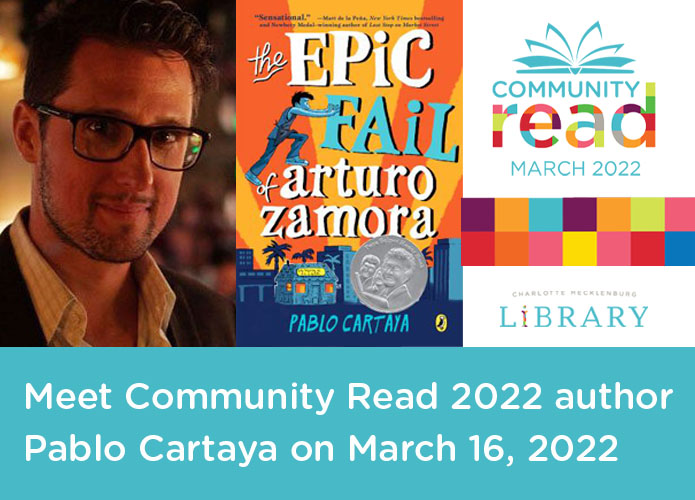 Ibi Zoboi, author of Pride, will visit on March 30, 2022.
Celebrate reading and join Ibi Zoboi, New York Times bestselling author of our Community Read teen companion title, Pride: A Pride & Prejudice Remix. Learn about her writing process and inspiration for the book. This event will be livestreamed with Q&A from CMS students.