Tuesday, October 8th, 2019
We missed you, too!
North County Regional Library is now open and ready for business! Customers and community members will love the incredible upgrades to the building – there is so much to see and do. Here's a run-down of all that is new:
Starting on the third floor of the Library, customers and community members will find a new Teen Loft purposed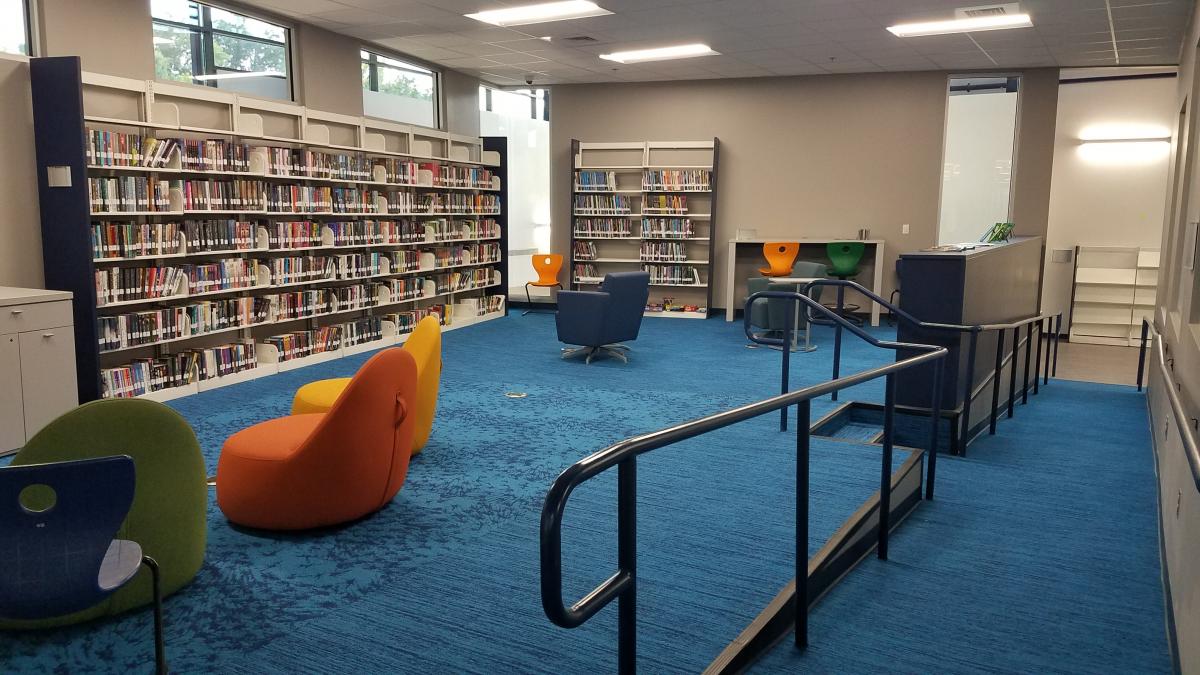 to serve children and teens ages 10-18. The Teen Loft is equipped with young adult fiction, graphic novels, computers, playaways, board games and space just for teens. In addition to the Teen Loft, branch visitors will also find a Calming Room. The Calming Room is a space for anyone who needs a peaceful space such as nursing mothers, those who may experience sensory overload and more.
Perhaps one of the most exciting new spaces on the third floor of North County–and entirely new to the branch—is its makerspace! A makerspace is a place to explore and create with some of the latest emerging technology. The makerspace at North County is equipped with 3D printers, a vinyl cutter, a Carvey (wood cutter), a sound booth with audio recording equipment, virtual reality equipment and has design and editing software available.
Just want to stop by and play with some fun technology? The third floor is also home to the childrens area, which includes a large space for programs.  Upon request, customers and community members can borrow Makey Makey and littleBits kits to help them explore the space further. Makey Makey kits are an electronic invention kit that connect everyday objects to computer programs, while littleBits is composed of electronic building "bits" that snap together that allows anyone to create with technology. The hours of operation for the Makerspace may vary so please contact the branch for information regarding accessibility.
Venturing down to the ground floor, customers and community members will discover an expanded Community Room that can be partitioned into two separate rooms. They will also find a conference room, two study rooms and an additional restroom. When customers enter the Library on the main floor (the building also features a more accessible path to the building entrance), they will find an additional stairwell, a vending café, an outdoor lounge area, the holds and pickups area, and self check-outs. The vending café is equipped with snack and drink machines for customers to enjoy at their leisure.
In addition to all of the wonderful upgrades mentioned above, North County Regional Library also has a new exterior book/materials drop as part of the new traffic flow in the parking lot, an efficient checkout system using radio frequency identification (RFID) and a new automated materials handling unit. Customers and community members will also find a beautiful piece of public art on display. The art, donated by the Arts & Science Council, furthers the ASC mission of "ensuring access to an excellent, relevant, and sustainable cultural community for the Charlotte-Mecklenburg Region."
The entire location has been refurbished and reorganized to fit the needs of a growing community. The Library is open Monday-Thursday from 9 a.m. - 8 p.m.; Fridays and Saturdays from 9 a.m. - 5 p.m.; and Sundays 1 p.m. - 5 p.m. Hours may vary in summer.
New customers are encouraged to sign-up for a Library card on-line or at the branch. Come by and check it out!