Thumbnail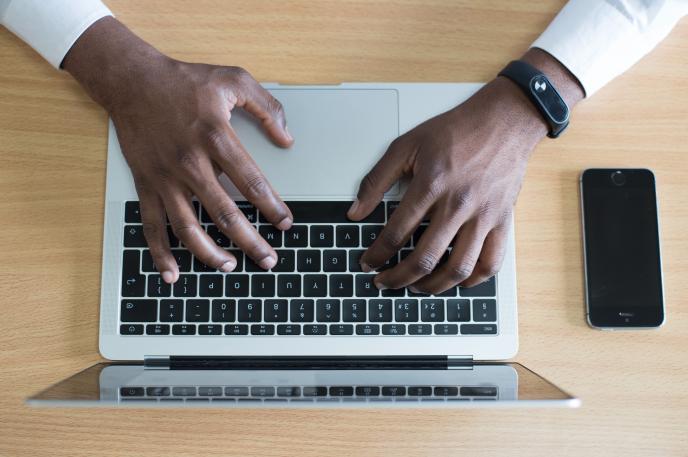 Welcome to LinkedIn Learning
March 1, 2021
One of Charlotte Mecklenburg Library's most popular resources is getting an upgrade. Lynda.com is transitioning to the LinkedIn Learning platform on March 15, 2021.
Why?  In 2015 LinkedIn acquired lynda.com.  LinkedIn began to build a new and improved platform. You may remember that in August 2019 the Library almost canceled its lynda.com subscription because of concerns about privacy and barriers to access with the LinkedIn Learning platform. Your Library works hard to maintain our status as a trusted community institution, and we were not willing to compromise that. We are happy to report that LinkedIn listened to the concerns of libraries across the United States and made improvements and changes to their platform regarding privacy and access.
When?  March 15, 2021 LinkedIn Learning will migrate lynda.com learning activity to the new platform.  This process should take a few hours and lynda.com will be unavailable during this time. When LinkedIn Learning is live, you will log into LinkedIn Learning from the Library's Resources page.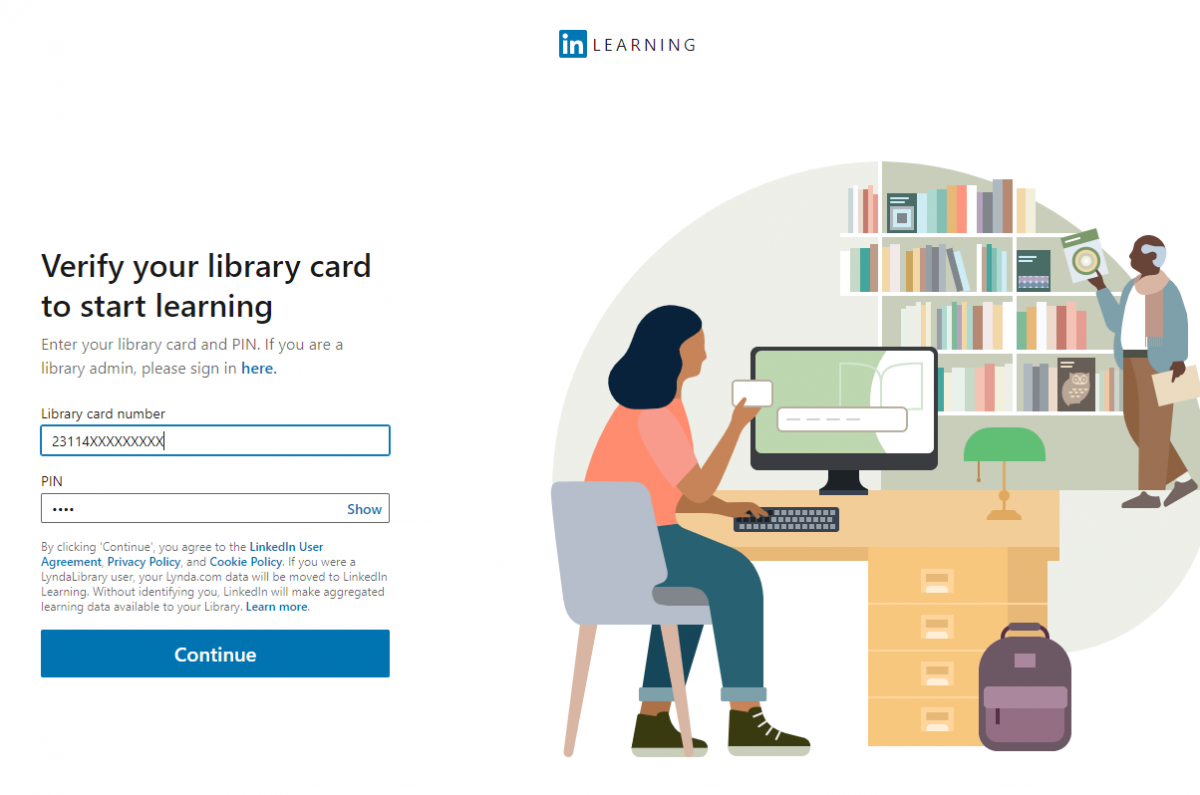 Use your Library card number and PIN to access LinkedIn Learning. 
Students, use your student ID and birth year as PIN.
Lynda.com customer accounts will automatically transfer to LinkedIn Learning. Don't have an account to lynda.com/LinkedIn Learning? All you need is a library card. Don't have one? Sign up here!
When you first sign into LinkedIn Learning, it will ask you to choose three skills that you are interested in learning about. This is so LinkedIn Learning can suggest courses you may want to take. You must choose at least one skill to continue.
LinkedIn Learning will also ask if you want to set a weekly goal for learning. LinkedIn Learning will remind you of your learning goals and keep you on track. If you do not want to choose a weekly time goal, click "Maybe later."
Welcome to LinkedIn Learning! The new interface is fresh, modern, and easy to navigate.
Let's explore the Dashboard.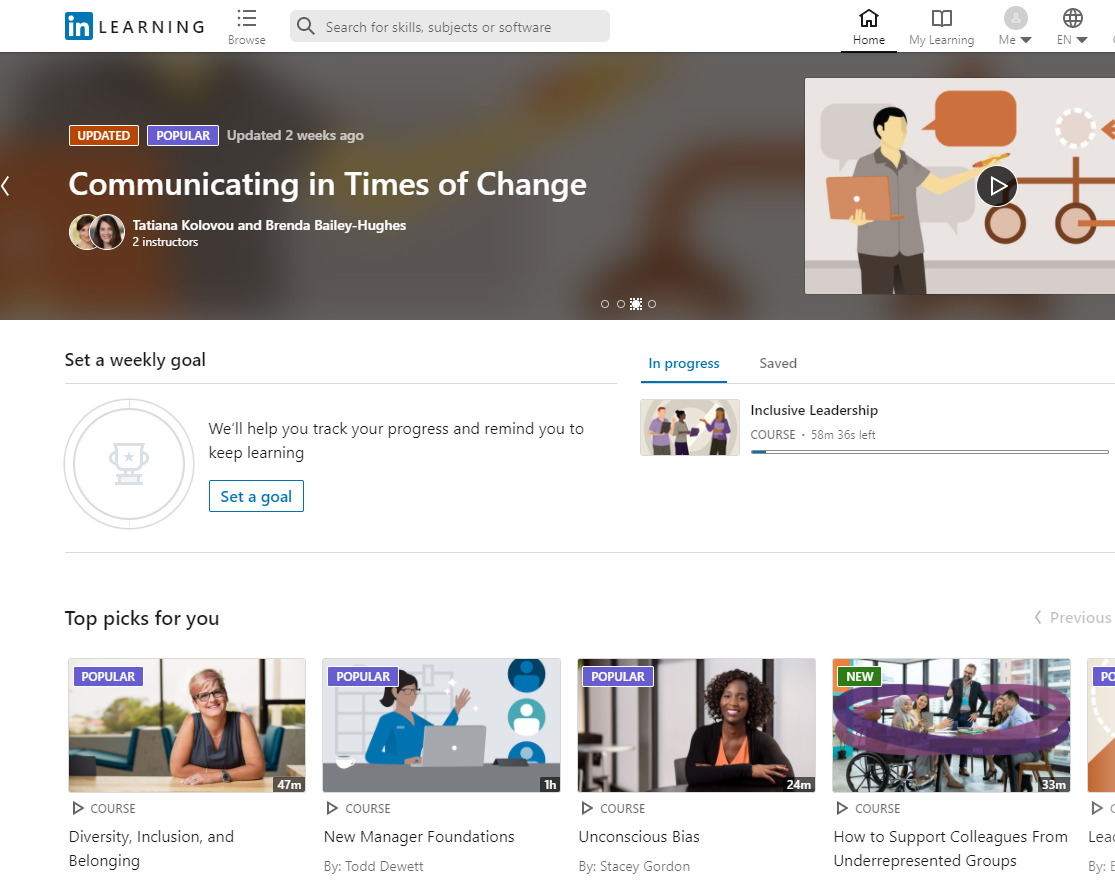 The navigation bar, located at the top of the page, is where you browse for courses, search for skills or subjects, access your learning and settings, and change your language preference.
Click the Browse icon to open the menu of courses. Topics are categorized by Business, Creative, and Technology. Click the topic you are interested in learning about and the results will display. There are filters on the left side of the page to narrow your results. You may want to filter your results by courses (rather than videos) or the time you want to spend learning. When you find a course or video, click "Save" to save it in your learning activity or click the video to start learning.
There is also a search box in the navigation bar. Enter keywords, skills, or software that you are interested in learning. For example, enter "Excel" in the search box and click the magnifying glass to execute the search. The results displayed will be courses and videos containing information about Excel.  Use the filters on the left to narrow your results.
The banner showcases new and popular courses that LinkedIn provides. Under the banner, there will be a reminder of your weekly learning goal (if you set one) and a link to the course you are currently taking.  Scroll down for more recommendations from LinkedIn Learning for suggested courses based on your preferences.
All your lynda.com learning activity will transfer to LinkedIn Learning. Click "My Learning" to see your "In Progress" courses, "Saved" courses, and "Learning History." Remember LinkedIn Learning asked you to choose three skills you were interested in? That's here too. Click "Skills" to update or add new skills.
LinkedIn Learning content is available in seven languages! Click the drop-down arrow beside "EN" in the navigation bar. Select from English, French, German, Japanese, Spanish, Simplified Chinese, and Portuguese. While most of the courses are in English, when a language is selected, available courses offered in that language will be displayed in the Browse menu. 
Now you are ready to explore and learn new software, management techniques, and more from LinkedIn Learning! If you need help, LinkedIn Learning has a customer FAQ page. You can also use the search bar on the FAQ page for help on playing a video, saving a LinkedIn Learning course, and more.  Your Library is also here to help. Charlotte Mecklenburg Library staff are available by email, chat, and phone. 
Happy Learning!
--
 This blog was written by Amy Richard, digital collections coordinator for Charlotte Mecklenburg Library