Thumbnail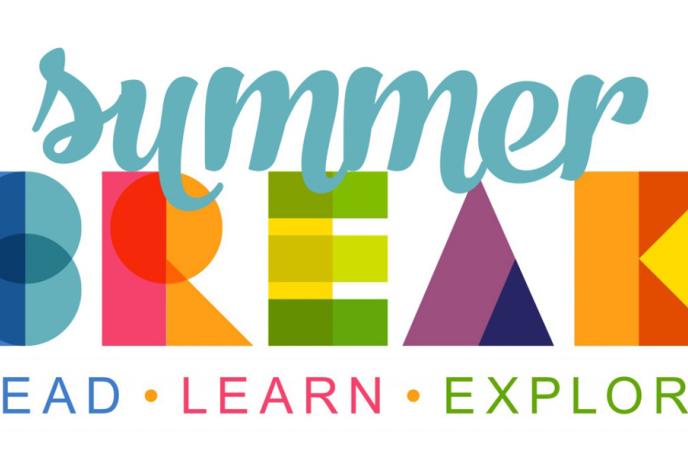 Summer Break returns at the Library June 1-July 31, 2023!
May 1, 2023
Summer is a great time for families to spend time together and develop a love of reading and learning. Summer should be all about fun and our Summer Break program can help provide opportunities to read, be creative, develop social skills, learn new things, and so much more! This year, help us read 10 million minutes between June 1 and July 31 as a community! Pre-registration starts on May 15, 2023. Visit cmlibrary.beanstack.org to register and log your reading and activities.
Summer Break: Read, Learn, Explore is available online.
Summer Break includes six activities in addition to reading that help families and communities connect and learn new things. Play and Write are even Every Child Ready to Read pre-literacy skills!
Read books, graphic novels, e-books or magazines, or listen to an audiobook. It all counts!
Create: invent a new recipe, make a bookmark, or gather pictures and put together a vision board. These are just a few ideas to get those creative juices flowing!
Explore: compare a tv or movie adaptation to the book that inspired it; explore your local library; check out the street murals around ImaginOn and around all of Charlotte; make time to explore your world.
Give: here is your opportunity to make a difference in someone's life. Hold the door for someone, make and send a homemade card, donate to a local organization; the possibilities are endless.
Play: play a game (board game, card game, or video game); make up a fun game to play; do an escape room; just have fun!
Write: write a list of ten summer plans; write a letter to your favorite author; work on improving your handwriting; there are many exciting options for writing this summer!
Queen Charlotte: craft a paper crown, reflect on Queen Charlotte's portraiture at a Mint Museum location (free on Wednesdays from 5-9), or read a book about Queen Charlotte like Invisible Queen by Stephanie Myers.
Queen Charlotte is looking forward to participating in this year's Summer Break, "I'm looking forward to many quiet mornings reading in my garden while I participate in Summer Break this year."
Summer Reading
Enjoy reading this summer with a good book, graphic novel, audiobook or eBook! The Library is full of fun, engaging books. Don't know what to read? Librarians are ready to help. There is nothing we like more than talking about books. Stop by your nearest Library for recommendations or visit our online catalog. You can also receive a personal reading list created by Library staff by filling out a Find Your Next Read form (Ages 0 – 18, New Adults and Adults).
The Library also offers a wide variety of programs: everything from storytimes and book clubs, to programs helping you plan for college and career.
This summer, take the time to find the perfect place to read outside. Will you choose a park, a garden, your backyard, or some other amazing location? Take a picture and share on social media with the hashtags  #cmlsummerbreak, #cmlibrary.     
Comments? Questions?  
Are you having problems with the Summer Break 2023 website or your account?  Do you have questions about the program?  Feel free to call your favorite branch or email us at SummerBreakQuestions@cmlibrary.org for help or feedback.  
The 2023 Summer Break program is brought to you by Charlotte Mecklenburg Library with additional support from Wendy's, Charlotte Football Club and the Charlotte Mecklenburg Library Foundation.