Tuesday, September 8th, 2020
The South County Regional Library renovation project is well underway.
South County closed to the public on November 3, 2019 at 5 p.m. and is expected to reopen to the community in early 2021.  The current renovation project, which will allow Charlotte Mecklenburg Library to better serve Mecklenburg County,  is in process due to customer feedback and with funding from Mecklenburg County.
Curious about how renovations are taking shape? Here's what's happening at South County: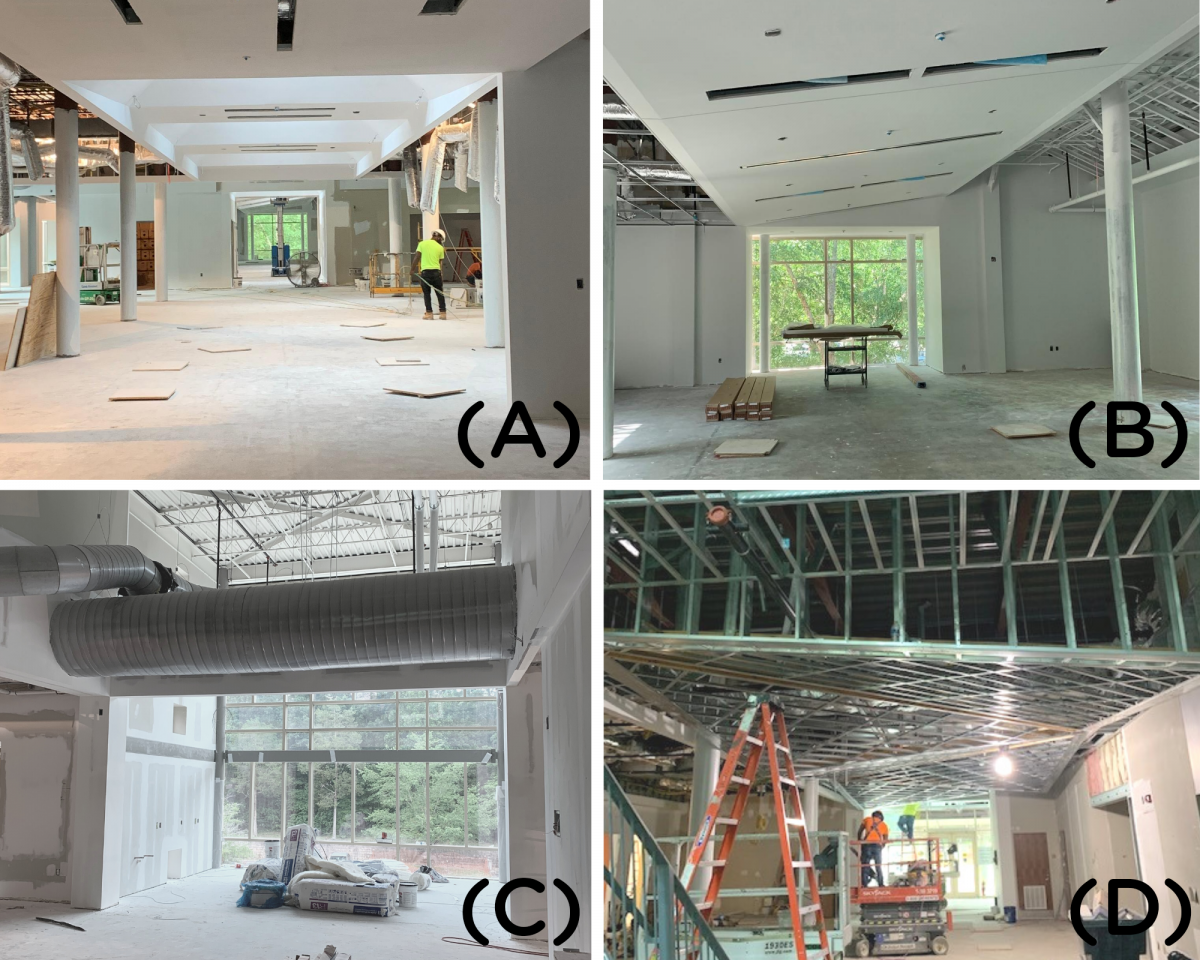 Photo (A) shows a construction worker busy on the second floor.
Photo (B) provides a view of the much larger teen area in progress on the second floor.
Photo (C) shows a community room, placed over the front lobby entrance.
Photo (D) spotlights construction in the lobby with a view towards the main entrance.
While all Library branches closed earlier this spring in response to COVID-19, the Library is now open with limited services under Phase 1 of its multi-phased re-opening operations plan (Note: the Library's phased re-opening plan does not coincide with the plan implemented by North Carolina Governor Roy Cooper).
During Phase 1, Library customers can enjoy holds pickup, browsing of "grab and go" items in the self checkout area and return materials to designated bins. Also during this time, the Library is waiving rental fees on devices such as hot spots and will not assess late fees/fines for borrowed materials. Click here for more details regarding Phase 1 Library operations.
The Library continues to offer COVID-safe services to the public at this time which includes access to online and digital resources, virtual programs, storytimes and much more. Visit cmlibrary.org for more details.
Live in the South County community and want to borrow materials? See below for information on branches available to you at this time. 
Local branches to the South Mecklenburg County area (for holds pickup and returns)
Morrison Regional Library - 7015 Morrison Boulevard, Charlotte 28211 704-416-5400
Matthews Library - 230 Matthews Station Street, Matthews 28105 704-416-5000
Steele Creek Library -13620 Steele Creek Road, Charlotte  28273 704-416-6800
Independence Regional Library - 6000 Conference Drive, Charlotte 28212 704-416-4800
Thank you for your patience during our renovation. We value you as a customer and look forward to welcoming you back and showing you the exciting changes to our newly renovated Library when we re-open!
Click here to get the FAQs on the South County Regional Library Renovation 
Please stay tuned for more updates.