Tuesday, February 12th, 2019
There once was a time when online dating was considered taboo and carried a stigma (it was only something  socially-awkward people might do). The good news is times have changed and options are available. According to a recent Eharmony.com article "10 Online Dating Statistics You Should Know," 40 percent of Americans use online dating. Online dating can be convenient, budget-friendly and done in the convenience of your pajamas at home while watching Hoopla. Here are some resources to help you get started or simply be entertained.
Movies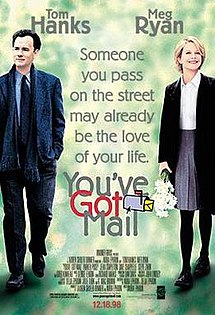 One of the first movies about online dating is the classic You've Got Mail starring Meg Ryan and Tom Hanks, available on DVD at the Library. The Sleepless in Seattle couple is back again in this frenemies-turn-lovers comedy. Other online dating movies available on DVD include A Case of You , Book Club , This Means War , Midnight Sun , Goodbye to All of That and Catfish. If you can't find your DVD player, try Hoopla where you can stream movies like Two Night Stand  and Wrong Swipe.
If you are more in the mood for a page turner, check out these titles that feature online dating in the backdrop. My Favorite Half-night Stand by Christina Lauren, Just One of the Guys by Kristan Higgins, Love Rules by Joanna Coles, and The Devil You Know by Mary Monroe - all available in print. You can download Not Your Mother's Rules by Ellen Fein, which is an updated version of the best seller The Rules by the same author that includes a section on online dating.
Before you decide to swipe right, there are plenty of how-to guides available on maneuvering the streets of online dating. Find out how to write a profile, stay safe and get the truth about the experience from many resources found in this Bibliocommons list here.  Good luck and happy dating!