Thumbnail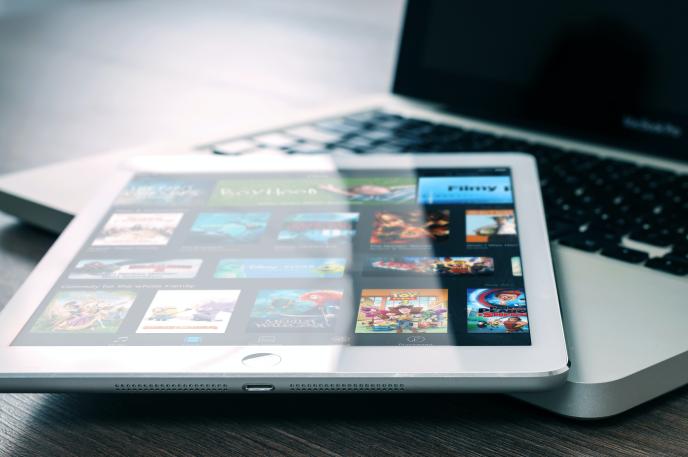 New year, new you, new device! Fill up your new digital device for free at the Library
January 27, 2022
Did you receive a new device this holiday season? You've probably been busy adding apps and e-books and music to it from the moment you unboxed it. Well we have great news for you! Charlotte Mecklenburg Library offers many resources to fill up your new device - for free!
If you have a Charlotte Mecklenburg Library card or ONE Access account, you have access to all of this and more.
The Library offers several resources that provide access to e-books and e-audiobooks - including today's bestsellers and graphic novels. Some are even available instantly. And the best part is, there are no fees! Titles automatically return when the loan period ends.
OverDrive has an extensive collection of e-books, e-audiobooks and read-alongs, with kid- and teen-friendly content in special reading rooms. You can check out up to 10 items per month with a 21-day loan period, and can download titles to your computer, tablet (including Kindle!) or mobile device. Or you can read or listen to them online.  Check out OverDrive's Libby app. OverDrive also powers NC Kids Digital Library, which offers e-books, e-audiobooks, streaming videos and read-alongs specifically designed for youth in pre-K through fourth grade.
Binge watch a TV series before the new season comes out or find a flick for your family movie night. You can even download individual songs or whole albums to your device - and keep them forever!
hoopla allows you to instantly borrow e-audiobooks, e-books, comic books, movies, TV series and music - no holds, no waiting! You can check out up to six items each month. If you are adding the hoopla app to your child's device, be sure to change it to Kids Mode to replicate the experience of browsing the children's section at the Library.
​Freegal Music offers download or streaming access to more than 10 million songs and nearly 15,000 music videos. Get five free downloads and 3 hours of streaming each week. Once downloaded, the songs and videos are yours to keep!
Kanopy provides you with six downloads each month for the latest independent films, documentaries and hard-to-find movies. It also features free access to the Great Courses. 
Bring the joy of browsing the shelves to your phone with the Library's new and improved mobile app. With new titles, staff lists and programs featured on the homepage, the new mobile app will provide a discovery every time you log in.  Access Charlotte Mecklenburg Library from your Android and Apple iOS phone or tablet anywhere 24/7. Search for "CMLibrary" or "Charlotte Mecklenburg Library" to download!
If you need help using your new device, we have you covered. Library staff are always willing and ready to help you learn a new device, and gain access to all of the amazing resources the Library offers. Check out Technology Tutor sessions offered at any of our locations for one-on-one help with computer basics or downloading digital resources.
Don't have a library card yet?
If you live in Mecklenburg County, get your library card for free - simply apply below. 
If you are a CMS student, you automatically have a ONE Access account, which allows you to use your student ID as your library card.
If you live outside of Mecklenburg County, you can still access everything above with a non-resident card, which is $45 per year. Simply apply below. If you need to renew a non-resident card, please call 704-416-0101.
--
This blog was written by Darrell Anderson, marketing and communications specialist for Charlotte Mecklenburg Library.