Thumbnail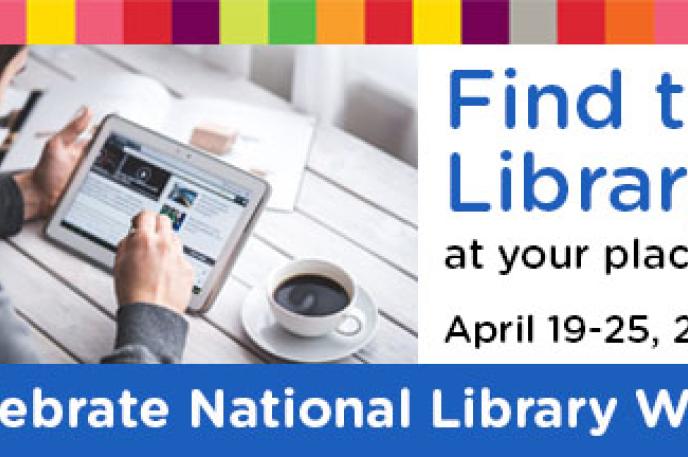 National Library Week 2020
April 15, 2020
Find the Library at Your Place: National Library Week, April 19-25, 2020
While Charlotte Mecklenburg Library has temporarily closed all locations to the public in the interest of community health and safety, we remain open for business online, providing virtual and online services and classes, along with extensive digital resources the Mecklenburg community needs now more than ever. The Library has been able to expand and increase access to digital content and have introduced innovative ways to continue our programming in a virtual and online capacity.   To highlight these efforts, we're celebrating National Library Week April 19-25, 2020 with its theme "Find the Library at Your Place." Charlotte Mecklenburg Library, our librarians and staff continue to provide a valuable role by never wavering from our mission to improve lives and build a stronger community.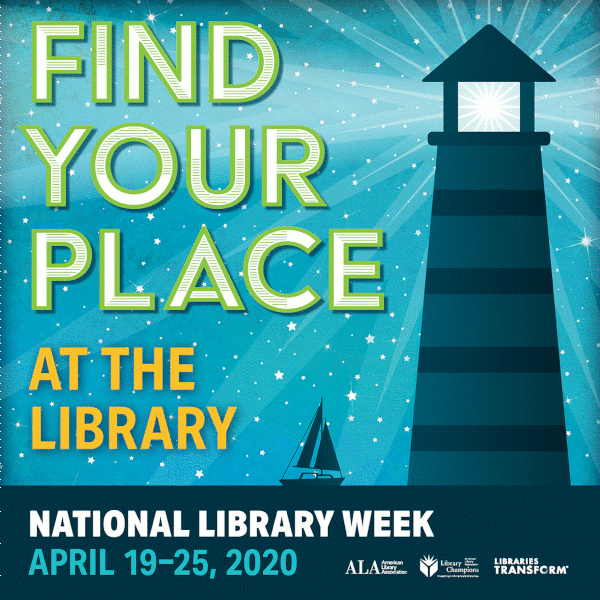 This year's theme truly aligns with our mission of improving lives and building a stronger community. It illustrates how today's libraries are at the heart of our cities, towns, schools and campuses, providing critical resources, programs and expertise as we move to online and virtual offerings. Libraries also normally provide a public space where all community members, regardless of age, culture or income level, can come together to connect and learn. National Library Week is an opportunity to highlight the changing role of public libraries in our society. Libraries are about more than just the services they offer; they are about the people they serve.
Library programs are designed to encourage community members to meet and discuss civic issues, work together using new technologies like digital platforms, online books clubs, and business research databases. Library staff also partner with other civic and service organizations to actively engage the people they serve, always striving to make sure their community's needs are being met.
Celebrate National Library Week by sharing your library story—how do you find the Library at your place?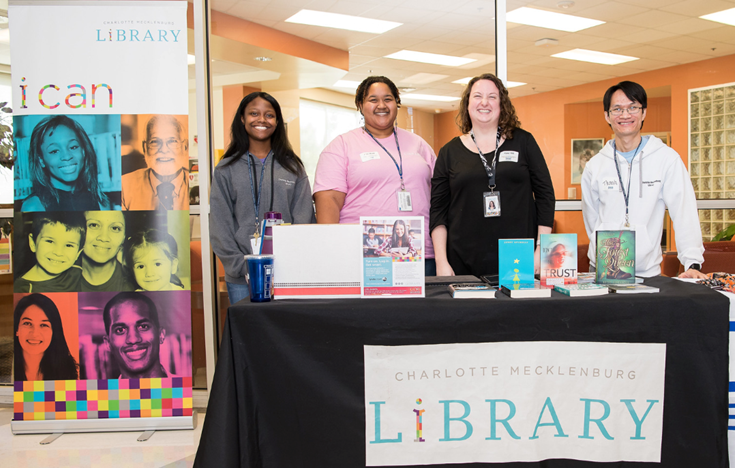 We invite our community to follow along, share and comment on social media at twitter.com/cmlibrary, facebook.com/cmlibrary and instagram.com/cmlibrary using the hashtags #NationalLibraryWeek and #CMLfindyourlibrary.
ShibSibs Serves as Honorary Chairs
National Library Week is an opportunity to highlight the changing role of public libraries in our society. Olympic medalists Maia and Alex Shibutani, a.k.a. the ShibSibs, are National Library Week Honorary Chairs and want everyone to know that they think libraries are amazing! Maia and Alex are two-time Olympic bronze medalists and three time-world medalist U.S. ice skaters and serve as the 2020 Honorary Chairs. KUDO KIDS: The Mystery of the Masked Medalist is the first in a middle-grade series that marks the writing debut of Maia and Alex Shibutani. The fun-filled, fast-paced mystery is inspired by the Shibutanis' own familial bond and experiences traveling the world with Team USA. Available May 2020, the book captures the curiosity and life experiences that the ShibSibs share with their combined 1.4 million followers on social media channels and through their original YouTube videos.
Celebrations during National Library Week include:
Monday, April 20: State of America's Libraries Report released, including Top Ten Frequently Challenged Books of 2019.
Tuesday, April 21: National Library Workers Day, a day for library staff, administrators, and Friends groups to recognize the valuable contributions made by all library workers.
Thursday, April 23: Library Giving Day is a one-day fundraising event with the goal of encouraging people who depend on and enjoy public libraries to donate to their individual library system. #LibraryGivingDay
We also invite you to support the Library - not only on April 22 but every day of the year - by donating to the Charlotte Mecklenburg Library Foundation.
"Find the Library at Your Place" is a national campaign sponsored by the American Library Association (ALA). National Library Week was first sponsored in 1958 and is an annual April observance by the ALA and libraries across the county.