Thumbnail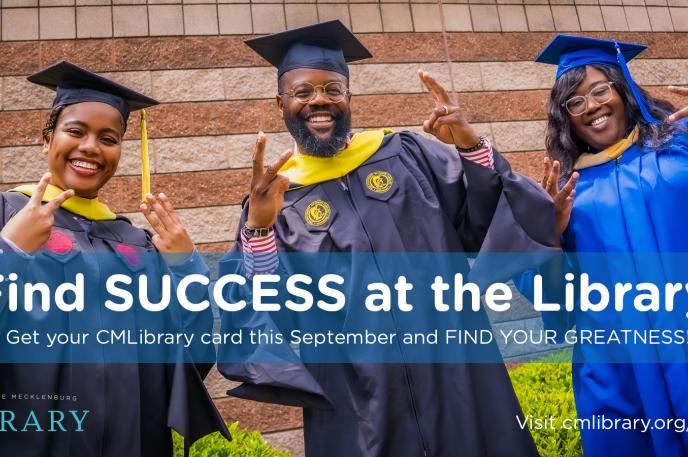 Library Card Sign-Up Month returns this September
August 30, 2023
This blog was written by Darrell Anderson, marketing and communications specialist for Charlotte Mecklenburg Library.
September is Library Card Sign-up Month, and it's the perfect time to get a card of your own. Charlotte Mecklenburg Library offers millions of resources including books, music, movies, creative materials, digital resources and programs (in-person and online) – all for FREE with a Library card. Signing up for a Library card is easy and anybody can do it. CLICK HERE to sign up for a Library card and download the CMLibrary mobile app on your tablet or smartphone. Use the app to place holds, access resources and much more. Check out just a small sampling of all the Library has to offer:
FREE Digital Resources
The Library is a tremendous one-stop shop, not just for books but for digital resources and so much more. Whether you need resources for your small business or just want to stream the newest hit music, the Library has a vast catalog of digital resources to fit your needs. You can access online tutoring and homework help for children through Tutor.com or find the resources to support a new (or existing) business venture with LinkedIn Learning. Maybe you want to perfect an existing skill - or learn a new one - with Universal Class or learn a new language with Transparent Language. When you have a Charlotte Mecklenburg Library card, you can access a multitude of online resources for FREE. 
Do you enjoy watching movies or listening to music? Film and music buffs can benefit from a Library card, too. With the kanopy, OverDrive/Libby, hoopla and Freegal Music apps – again, available for FREE with a Library card, you can stream or download films, documentaries and the newest songs. Stream the latest from Beyoncé, Bad Bunny and classic Pink Floyd? Yep. Rediscover the literary works of Jane Austen, Isabel Allende and John Grisham? Absolutely.
The Library has everything you need. Whether it's resources for that work project or the latest trending BookTok read, Charlotte Mecklenburg Library has exactly what you're looking for.
Value Like No Other
Are you curious about how much money a Library card can really save you? $100? $300? Even up to $1,000! Subscription services can be pricey and tend to add up over the course of a calendar year, not to mention how much you might spend on books, magazines and music. There's no need to pay for subscription services ever again. See how much you can save with the Library by using the Library Value Calculator. Input the number of books, magazines, DVDs, music and resources you've purchased or used in a year, and you'll be amazed at how much you could save by switching to the Library. The numbers don't lie; a Library card is a great value!
Online Programming from the Library
Did you know that you can participate in Library programming even while staying home? The Library is always here to support the community online, 24/7. Join us for a virtual storytime with your family or receive resume help all from the comfort of your couch. The Library offers a wide range of online programming for children, teens and adults on a daily basis.
See our listing of upcoming programs below.
FOR MORE INFORMATION AND TO REGISTER FOR PROGRAMS CLICK HERE
Get a Card Today
Signing up for a Library card is easy. CLICK HERE to sign up for one and download the CMLibrary mobile app on your smartphone or tablet for immediate access to place holds, access resources and much more.
So, now that you know everything you can do with your Library card, what are you waiting for? Join Charlotte Mecklenburg Library and get your Library card today!