As our communities have adapted to stay-at-home orders and social distancing, communicating online has become increasingly important. Families and friends schedule Zoom conferences, Charlotte Mecklenburg Library's programs are held online and access to the Library's collection is temporarily limited to downloadable items. Do you feel a little lost in this new online environment? Are you wondering what we even mean when we refer to "Zoom," "chat" and "virtual program?"  You're not alone!
 
Understanding our terminology
The staff at the Library have been working hard to learn new technology to be able to work from home, so we understand the frustration you may be feeling about being thrust into a digital world and we're here to help. We want to define a few of the terms that you might see in our communications as well as some of the more popular tools that people are using to connect with each other. The Library offers online tutorials and will guide you on how to get help from our staff. While this isn't an exhaustive list, we hope this guide provides you with enough information to start exploring so you can join us as we work to stay connected with our Library community.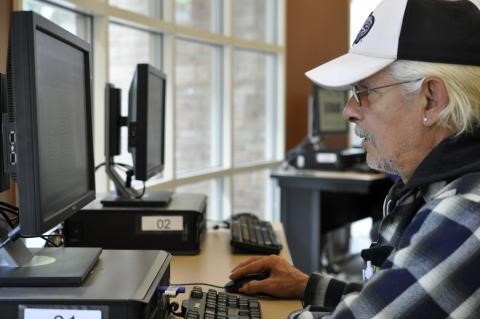 Online Chat - Online chat refers to communication that happens over the Internet in real time. It's like having a conversation but you're typing what you want to say instead of speaking. When we email each other, we usually wait for a response, sometimes for days. Participants in an online chat forum typically type short questions and responses so that it resembles an in-person conversation. See below (Ask A Librarian section) for information on how to use online chat to connect with Library staff.
Virtual or Online Program – You can now participate in many Library programs on your PC, tablet or smartphone. They typically occur in one of two formats:
Facebook Live Event - Our children's storytime programs are accessible through Facebook as a live event and do not require registration. When you visit our calendar page, click on "Learn More" to see details for any program. Programs available through Facebook Live will have instructions on which Facebook page to visit: Charlotte Mecklenburg Library, ImaginOn or Charlotte Mecklenburg Library Foundation. If you use Facebook, visit the appropriate Facebook page at the correct time to view the live event. Click here for a quick tutorial on using Facebook.
Jitsi and Zoom - Jitsi and Zoom are two examples of video conferencing software that allow multiple people to meet online. Participants can opt to see and hear each other so that you can talk to each other face-to-face. These services also offer chat for participants who don't have audio capability. Library programs currently using this option include book clubs, writing programs and meditation programs. Instructions for joining an online program can be found at the end of this video on our Book a Librarian program. Zoom also offers tutorials on its website.
You've probably seen commercials and shows that are using Zoom to connect with friends and family. Other sites like Skype, Google Hangouts and WhatsApp offer similar services. Click here to view a short video describing several of the options you can use so you can stay in touch. We've also created a list that contains links to tutorials for many of these sites. lynda.com and Universal Class, two of the Library's many resources, offer more in-depth classes and are free to use with your library card if you want to explore these even further.
Downloadable and streaming content – The Library offers several options that allow you to check out e-books, e-audiobooks, movies, and music that can be read, viewed and listened to on your PC, tablet or smartphone. These materials are available to stream (meaning you must be connected to the Internet while you use it) or download (meaning the content is temporarily saved to your device so you can use it even when you're not connected to the Internet). OverDrive, hoopla, kanopy, RBdigital magazines and Freegal are only a few of the Library's resources that offer downloadable content and are free to use with your library card or ONE Access ID. If you don't have a card, you can apply for one online.
Video tutorials are available to help you get started with these and many other popular Library resources.
How can I get help if the Library is closed?
This is a lot of information, and we know that you're itching to pick up the phone or stop by the desk at your local branch to ask us a question. While we can't accommodate you in that way right now, we're still available by email, online chat or through our Book a Librarian program. One of the most valuable resources libraries offer is their staff, so here's how we can help you when you need us.
Contact Us Email Form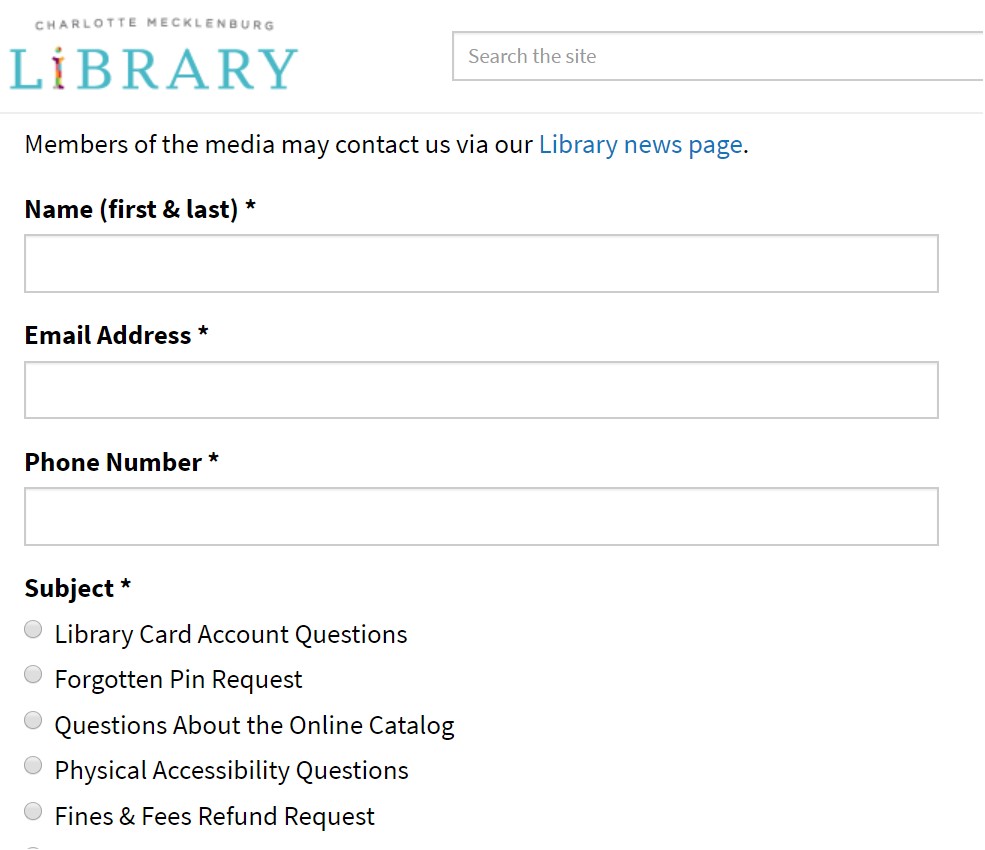 If you can't see us in person, are you most comfortable communicating through email? At the bottom of every Library page you'll see a link that says "Contact." Click on "Contact" to open our form, then click in each box to provide the requested information. When you're finished, click on "submit." Library staff will respond to your email address as soon as they can. We do sometimes have a backlog of emails, so use this method when you have some time to wait for a response. Tip: Check your email address before you submit your question. If there's a typo, we won't be able to respond to you.
 
Ask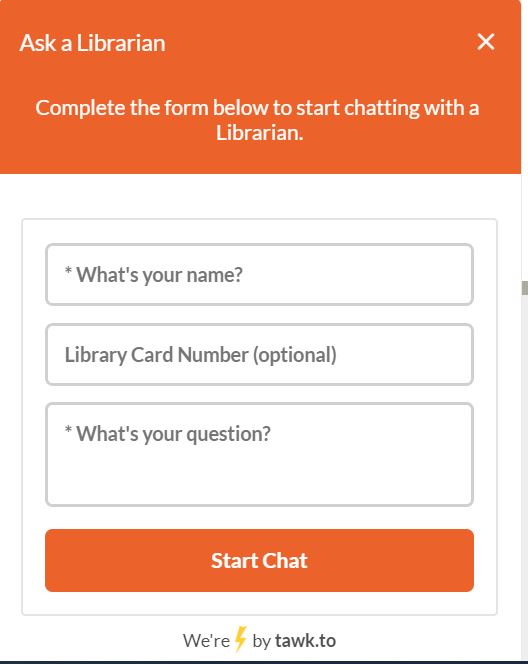 a Librarian
If you're looking for more immediate service, librarians are standing by Monday - Friday, 9 a.m. - 9 p.m. through our online chat service. Follow these steps to begin chatting with library staff:
1) When you visit the Library's website on a PC, you'll see an orange box that says, "Ask a Librarian." Click on that box to get started. If you're using a smartphone or tablet, tap the small orange circle in the corner of your screen.
2) Next, you'll see a form that asks for your name, your library card number (if you have it) and your question. Click in each box to type your information.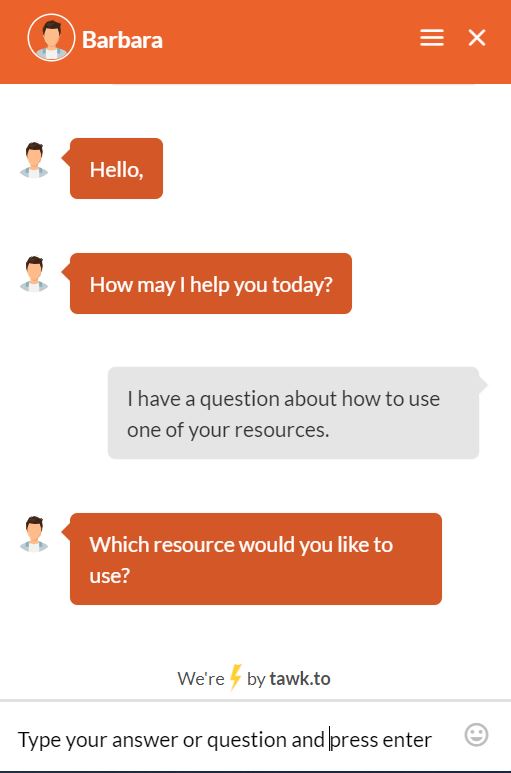 3) Click on "start chat." You'll be connected to a librarian who will type a response to you. Tip: Library staff cannot see what you've typed or respond to you until you press "enter" on your keyboard (if you're using a computer) or press the arrow button (if you're using your smartphone or tablet).
Book a Librarian
Are you looking for an interaction that feels a little more personal? Book a Librarian might be just what you need. Book a Librarian is very similar to the 1-on-1 e-book and Technology Tutor sessions that you're used to seeing in our branches. The main difference is that you're talking to and seeing each other online through your computer, smart phone or tablet. In this format, library staff can share their screen with you, which means that you can follow along as we demonstrate how to access certain resources. Watch this video to learn more about signing up for Book a Librarian.
What questions can I ask?
While there's no substitution for interacting with you in person, communicating online is the next best thing. If you tried to download an e-book and you just couldn't figure it out, we can help you. If you want to attend one of our online programs and you're not sure how it works, contact us through email or chat and we can help you get started.  If you've exhausted your reading material and need some suggestions, we can recommend new authors or titles based on books that you've enjoyed. We can help explain terms that you're seeing here and in other places as you learn how to navigate our online world. We don't always know the answer to your question, but we can always recommend Library resources, websites and organizations that can help.
Most of all, we want you to know that we're still here for you.