Thumbnail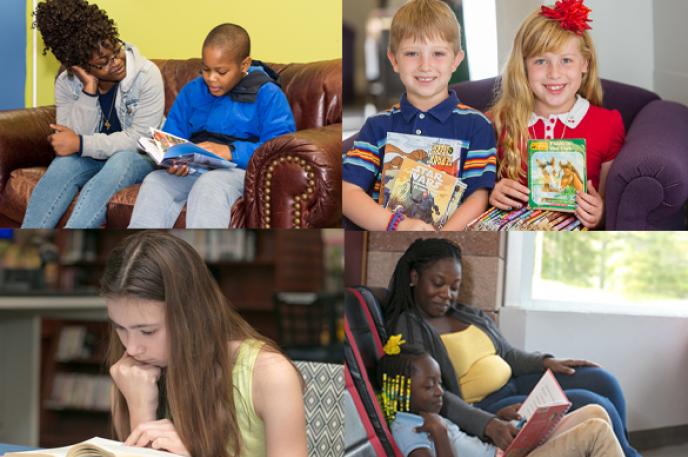 Harvesting Readers at Charlotte Mecklenburg Library
November 8, 2023
November is National Family Literacy Month, a celebration that has continued nationally since 1994 to raise awareness of the importance of families reading and learning together. Charlotte Mecklenburg Library fosters family literacy daily at all our Library branches and out in the community. We take time to recognize and celebrate the important role that parents and caregivers play in the development of children and seek to equip parents and caregivers with tools and resources to improve family literacy. 
 Check out these three resources that we hope to improve literacy in your family:  
Print and digital materials: Sharing in reading is the best way to improve literacy and foster a love of reading in your family. Allowing your child to select their books from our library collection is a great place to start! Create a weekly habit of visiting your local Library branch and checking out items your child is interested in. Here's a pro tip: ask our wonderful library staff to show you around and help find the perfect book. If you cannot make it to a physical Library location, a plethora of electronic books await you online! Utilize Libby, Hoopla, or NC Kids Digital Library to find your next great e-book!   
Attend Library programs as a family: If you haven't realized it yet, the 21st-century library is more than just books! Programs for all ages occur daily at the library; if you don't believe it, just check out our online calendar of events! As always, all programming is free and open to everyone seeking to learn something new and connect with others in our community. Improving family literacy begins with seeking out knowledge! Attend a program together with your family, or show the importance of literacy by registering your child for an upcoming program (Reading Buddies, Storytimes, Creating with Art programs, Makerspace programs, the possibilities are endless!). There are many programs just for parents and caregivers, great for seeking out habits and ideas from others as we are all on this journey to literacy together. 
'Harvest' readers in your family: Charlotte Mecklenburg Library strives to create readers, starting from birth and growing throughout all stages of life. Let us jump start family's literacy journey this November at our upcoming "Harvesting Readers" Family Literacy Night! Visit any Library location on November 14th (drop in any time from 5:00-7:00 p.m., no registration required) for a fun-filled literacy-focused event perfect for the whole family! Learn ways to improve your child's attitude and motivation for reading through completing fun activities as a family, and plan to attend a special program with your family at 6:00 p.m. You will not want to miss this special system-wide event. Fun surprises await, and every Library location will have a special drawing for a special prize for attendees!  
While we celebrate National Family Literacy Month this November, improving your family's literacy will continue throughout the year, and Charlotte Mecklenburg Library seeks to be a trusted partner for your family's literacy success. We cannot wait to 'harvest' a reader in each member of your family!