Thumbnail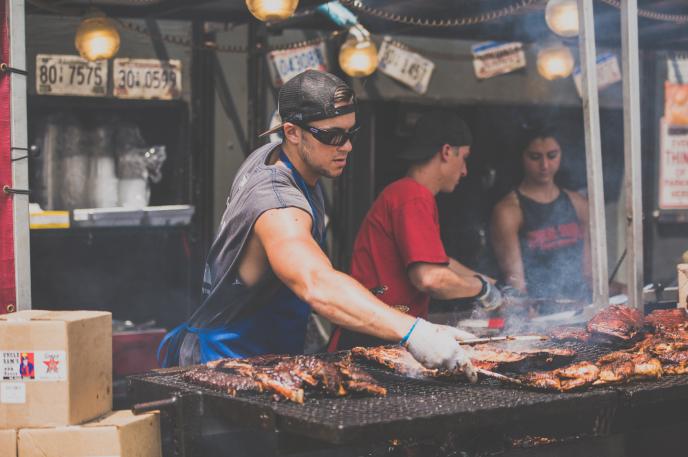 The Great Debate: North Carolina vs. South Carolina BBQ
September 4, 2019
As a native Virginian I quickly learned that barbecue (BBQ) is the root of disagreement in the Carolinas. There are endless "rights and wrongs" to BBQ preparation, sauce, how the meat is smoked, what side dishes to serve... the list goes on. 
It's a fascinating discussion that all Carolinians should contribute to. Keep reading to learn more about all things carolina BBQ.
How did BBQ find its way to the Carolinas? BBQ was "discovered" in North Carolina in the late 16th century by Sir Walter Raleigh. In 1585, Raleigh sent men to the coast of present-day North Carolina. While there, John White sketched Croatan Indians "broyling their fishe over the flame—they took great heed that they bee not burnt". What White witnessed was the Croatans using a "barbacoa", a framework of sticks that supported meat over a fire. Barbacoas were used by the Spanish in the Caribbean after they saw locals using the contraption to smoke their meat.
Photo courtesy of Holy Smoke: The Big Book of North Carolina Barbecue  
Historians believe that German settlers who traveled via Great Wagon Road during the mid-to-late 18th century from Pennsylvania influenced the style of barbecue in the North Carolina Piedmont region. Catawba College history professor, Gary Freeze, developed this theory on the basis that Pennsylvania Germans barbecued the shoulder of the pig and braised it in a fruit-flavored liquid similar to the Lexington style North Carolinians pride themselves on today. Freeze further argues that early prominent barbecue-ers had German names (e.g., Weaver, Ridenhour, Swicegood) and that some of the Piedmont's earliest barbecuing occurred in German cotton-mill villages.  
North Carolina: Home to the "Original" BBQ Recipe  
According to Holy Smoke: The Big Book of North Carolina Barbecue, BBQ in North Carolina must meet these three qualifications:
The meat must be barbecued, meaning cooked at a low temperature for a long time with heat and smoke flavoring the meat from a fire of hardwood and/or hardwood coals.

The meat must be pork (whole hog, shoulder, or occasionally ham).

The meat is always served with a thin vinegar-based sauce.
Photo courtesy of Chairgatin  
There are two main styles of BBQ in North Carolina—Eastern and Lexington ("Piedmont"). Eastern-style BBQ uses the whole-hog ("every part of the hog but the squeal") with a lemon juice or vinegar, pepper-based sauce. Eastern style incorporates zero tomatoes in its recipe. Food critics are careful to say it is the "truest" form of BBQ, but many refer to Eastern-style as the "original" recipe [Our State article].  
Piedmont-style became popular in the World War I era and uses meat from the pork shoulder with a vinegar, ketchup and spice-based sauce. Five men of German descent are credited with the adaptation of the Eastern-style recipe. 
Sauce is another point of contention in North Carolina. The ingredients for the standard North Carolina BBQ sauce vary from family to family, but the "official" recipe is along the lines of this description found in Martha McCulloch-Williams' recollections:
"Two pounds of sweet lard, melted in a brass kettle, with one pound beaten,  not ground, pepper a pint of small fiery red peppers, nubbed and stewed soft  in water to barely cover, a spoonful of herbs in powder- he would never tell  what they were [of course!],  -- and a quart and pint of the strongest apple  vinegar, with a little salt." -Holy Smoke: The Big Book of North Carolina Barbecue  
South Carolina: Home to the Four Sauces 
South Carolina also believes that barbecue was "founded" in the Palmetto State, so  we will never truly know which Carolina barbecue calls home. We do know that South Carolina features all four sauces throughout the state, a trait they pride themselves on. 
Photo courtesy of Discover South Carolina
1) Mustard: Found throughout the midland part of the state toward the lower coastline. Distinct tasting sauce traced back to German settlers.
2) Heavy Tomato: Found in the western and northwestern part of the state. Popularly known and sold in grocery stores (Kraft, Sweet Baby Rays, etc.) 
3) Light Tomato: Found in the Pee Dee and upper part of the state. A light mix of the vinegar/pepper sauce with ketchup or tomato added. 
4) Vinegar + Pepper: Found along the coast. Spicy vinegar and pepper sauce.
Photo courtesy of Charleston City Paper. 
So, what's up with the tomatoes, and why is there so much controversy around adding them to BBQ sauce? South Carolina farmers began growing "love apples" in the 18th century and food historians believe that German settlers began to add ketchup to the Eastern-style BBQ. The addition of the sugary ketchup made the BBQ recipes closer to the sweet-sour taste that is common in German cooking.  
The only thing both Carolinas agree on? The meat must be smoked. 
"You can put barbecue sauce on it and call it barbecue. You can  cook it in a Crock-Pot and put sauce on it and call it barbecue. But  it's not. Now, I get chastised on that all the time—about being  old-school and a purist and all that. All I'm saying is, there's a totally  different flavor when you've got the fat of that meat dripping onto  live coals. The smoke it creates to season that pig—that makes  the difference." -Jim Early, Charlotte Magazine 
We know that Carolinians eat BBQ, but how do we celebrate the dish?  
Photo courtesy of Lexington Barbecue Festival, 2019. 
The Carolinas celebrate BBQ big time. Lexington, North Carolina throws a huge BBQ Festival every October. Lexington felt so strongly about hosting the official BBQ festival that they even submitted a House Bill to the General Assembly in 2005. Two days later, the bill was approved and the Lexington Barbecue Festival was adopted as the state's official BBQ festival. South Carolina also celebrates BBQ with a variety of festivals.  
If you want to decide if North Carolina or South Carolina BBQ is supreme, take a long drive along the Historic BBQ trails. You can always use the Carolina Room's cookbooks to find mouthwatering BBQ recipes to try at home, too! 
This blog was written by Sydney Carroll, archivist in the Robinson-Spangler Carolina Room at Main Library.
--
References 
Garner, Bob. "Bob Garner's Book of Barbecue: North Carolina's Favorite Food." Winston-Salem, NC: John F. Blair, 2012. 
Garner, Bob. "North Carolina Barbecue: Flavored by time." Winston-Salem, NC: John F. Blair, 1996. 
Lacour, Greg. "What's Our Barbecue Story?" Charlotte Magazine. June 2019. Accessed August 2019. http://www.charlottemagazine.com/Charlotte-Magazine/June-2019/Our-Barbecue-Story/  
Quine, Katie. "Why Are There Two Styles of NC Barbecue?" Our State. May 2015. Accessed August 2019. https://www.ourstate.com/nc-barbecue-styles/ 
Reed, John Shelton. "Holy Smoke: The Big Book of North Carolina Barbecue." The University of North Carolina Press, 2008.  
"South Carolina Barbecue." Discover South Carolina. https://discoversouthcarolina.com/barbecue