Monday, January 24th, 2022
The University City Branch is located at 301 E. W.T. Harris Blvd next to the Atrium Health University City hospital and its medical offices. The 24,500 square-foot library has several spaces for you to work, use our computers, browse books, DVDs, and magazines while being a part of the vibrant University City community.
It is hard to feel down in our branch while you are surrounded by natural light and cheerful staff. The branch has colorful walls ranging from a trendy periwinkle to a lively chartreuse. Grab a book and lounge at a table to view the greenspace out one of our floor to ceiling windows. You may even spot a family of deer!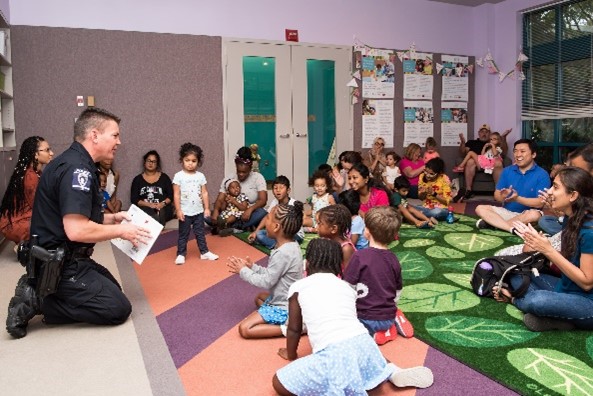 Swing by the Children's Area to dance on the cool underwater area rug or read a book in our treehouse. University City has a lot of children's materials including more than fourteen shelves of graphic novels, educational computers, board books for babies and rentable tablets preloaded with educational apps. Teens can hang out and relax in the Teen Zone while adults browse the large print collection or magazines.  University City Regional Library has a diverse collection of books in international languages including Spanish, Arabic, Russian, Chinese, Gujarati, French, Korean and other languages. We really have something for everyone!
The University City Library even houses a small art collection including community created pieces. Visit the branch to see a special art piece by NC artist, Jon Kuhn. The glass piece "Cubic Harmony" is a unique glass cube in the front of the building by the Circulation Desk. Make sure to visit during daylight to watch the cube sparkle and glimmer from the reflection of the sunlight through our sky lights.
University City Library staff love interacting with our community by taking part in several local festivals including Charlotte Kids Fest. Kids Fest is an annual celebration for the kids of Charlotte with fun and educational activity zones for children of all ages including a create and dance zone. The University City area also hosts the annual Wine Fest. Cresent Communities Wine Fest is a unique cultural event for the area featuring pop-up shops, fun dining experiences, live entertainment, and wine from several regional wineries.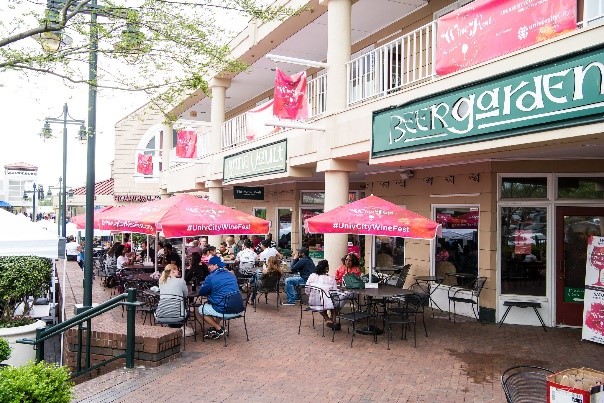 After visiting University City Library, check out the boardwalk area to shop, dine and even ride a paddle boat. The Shoppes at University City Place is a staff favorite place to unwind and read during a lunch break. The boardwalk has benches overlooking the water where you can relax and interact with geese. The walking trail around the water is a wonderful place for a nice stroll while listening to one of the library's new audiobooks. Visit the University City Partners  for exciting new details about the development in the area.
The University City area is home to the University of North Carolina at Charlotte and more than 20 regional offices for Fortune 500 companies. You can access the library by riding the LYNX Blue Line Light Rail extension and walking a short distance. If you have out of town guests, check them into one of the neighboring hotels around the area. There is plenty to do in University City as it is located close to several highways.
New to Charlotte? Explore other neighborhoods through the Charlotte Mecklenburg Library blog and WelcomeCLT, a digital space created for newcomers to Charlotte.
Resources:
--
This blog written by Leanda Gahegan, children's librarian for Charlotte Mecklenburg Library, with photographs provided by Everett Blackmon, access services manager for Charlotte Mecklenburg Library.