Thumbnail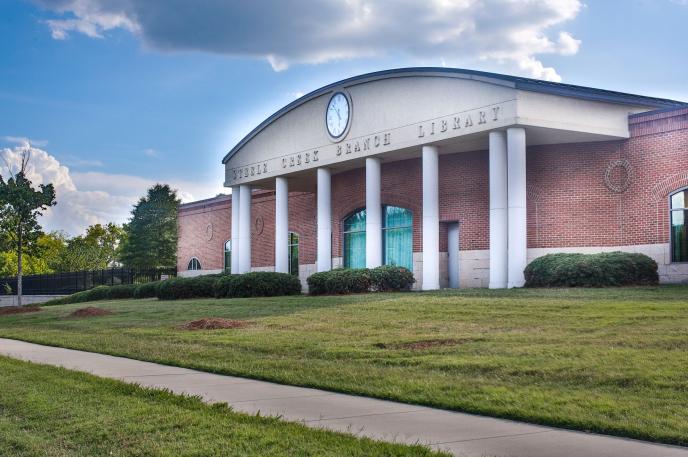 Get to know the Steele Creek Branch Community
April 14, 2023
The Steele Creek Branch Library is located in the Southwest area of Charlotte, North Carolina. Using I-485, I-77, highways 49 and 160, we are only 20 minutes from the Uptown Charlotte area, as well as only minutes away from these South Carolina cities/towns: Lake Wiley, Tega Cay, and Fort Mill. Additionally, Carowinds, our local amusement park, as well as the Charlotte Douglas International Airport, is within 15 minutes from the branch.
The Steele Creek area has a history dating back to the 17th and 18th century when it became a township instituted by immigrants traveling through Philadelphia, Pennsylvania by wagon in search of an environment that had moderate rainfall, mild summer temperatures, as well as cool winters. The area receives its name from a Scottish/Irish family that also named the small creek. Steele Creek is known as being a family friendly area.
The Steele Creek library serves several diverse neighborhoods: Berewick, Yorkshire, Westinghouse, Olde Whitehall, Harbor House, the Palisades, and Griers Fork, just to name a few. The library branch has an indoor gazebo in the Children's area and a beautiful outdoor garden that features statues, colorful benches, greenery and a smaller gazebo area to enjoy a meal or to have fun with friends and family. The rear porch area houses two large rocking chairs for all to use as a reading nook and benches on the side under a trellis. Our World Language collection includes: Spanish, French, Arabic, Hindi, Gujarati, Chinese, Marathi, Tamil, German, Russian, Korean and Vietnamese. Our community is also chock full of diverse cultures: from Ukraine, France to Brazil, Russia, India, China, Japan, Korea, Costa Rica, Latin and Central Americas, just to name a few.  The Spanish newspaper, Progreso Hispano is delivered twice a month.
Being that this area has a reputation of excellent schools, the Steele Creek community is surrounded by several preschools, elementary schools, preparatory schools, a Montessori school, a classical charter school, as well as middle and high schools. The Steele Creek library provides in-house and outreach programs to these locations. One fun fact about this library is that it shares a parking lot with the Charlotte Mecklenburg Public School – Southwest Middle.
Another wonderful highlight of Steele Creek is that of the Charlotte Regional Farmer's Market. Located on York Road, this market is the largest fresh food market in the region. Local eateries range from Greek, Asian, Mexican, Indian, Italian and Mediterranean foods. Also nearby is the Charlotte Premium Outlets. The outlet mall has plenty of fantastic shopping options, 
restaurants, as well as employment opportunities. Near the outlet mall area, LifeSpan, a non-profit organization that supports disabled communities, houses its corporate office. Steele Creek provides adaptive learning and sensory programs for this facility.
The Steele Creek area is considered to be an excellent place to live in North Carolina and continues to increase its population daily.  There is on-going construction in the area pertaining to apartment living, single-family housing, medical centers, hotels, and other businesses for employment opportunities. This area has many parks and streets for walking. It is popular for seniors, families, as well as young professionals who work in the Uptown Charlotte area. We want you to become a part of our community!
New to Charlotte? Explore other neighborhoods through the Charlotte Mecklenburg Library blog and WelcomeCLT, a digital space created for newcomers to Charlotte.
Resources: