Thumbnail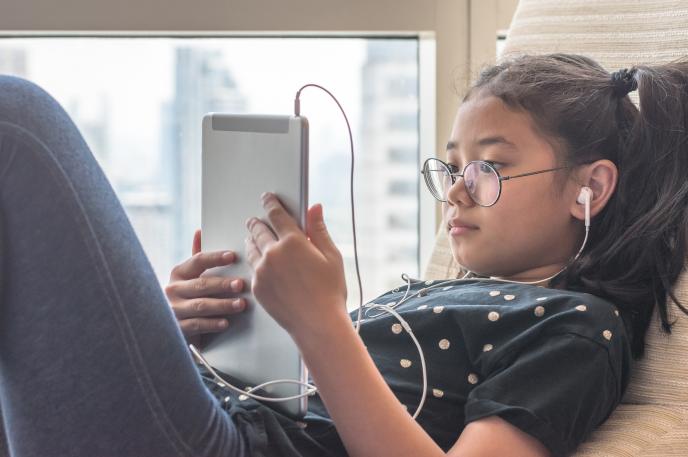 Digital resources at your fingertips
March 16, 2020
Desplácese hacia abajo para ver la versión en español
Your Library's mission is to improve lives and build a stronger community. Access to resources is important – even while practicing social distancing (limiting physical closeness to others to reduce the risk of exposure to disease). With recommendations to stay home and avoid crowds, this is a perfect opportunity to explore the world of e-books, e-audiobooks, movies, music, newspapers, magazines and more resources you can access for FREE, from anywhere, with your Library card.
Don't have a Library card? Sign-up for one now.
Stay well and stay engaged with digital resources you can access today:*  
E-books & More freegal hoopla (10 checkouts) Kanopy (10 checkouts) Kanopy Kids (unlimited checkouts) NC Kids Digital Library  OverDrive/libby (20 checkouts)       Looking for titles on OverDrive that are always available? Click here. RBdigital magazines  (unlimited checkouts)
Keep up with the news Charlotte Observer New York Times   New York Times - Digital Solutions Wall Street Journal   Value Line  
Learn a skill at home lynda.com Mango Languages Universal Class
Storytime Find storytime videos at our Digital Branch!
Additional resources Need help navigating Library resources? Click the green flag labeled "Resource Tutorials" to the right of the Resources: A-Z page to access our Niche Academy tutorial videos.
Wi-Fi remains available at all Library locations. Wi-Fi signal will be extended at each branch to reach the perimeter of the facility.
Questions? We can help you. Online chat is available Monday-Friday from 9 a.m-9 p.m. Click "Ask a Librarian" on the cmlibray.org website.
Need a Charlotte Mecklenburg Library card? Sign-up for a Library card here.
Access Federal Depository Library Program (FDLP) resources for librarians and patrons here.  
*For your convenience, this list will be updated periodically. (Last updated Friday, April 20, 2020 at 2:54 p.m.)
Recursos digitales a su alcance
La misión de su biblioteca es mejorar vidas y construir una comunidad más fuerte. El acceso a los recursos es importante, incluso mientras se practica el distanciamiento social (limitar la cercanía física con los demás para reducir el riesgo de exposición a enfermedades). Debido a las recomendaciones para quedarse en casa y evitar multitudes, esta es una oportunidad perfecta para explorar el mundo de los libros electrónicos, audiolibros electrónicos, películas, música, periódicos, revistas y más recursos. Usted puede accederlos GRATIS, desde cualquier lugar, con su tarjeta de la biblioteca.
¿No tiene una tarjeta de la biblioteca? Inscríbase ahora.
Por favor cuídese y utilice los recursos digitales disponibles: *
Libros electrónicos y más
hoopla (10 préstamos)
Kanopy  (10 préstamos)
Kanopy Kids (préstamos ilimitados)
OverDrive/libby (20 préstamos disponibles ahora)       ¿Busca títulos en OverDrive que siempre estén disponibles? Haga clic aquí. 
Revistas RBdigital  (préstamos ilimitados disponibles ahora)
Manténgase al tanto de las novedades
Charlotte Observer New York Times   New York Times - Digital Solutions Wall Street Journal   Value Line  
Aprenda algo nuevo en casa lynda.com Mango Languages Universal Class
Tiempo de cuentos
¡Encuentre videos de cuentos en nuestra sucursal digital!
Recursos adicionales
¿Necesita ayuda para navegar los recursos de la biblioteca? Haga clic en la bandera verde con la etiqueta "Resource Tutorials" ("Tutoriales de recursos") a la derecha de la página de Recursos: A-Z para acceder a nuestros videos tutoriales de la Academia Niche.
Wi-Fi permanece disponible en todas las sucursales de la biblioteca. La señal de Wi-Fi se extenderá en cada sucursal para alcanzar el perímetro de la ubicación.
¿Tiene preguntas? Le podemos ayudar. El chat en línea está disponible de lunes a viernes de 9 a.m. a 9 p.m. Haga clic en "Ask a Librarian" ("Pregunte a un bibliotecario") en la parte inferior del sitio web cmlibrary.org.
¿Necesita una tarjeta de la Biblioteca de Charlotte Mecklenburg? Inscríbase para obtener una tarjeta de la biblioteca aquí.
Acceda a los recursos del Programa de la Biblioteca Federal de Depósito (FDLP por sus siglas en inglés) para los bibliotecarios y los usuarios aquí.
 * Para su comodidad, esta lista se actualizará periódicamente. (Última actualización el viernes 20 de abril del 2020 a las 2:54 p.m.)