Thumbnail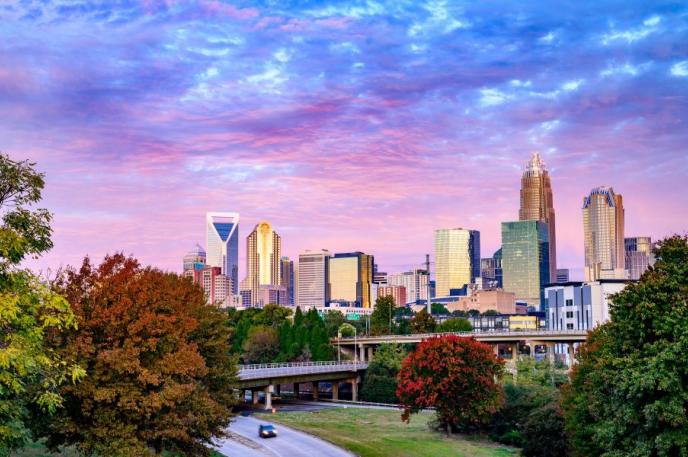 Charlotte Mecklenburg Library Celebrates Newcomers to the Queen City
August 24, 2023
Whether you're new to Charlotte or new to the United States, Charlotte Mecklenburg Library is excited you've chosen the Queen City as your home!
Charlotte is Certified Welcoming, which is a formal designation by Welcoming America for cities and counties that have created policies and programs reflecting their commitment to immigrant inclusion. As of 2023, Charlotte is one of just 18 cities and counties across the United States with this designation. The Library recognizes the important role residents like you play in the vibrancy of our city's neighborhoods, and we encourage you to get involved and stay connected.
One way we do this is through our WelcomeCLT initiative. The purpose of WelcomeCLT is to provide new residents (with an emphasis on international newcomers) with information and resources about navigating their new community. ​
We have a WelcomeCLT website that contains useful links, videos, information, and resources. But if you need more than what you see, we have additional resources listed on our WelcomeCLT Libguide. In addition to our digital spaces, each library location has world language materials. In total, our library branches have 16 languages represented in our print collections throughout Mecklenburg County. Each branch also has a WelcomeCLT kiosk, a designated place that houses flyers and brochures featuring local resources to help newcomers settle into their new homes.
Welcoming Week on September 8 – 17, 2023
This year the library will be celebrating Welcoming Week on September 8-17, 2023. Through Welcoming Week, organizations and communities bring together neighbors of all backgrounds to build strong connections and affirm the importance of welcoming and inclusive places. Here are some programs you may want to check out!  
PFLAG Charlotte Spanish Speaking LGBTQIA+ Peer Support Series
Saturday, September 9 at 10:00am for Teens, New Adults and Adults (Ages 12 and up)
Join PFLAG Charlotte for a 3-part series about LGBTQIA+ allyship. This workshop is designed for parents, caregivers, and extended family members of LGBTQIA+ individuals, who are interested in supporting their LGBTQIA+ loved ones.
South County - Storytime: All Are Welcome
Wednesday, September 13 at 11:00am for Preschoolers (Ages 3-5)
Engage your preschoolers with books, activities, stories and songs that encourage language and pre-reading skill development in order to help them grow into successful readers.
University City Regional Library English Conversation Club
Wednesday, September 13 at 11:00am for Adults (Ages 18 and up)
This program provides a relaxed and open environment to practice your English conversation skills. No lectures, just conversations. This program is intended for non-native English learners, and all levels are welcome! We do not follow any curriculum as this is a weekly opportunity to speak English in a non-judgmental conversational setting.
Myers Park - International Taste Test
Wednesday, September 13 at 4:30pm for Preteens and Teens (Ages 9-18)
Are you interested in trying some new snacks? Join us as we try unique treats from around the world and see if you leave with a new favorite!
Virtual – English for Job Seekers
Thursday, September 14 at 6:00pm for New Adults and Adults (Ages 16 and up)
A two-part workshop designed for those who speak English as a Second Language (ESL). Part 1 is a virtual group session designed to share resources and prepare participants for job seeking in America. Part 2 is a 1-on-1 mock interview designed to practice interview skills in English and receive helpful feedback to be used in a formal setting. The mock interview will be scheduled at the conclusion of the group session.
The Library regularly hosts programs throughout the year to meet the growing group of newcomers in our area. To register for these programs or find more, visit the Library Events page.
WelcomeCLT Beanstack Challenge on September 1-30, 2023
To take our celebration one step further, our system has a WelcomeCLT Beanstack Challenge throughout the entire month of September. The program will include a sign-up and completion prize.
Whether you just moved to Charlotte or are a long-time resident, there are a series of activities to choose from that will help you contribute to making Charlotte a welcoming place for all. To complete the challenge, a user must complete three activities from their selected track. There are three tracks total, which are defined below.  
New Americans - New Americans might be immigrants, refugees, or temporary or long-term visitors. Some example activities on this track include visiting the WelcomeCLT kiosk at your local branch and the WelcomeCLT website to find resources useful to New Americans. 
New to Charlotte - Have you moved to Charlotte, NC in the past few years? Charlotte has so much to offer for newcomers so it's important to explore. Some example activities on this track include attending a local festival or a WelcomeCLT event to learn more about what Charlotte has to offer. 
Welcomers - Are you a native Charlottean or someone who moved here a while ago? Then you are part of the welcome wagon! Some example activities on this track include reading a book about a character from another culture or shopping at an international grocery store. It is people like you who make Charlotte a great place to live! 
Once three activities have been completed, the user will be eligible for the completion prize: a WelcomeCLT insulated grocery tote.  All prizes can be picked up at any Charlotte Mecklenburg Library location, while supplies last.   
WelcomeCLT Resource Fair on Friday, September 29, 11am – 2pm
If you are new to Charlotte or new to the SouthPark neighborhood, make sure to end our welcoming festivities with a stop by the WelcomeCLT Resource Fair on Friday, September 29 at 11:00 a.m. This event will take place at our SouthPark Regional Library. Community partners will be on hand to bring valuable resources to new arrivals. At the event, you will be able to learn more about the library and visit with your new neighbors!
This blog was written by Lonna Vines, branch manager at the Myers Park branch of the Charlotte Mecklenburg Library.