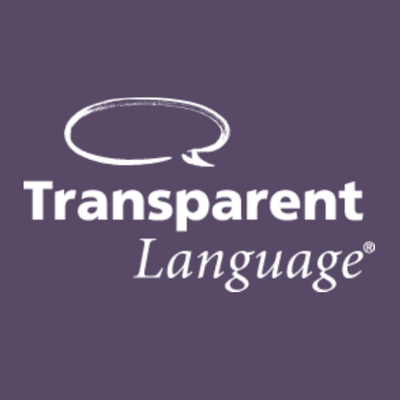 Desplácese hacia abajo para ver la versión en español
Provides a fun, effective, and engaging experience for learners of all levels looking to build their listening, speaking, reading, and writing skills in a foreign language.  With over 110 languages to choose from, including English for speakers of over 30 languages, there is something for every learner. Transparent Language Online combines robust courses, supplemental vocabulary, extensive grammar resources, and mobile apps for a complete language-learning experience.
Proporciona una experiencia divertida, eficaz y atractiva para los estudiantes de todos los niveles que buscan desarrollar sus habilidades para escuchar, hablar, leer y escribir en un idioma extranjero. Con más de 110 idiomas para elegir, incluido el inglés para hablantes de más de 30 idiomas, hay algo para cada alumno. Transparent Language Online combina cursos sólidos, vocabulario complementario, amplios recursos gramaticales y aplicaciones móviles para una experiencia completa de aprendizaje de idiomas.