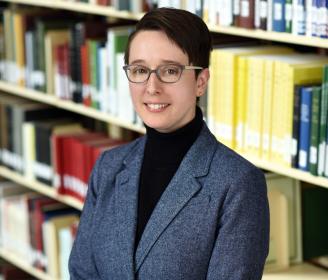 Holly Summers-Gil
Holly Summers-Gil is most passionate about serving teens in our community, which includes giving them opportunities to grow, develop and to become their best selves. Holly has been with the Library for over 11 years.  
Holly's quote to live by is from Anaïs Nin. "And the day came when the risk to remain tight in a bud was more painful than the risk it took to blossom."  
Holly believes accountability, integrity and honesty are important values to live by.  
Holly spends free time with beloved family and dogs, dabbling in the creative arts, baking and enjoying the outdoors. And, of course, reading! Holly's favorite book is Bird by Bird: Some Instructions on Writing and Life by Anne Lamott.  
Holly also recommends these digital resources, which happen to be favorites:  OverDrive eReading Room: Teen Collection, RBdigital magazines, Ancestry Library Edition and Freegal Music.