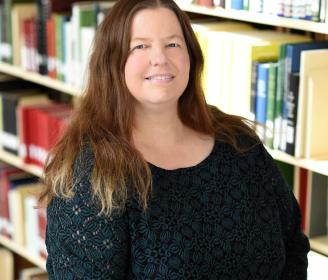 Emily Nanney
Emily Nanney, who has been with the Library for over 20 years, is most passionate about public libraries and exceptional customer service for all. She is also passionate about hard work and gratitude in all things, as well as positivity. 
Her quote to live by? "It is never too late to be what you might have been." Emily says, "I interpret this quote to mean that it is never too late to fulfill your dream or purpose in life, pick up a talent or interest that has been set aside for a time, etc." 
Spending time with family, being outside enjoying nature, watching professional tennis and reality television are all ways Emily fills her free time. And of course, reading! 
Emily has too many favorite books to count. 
When asked what Charlotte Mecklenburg Library FOREWORD culture principles resonate the most with her, she says, "Every Voice Counts and Live Your Purpose are two principles that especially speak to me.  It is so important for everyone to have a chance to share their thoughts, speak their opinion, talk at a meeting, etc. as you never know where the next idea, plan of action, or best practice will come from.  In addition, I believe that we all have a purpose in life and are most fulfilled when we live and work towards that purpose."