Monday, February 1st, 2021
Allegra Westbrooks was the first African American public library supervisor in North Carolina. Ms. Westbrooks grew up in Fayetteville, NC where she spent her childhood peeking through the windows of white-only public libraries. Her mother, a schoolteacher, passed a love of books down to her. She attended Fayetteville State Teachers College and Atlanta University where she received a Bachelor of Science in library services.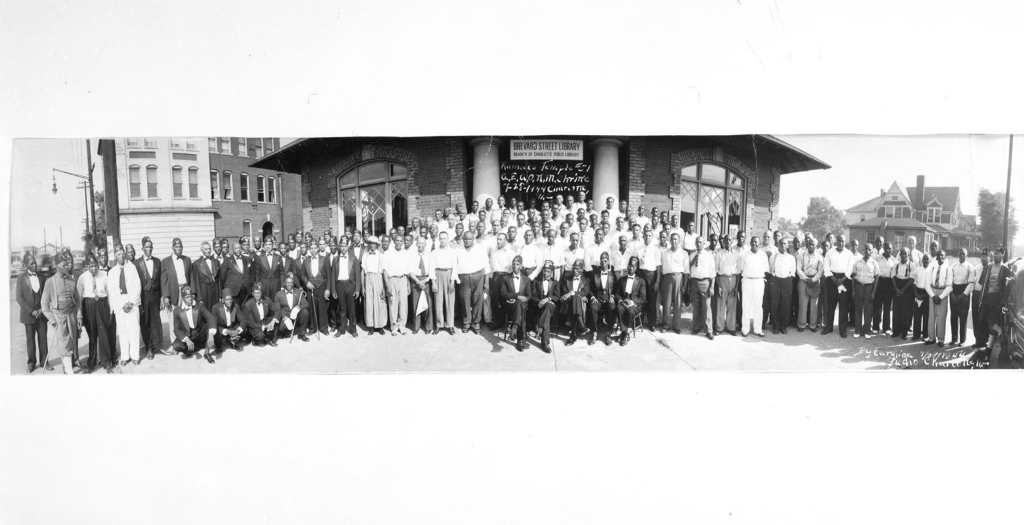 Brevard Street Library, 1944 
When she moved to Charlotte in 1947, only two libraries existed for the Black community: Brevard Street Library and its "sub-branch" in Fairview Homes Public Housing on Oaklawn Avenue.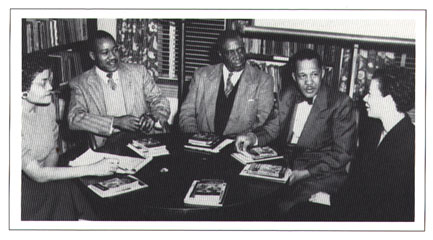 Citizens Advisory Council meets with Allegra Westbrooks, Head of Negro Library Services  
Charlotte Mecklenburg Library (then Public Library of Charlotte and Mecklenburg County) hired Ms. Westbrooks in 1947 as the head of Negro Library Services at the Brevard Street Library. To attract the Black community to these two branches, Ms. Westbrooks launched a campaign to host prominent speakers at Black churches "to sell the gospel of books and reading." She also visited the Young Women's Christian Association (YWCA) and Girl Scouts to form coalitions to increase usage of the Black libraries.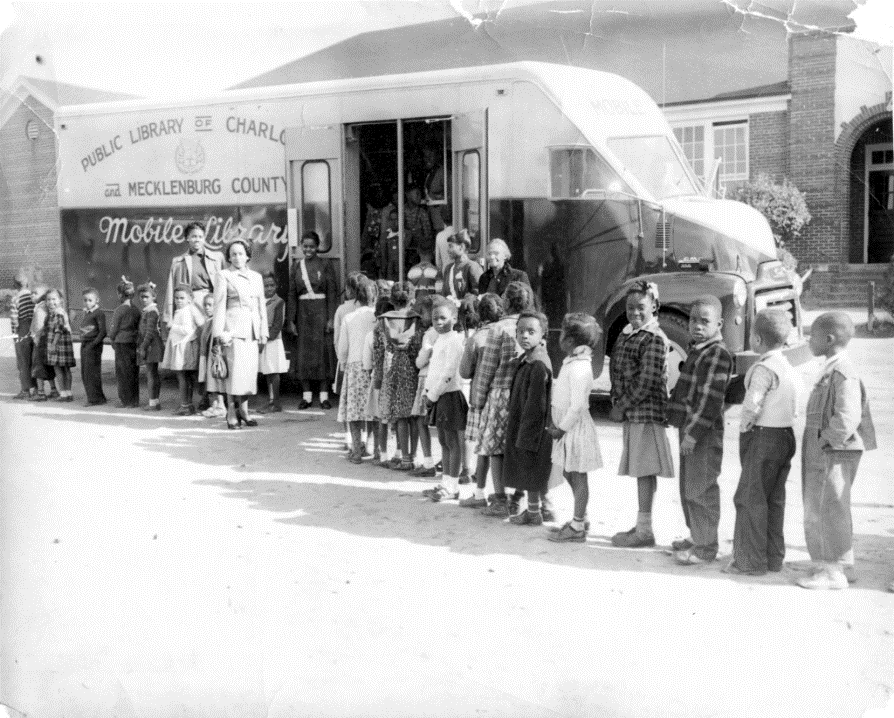 Female librarians assisting children on the bookmobile, 1966 
Ms. Westbrooks influenced many people to go to libraries through her public efforts. Many community members remember her visting them with a bookmobile to inspire them to read. Ms. Westbrooks said, "It is gratifying, when you'll be on the street and see somebody, and they say, 'I used the book mobile. I want you to meet my four children. I insist that they read'." She would also pick up books that the Black community requested at Main Library once a week.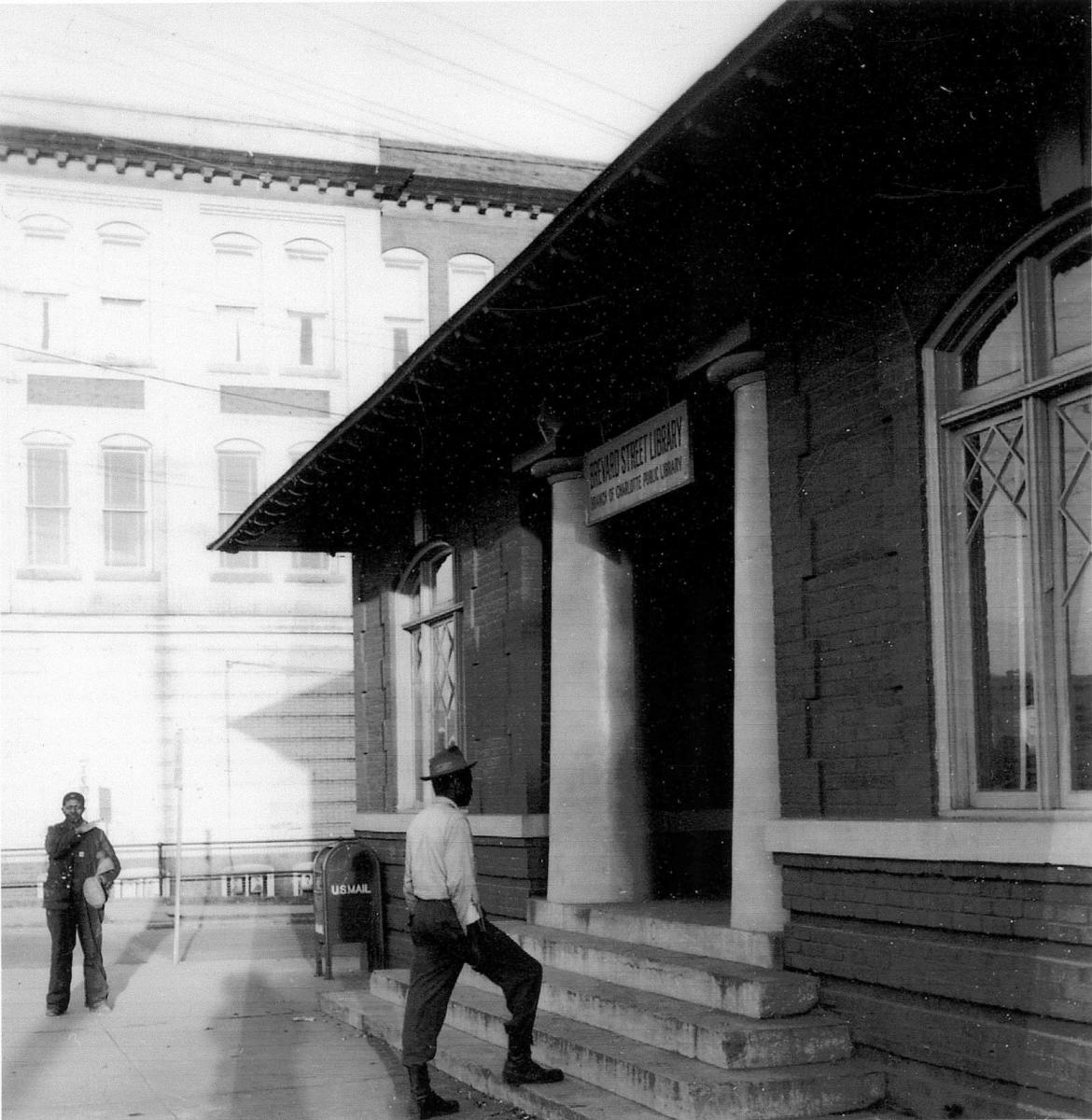 Man entering Brevard Street Library, 1948
The library system was desegregated in 1956, but the Brevard Street Branch continued to operate until December of 1961 when it was closed and demolished as part of the Brooklyn area urban redevelopment project.
Ms. Westbrooks was promoted Head of Acquisitions in 1950 at Main Library. Charlotte Mecklenburg Library officially integrated on November 19, 1956.  Hoyt R. Galvin, director of libraries 1940-1971, spoke to her undeniable skills and knowledge:
"Her recommendations were good, and I was pleased to have her join our staff, but I didn't realize the library and the community were getting a jewel. She carries a major responsibility for the countywide public library system in coordination of adult book selection and is head of all book acquisitions. In a day when 1,000 new book titles are published every day, this is a major task. There are subject specialists who know the literature of their field in a superior fashion, but Miss Westbrooks is the most knowledgeable all-around book specialist in North Carolina."
Ms. Westbrooks' career with the Library spanned 35 years, but her legacy continues today. She is not only honored for her incredible achievements as a pioneer in the Charlotte Mecklenburg Library system, but also for the many extracurricular activities and organizations she served on. In 1969, she was named "Outstanding Career Woman of 1969" at The Gold Rose Awards hosted by the White House Inn. 
--
This blog was written by Robinson-Spangler Carolina Room staff at Charlotte Mecklenburg Library.
 
Sources
Borden, Pat. "Retiring Worker symbol of change in local library." The Charlotte Observer, February 10, 1984.
Osborne, Dorothy. "Top Career Woman Is 'Giant For Good'." The Charlotte Observer, October 17, 1969.
Perlmutti, David. "A love of books, nurtured by mother." Black History Month, Crossing the Barrier, February 4, 2009.