Thumbnail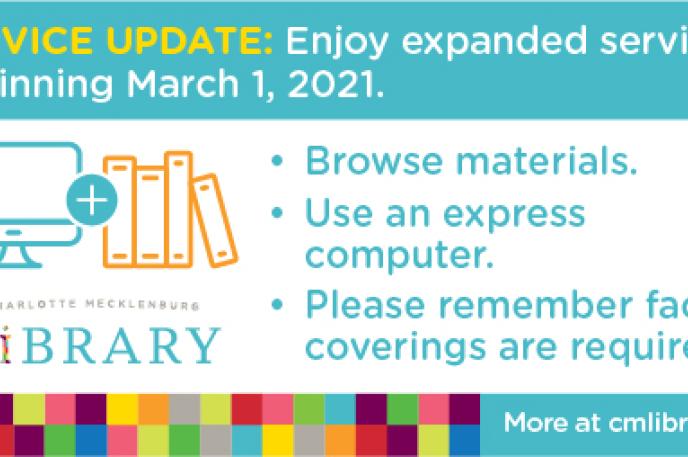 Library to return to Level 2 services on March 1, 2021
February 25, 2021
Charlotte Mecklenburg Library returns to the second level of our reopening plan Monday, March 1, 2021. In this level, customers can spend time browsing books and materials, and make reservations to use express computers at designated branches. Customers can continue to enjoy the services permitted in our initial reopening level which includes holds pickup, returning materials to designated bins, access to digital resources and participation in many educational and leisure virtual programs.
The Library will continue to open under these operational hours:
Monday-Thursday - 9 a.m.-8 p.m.
​Friday and Saturday - 9 a.m.-5 p.m.
​Sunday - closed
The Robinson-Spangler Carolina Room is closed for in-person services, but remains open by phone at 704-416-0150 and online for virtual reference at ncrstaff@cmlibrary.org Monday-Friday from 9 a.m.-5 p.m.
Also, during Level 2, customers will be able to browse inside the branches, with the maximum number of customers varying by location.
Express computers will be available by reservation at all Library locations EXCEPT Cornelius and Davidson Libraries, as well as ImaginOn. Computers will be spaced in compliance with the 6-foot social distancing rule to ensure customer safety. Staff will also be available at all Library locations to help guide, assist and direct customers, as well as answer any questions.
Social distancing and safety measures are paramount to the success of Level 2 operations, and plexiglass safety shields are installed at all customer service points. Customers and staff should adhere to the mask mandate ordered by North Carolina Governor Roy Cooper on June 26, 2020 which requires a mask or face covering while visiting the Library. Staff will also remind customers to abide by the Center for Disease Control's (CDC) 6-foot distancing guidelines. To ensure maintenance of comfortable distances between customers, we have placed safety decals on the floors at all locations to guide foot traffic. There is no seating available.
Additional safety measures include:
Regularly scheduled cleaning of facilities and surfaces in accordance with CDC recommendations.

Self-checkout stations available for customers to check out their own materials.

Quarantining of returned items for a period of 24 hours. Due to this quarantine time for returned materials, it may take several business days to reflect on your account*.  NOTE: Fines and fees are suspended at this time.
The Library continues to incorporate in-person services in a responsible way that focuses on safety. We'll continue to expand services in the upcoming weeks and months as it is safe to do so. Stay tuned for more information on the continued re-opening of services.
Thank you for your patience.
CLICK HERE FOR THE COMPLETE LIBRARY REOPENING PLAN  
Follow us on social media or visit the Library's blog for updated information: cmlibrary.org/blog
Here's what's available during our second opening level:
Staff and customers will wear face masks/coverings as required by the state of North Carolina.

Managed maximum number of customers in a branch at a time.

Use of social distancing safety markers.

Ability to browse for materials.

Option to use express computers (through in-branch reservation only) at branch locations EXCEPT Cornelius, Davidson and ImaginOn Libraries.

Streamlined self-checkout designed for quick in-and-out and safe, socially-distanced interactions.

Mobile printing is available for pickup from the branch. Learn more here.

Wi-Fi access is available outside the facility 24/7.

Free mobile hotspots are available for customers to place on hold for checkout for seven (7) days at a time.

Materials and holds available for pickup inside the branches.

All checkouts are self-checkouts. Customers can scan their card (physical or on the app) and the materials. No need to enter the pin.

All material/book drops remain closed. Return materials and books to the designated bins located at branch locations only during open hours. Signs will direct customers to the proper bin where returned materials will begin the quarantine process.

Fines and fees continue to be suspended.
Programming continues online.  
Community and study rooms – room reservations are unavailable until further notice.
Outreach programming – continues online or virtual, as coordinated between our Outreach team and the organization.
Programming and events – all programs and events for children, teens, adults and the Job Help Center remain online in virtual formats. Check here for the weekly schedule or visit the Calendar page on our website. 
We're here for you online or on the phone.
You can reach our online chat during regular operating hours at cmlibrary.org and click on Ask a Librarian. Our telephone reference team is also available during normal operating hours at 704.416.0101, or you can contact your local branch location directly - visit the Branches page for more information.
*Charlotte Mecklenburg Library is working to keep materials safe by using a quarantine method. All items are held for 24 hours upon return before check-in. Customers will see items they have returned stay on their accounts for several days. Please be patient as we work to keep our collection as safe as possible. No overdue fines will be assessed during this time.
Items checked out from the Library have gone through quarantine before being placed on the Holds shelf for pickup. Please refrain from cleaning or disinfecting materials as this may damage items. Customers who wish to ensure safety of checked-out materials may do so by placing the materials in a safe space at home and letting them sit for at least 24 hours.  
Services are subject to change.