Thumbnail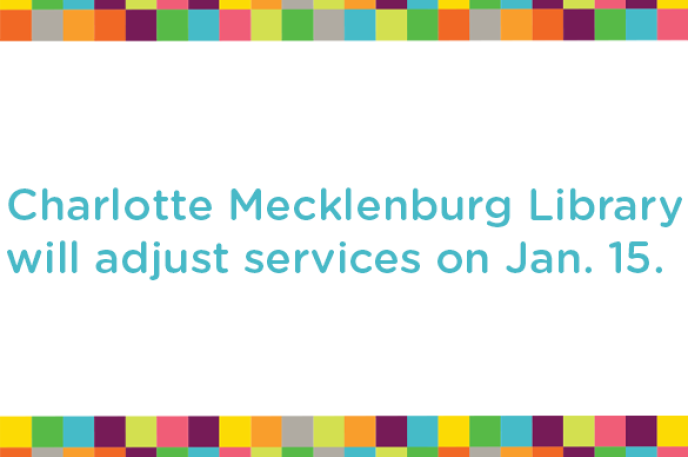 Library to adjust services on January 15, 2021
January 14, 2021
Desplácese hacia abajo para ver la versión en español
In compliance with the latest Mecklenburg County public health directive, Charlotte Mecklenburg Library announced it will adjust services starting January 15, 2021. During this reduced phase, the Library limits services to "grab and go" pickups of holds, mobile printing and returns at all branch locations, while programming continues online.
Library hours are Monday-Thursday 9 a.m.-8 p.m. and Friday and Saturday 9 a.m.-5 p.m. The Library is always open online at cmlibrary.org.
Find our complete multi-phased re-opening plan here
Customers can expect the following during the Library's reduced service schedule:
Customer holds will be available as "grab and go" at the front entrance of each branch. Materials can be reserved here through the online catalog.
Mobile printing is available online and can be picked up at the front entrance of the branch like holds.
Customers should contact their branch by phone prior to pickup to schedule a time slot. Find your branch location here.
Access our online program calendar here
Staff will complete the check-out of materials for customers prior to placing them at the front entrance.
Staff will wear face masks/coverings and protective equipment. Masks/coverings are also required for customers.
All material/book drops remain closed. Materials and books should be returned to the designated receptacles located at branch locations during open hours only. Signs will direct customers to the proper bin.
Fines and fees are suspended.
Facilities, restrooms and computers will not be open to the public. 
Access to staff support online and by phone.​​

Chat with Library staff at cmlibrary.org by clicking on the "Ask a Librarian" button at the bottom of the screen.
Speak with staff during normal operating hours at 704.416.0101. To contact your branch directly, click here.

Wi-Fi access is available outside Library facilities 24/7.
Free mobile hotspots are available for customers to place on hold for checkout for seven (7) days at a time.
All programming and events for children, teens, adults, Outreach and the Job Help Center have moved to online or virtual formats. Find our online programming calendar here.
Note: Materials and books will be quarantined for 24 hours before they are checked in. There is no need for customers to "clean" or disinfect Library materials.
--
Conforme a la última directiva de salud pública del condado de Mecklenburg, la Biblioteca de Charlotte Mecklenburg anunció que ajustará sus servicios desde el 15 de enero del 2021. Durante esta fase reducida, la biblioteca limitará sus servicios a la recolección de reservas, la impresión móvil y la devolución de materiales en todas las sucursales, mientras la programación continúa en línea.
El horario de la biblioteca es de lunes a jueves de 9 a.m. a 8 p.m. y viernes y sábado de 9 a.m. a 5 p.m. La biblioteca siempre está abierta en línea en cmlibrary.org.
Encuentre nuestro plan completo de reapertura de varias fases aquí
Los clientes pueden esperar lo siguiente durante el horario de servicio reducido de la biblioteca:
Las reservas para clientes estarán disponibles en la entrada principal de cada sucursal. Los materiales se pueden reservar aquí a través del catálogo en línea.
La impresión móvil está disponible en línea y se puede recoger en la entrada principal de la sucursal como los otros materiales.
Los clientes deben comunicarse con su sucursal por teléfono para programar un horario antes de recoger sus materiales. Encuentre la ubicación de su sucursal aquí.
Acceda a nuestro calendario de programas en línea aquí.
El personal completará el registro de salida de los materiales para los clientes antes de colocarlos en la entrada principal.
El personal usará mascarillas/cubrebocas y equipo de protección. Los clientes también necesitan mascarillas/cubrebocas.
Todos los depósitos de materiales permanecen cerrados. Los materiales y libros deben devolverse a los receptáculos designados ubicados en las sucursales únicamente durante las horas de apertura. Los letreros dirigirán a los clientes al contenedor adecuado.
Durante esta fase se suspenden multas y tarifas.
Las instalaciones, los baños y las computadoras no estarán abiertas al público.
El personal estará disponible en línea y por teléfono para brindarle ayuda.

Charle con el personal de la biblioteca en cmlibrary.org haciendo clic en el botón "Ask a Librarian" en la parte inferior de la pantalla.
Hable con el personal durante el horario normal de atención llamando al 704.416.0101. Para contactar directamente a su sucursal, haga clic aquí.
Toda la programación y eventos para niños, adolescentes, adultos, el alcance a la comunidad y el centro de ayuda para empleo se han trasladado a formatos en línea o virtuales. Encuentre nuestro calendario de programación en línea aquí
Aviso: Los materiales y libros se pondrán en cuarentena durante 24 horas antes de que se registren. No es necesario que los clientes "limpien" o desinfecten los materiales de la biblioteca.