Thursday, August 1st, 2019
Both West Boulevard Library and University City Regional Library are working with local organizations to provide meals to children during the summer months.
West Boulevard Library
 West Boulevard Library is partnering with Charlotte-Mecklenburg Schools (CMS) to serve as a meal site for the CMS' Summer Food Service Program, which is funded through the U.S. Department of Agriculture and administered through the NC Department of Public Instruction.
The Summer Food Service Program provides nutritious meals at no cost to help children in low-income areas get the nutrition they need to learn, play, and grow throughout the summer months when they are out of school. Through the program, children ages 1-18 receive meals at no cost and all meals meet nutrition standards based on federal guidelines. 
West Boulevard is serving as a site only on Thursdays, with lunch served from 1:15 p.m. to 1:30 p.m. The Library also offers programs for children that begin after lunch ends.
Teresa Cain, children's librarian at West Boulevard participated in a similar program at a Virginia library. Last summer, she took branch leader LaJuan Pringle and fellow librarian Abrar Alkusaimi to see the program in action at Social Services. After seeing the impact of the program, Pringle knew this would be a great fit for the community West Boulevard serves. Cain then worked with CMS Summer Food Services to offer it at West Boulevard. 2019 is the first year Charlotte Mecklenburg Library is participating in this program.
Cain says, "Charlotte-Mecklenburg Schools' Summer Food Services is  eager to work with libraries. All their other locations serve meals every weekday. When I told them that we only had staffing to handle a once a week program, they made a special exception for us. They're hoping to include more Library locations next year."
The Library has quite a few families who attend every single lunch program which, according to the experts, indicates that they are seriously in need of help.
Cain adds, "As soon as we started promoting the Free Lunch programs, our customers, even those who don't have children were so excited. They felt we really understood the needs of the community we are serving, needs that go outside the boundaries of typical library services. Even people who did not stand to benefit from the program really appreciated that we were offering it." 
So what are people saying about the impact of the program at West Boulevard?
Jose, the CMS driver/server, said, he "…loves coming to our location. Every single one of our kids said "thank you" when given a meal. This almost never happens at other locations." Jose wants to come back again next year.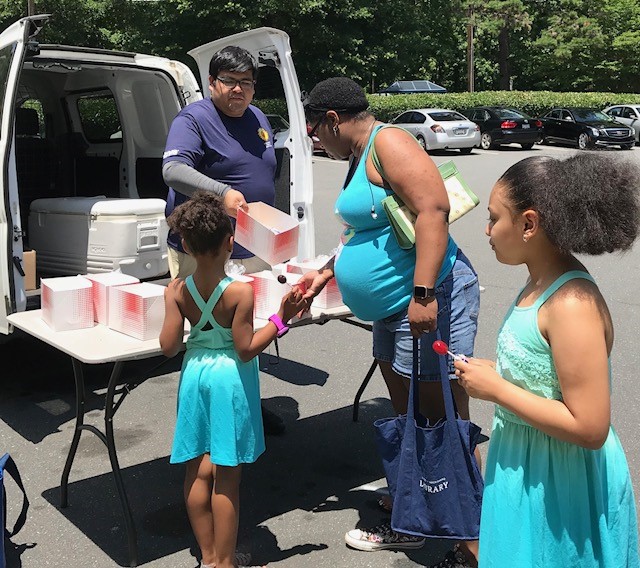 "The Library offers program after the lunch, and most of the families stay, even the families who have never been to a library program before. It's been a great way to build relationships with new customers in the community and to introduce them to all the possibilities that are available for free at the library. Says Cain, "We see many customers who originally just came for free lunches take advantage of other programs and using computers or free Wi-Fi."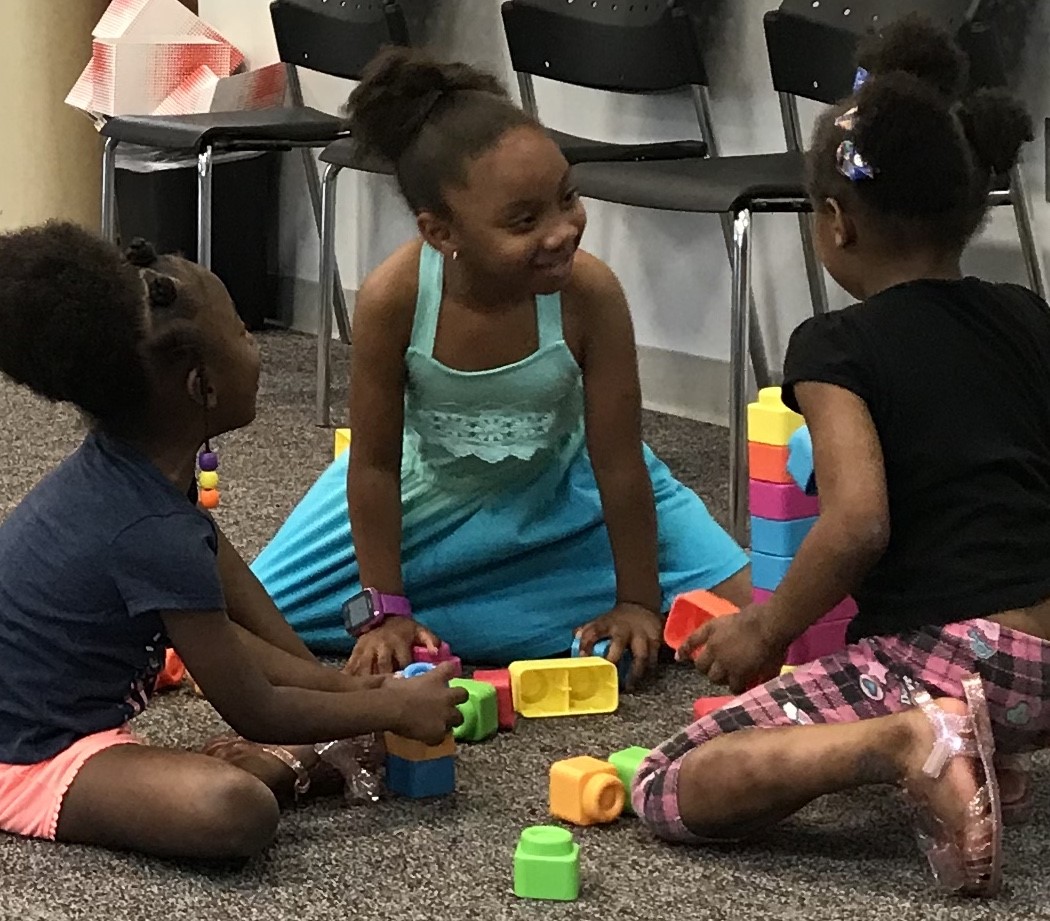 Working with CMS and offering the free lunch program is just the tip of what the Library can do with community partners.
The lunch program began at West Boulevard Library on June 13, 2019 and ended August 1, 2019. The branch plans to participate next year. 
University City Regional Library
Kids Eat Free at Atrium Health University City is a service the hospital provides for all kids ages 18 and younger. They provide two free healthy meals (breakfast and lunch) daily Monday through Friday.  University City Regional Library, in its third years with the program, works with Atrium Health and Sodexo to educate and entertain children partaking in the free meals.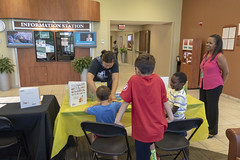 On Tuesdays and Thursdays, University City Regional Library sets up an information table and interactive activities from 11 a.m. to 1 p.m. for the children who come to the hospital for a meal.  They also take books for kids to read as well.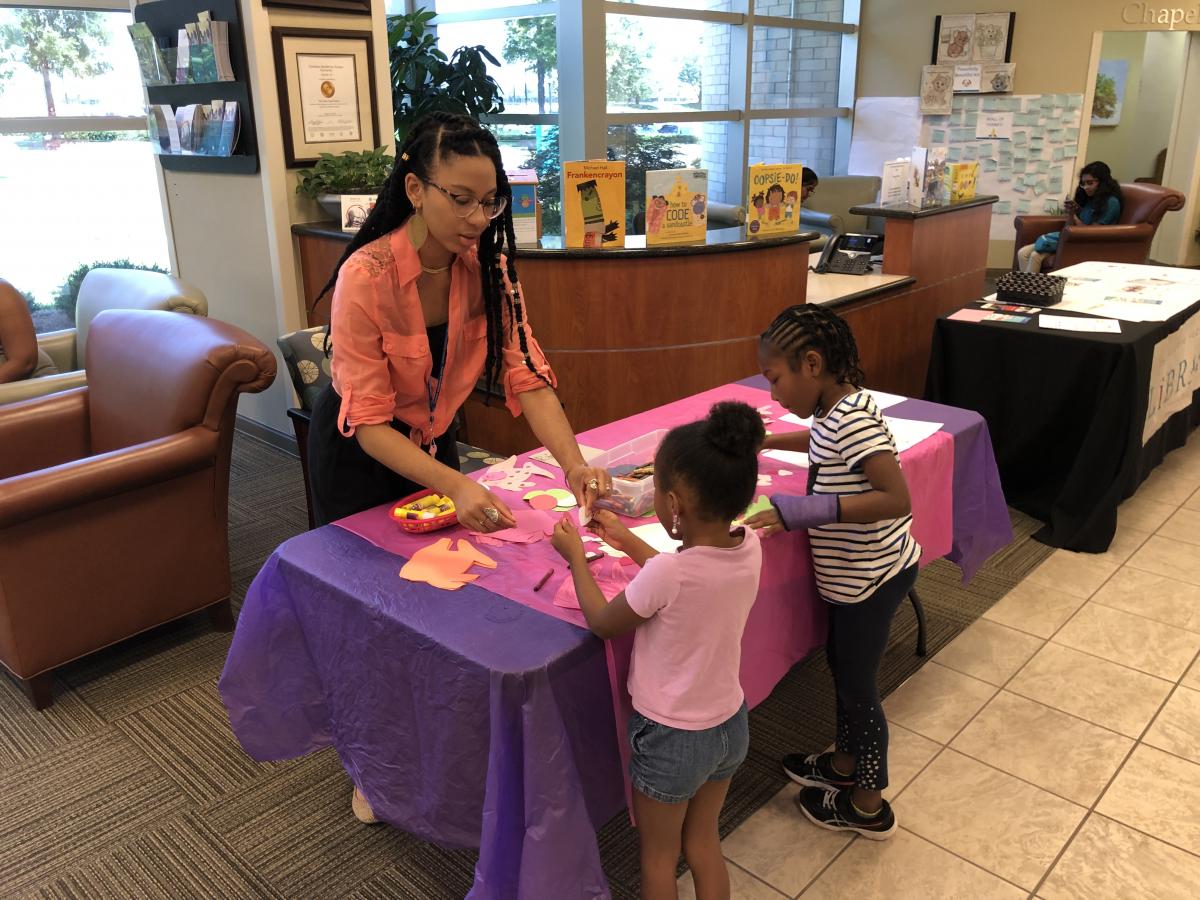 Jonita Edmonds, University City Regional Library's branch leader, shared this story from one of the library's visits at the hospital: "One day our librarians brought LEGOs and Alpha-Bots to a table at Kids Eat Free. Several groups of kids walked past, excited to see the LEGOs, and with one group, the leader told the kids they needed to eat before joining the activity. After eating, the group hurried back to interact at the table. One of the doctors came out and asked them friendly questions while playing. With each group of children, we were able to share library programs and resources, and parents were excited to know that we had LEGOs and other activities at the library. Some families said they would head to the library after eating for entertainment."
The Kids Eat Free program kicked off on June 10 and ends on August 22, 2019.