Tuesday, January 28th, 2020
Celebrate at the South Boulevard Library Grand Opening on Saturday, February 15, 2020 with ribbon cutting at 10 a.m.! South Boulevard Library is located at 4429 South Boulevard, Charlotte, 28209.
Now that South Boulevard Library is open, we're ready to celebrate!Join us on Saturday, February 15, 2020 for a Grand Opening from 10 a.m.–2 p.m.* Charlotte Mecklenburg Library Board of Trustees Chairman Rob Harrington and County Commissioner Susan Harden are featured speakers.
Enjoy activities from local community partners, face painting and more through 2 p.m. Some festivities include:
Ribbon Cutting Ceremony at 10 a.m. 
A Hogwarts castle display
Photo area
Video games
Paws to Read
Frontline Puppeteers
Bilingual storytelling, songs, etc.
Art Plus (music and self-guided crafting)
Scavenger hunt
Food truck - International Truck of Tacos
Auntie Anne's
And more!
 
What to see?
South Boulevard Library increased by 13,350 square feet to 18,850 square feet. That is a gain in square feet of nearly 300%. You can tour all the redesigned spaces for children and teens, an expanded community room, group study rooms and collaborative spaces, free Wi-Fi and a vending café. New features include audio-visual capabilities and a public computer lab.
Library hours
South Boulevard Library is open Monday through Thursday from 9 a.m.-8 p.m. and Friday and Saturday from 9 a.m.-5 p.m. The branch is closed on Sundays.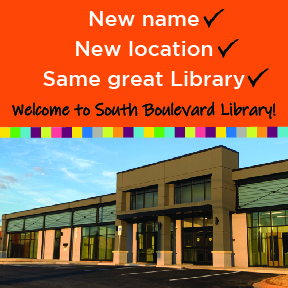 See you at South Boulevard Library soon!
*The branch will be open on Saturday, February 15, 2020 for regular operating hours from 9 a.m.–5 p.m.