Tuesday, September 3rd, 2019
Welcome (back) to North County Regional Library!
We missed you, too!
North County Regional Library will re-open on Monday, October 7, 2019 at 9 a.m.
The branch, which was closed in July 2018 for renovations, is an essential connector in the community. The Library will offer services, programs, Wi-Fi and computer use, along with a wide selection of books and audio visual materials including DVDs, CDs and audiobooks. Thank you for your patience during our renovation.
What's new at North County Regional Library?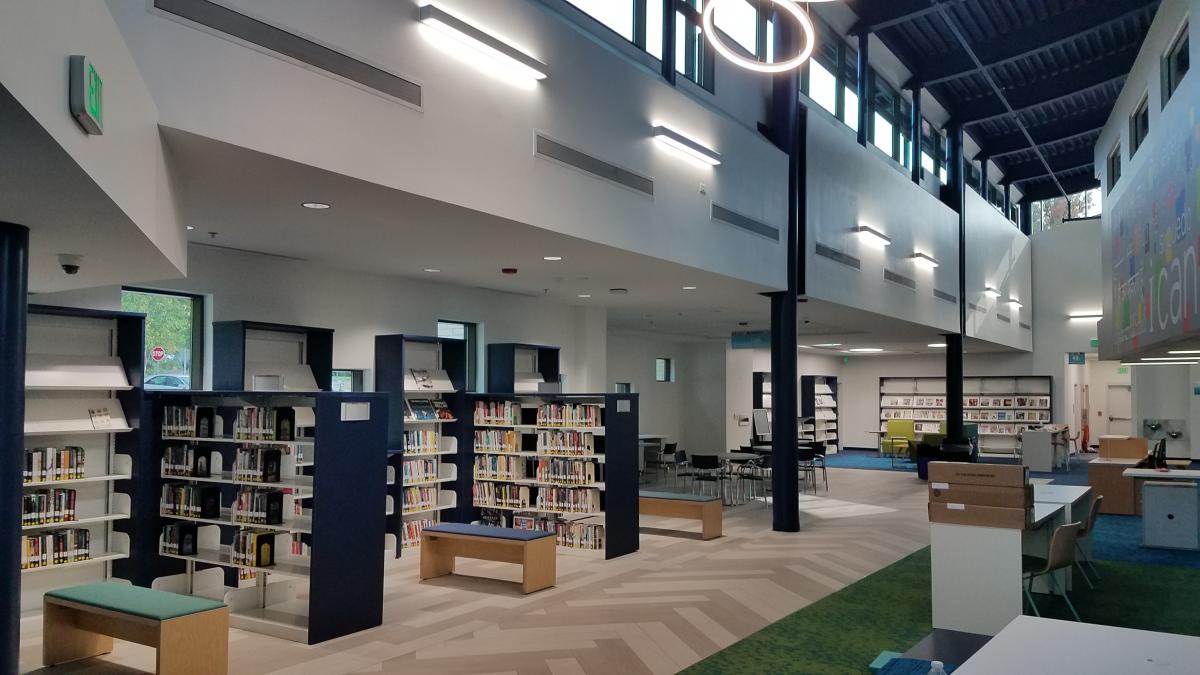 North County Regional Library (located at 16550 Holly Crest Lane, Huntersville, 28078) increased by 1,860 square feet to nearly 24,860 square feet and now includes redesigned spaces for children and teens, including a new Teen Loft, a makerspace room, an expanded community room, individual and group study rooms and collaborative spaces, a vending café, and a patio and terrace. Features include free Wi-Fi, audio-visual capabilities and a public computer lab. A new exterior book/materials drop is part of the new traffic flow in the parking lot. The North County Regional Library is also updated with an efficient checkout system using radio frequency identification (RFID) and an automated materials handling (AMH) unit.
We also welcome a new branch leader for North County Regional Library – Amanda Corbett. She is excited to meet all of you and welcome you (back) to our beautiful new facility.
Library Hours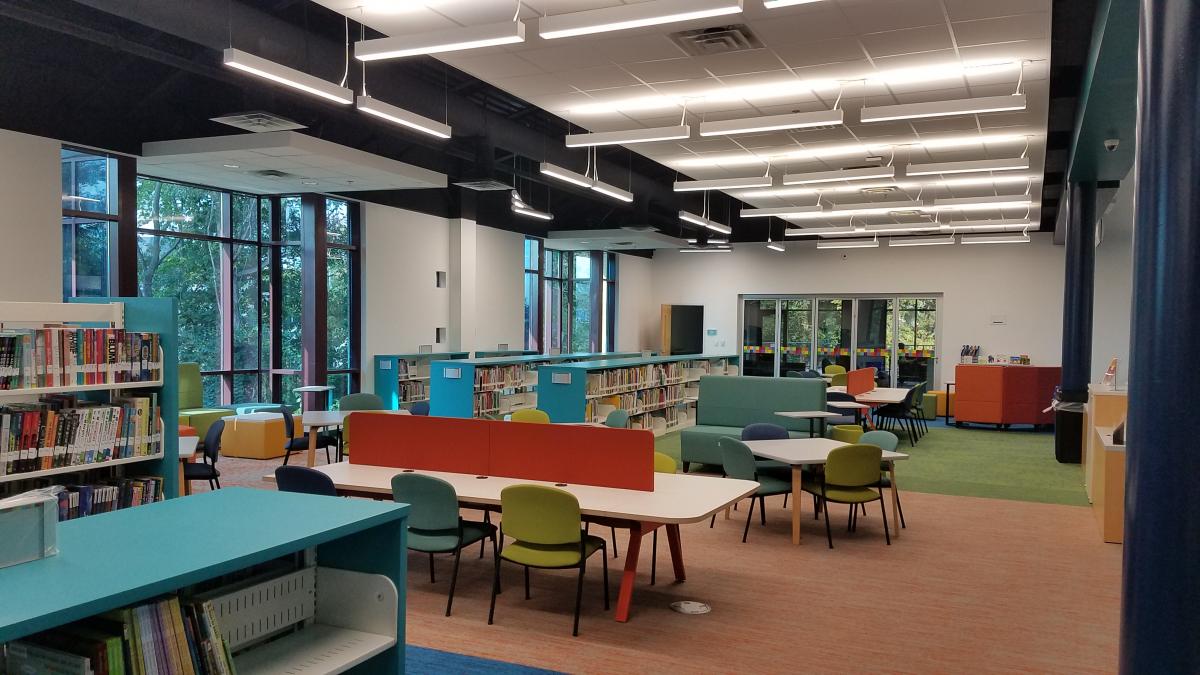 Starting October 7, North County Regional Library will resume normal operating hours. The Library will be open Mondays through Thursdays 9 a.m. - 8 p.m.; Fridays and Saturdays 9 a.m. - 5 p.m.; and Sundays 1 p.m. - 5 p.m. Hours may vary in summer. 
Library Holds and Pick-ups
As of October 7, North County Regional will once again receive and distribute reserved items. When you're in Bibliocommons reserving an item, you can choose a location from the drop-down list. Note: North County Regional will not be added back in until October 7, so if you try to add this location before that date, the location will not appear. 
Returning books and materials to North County book/materials-drop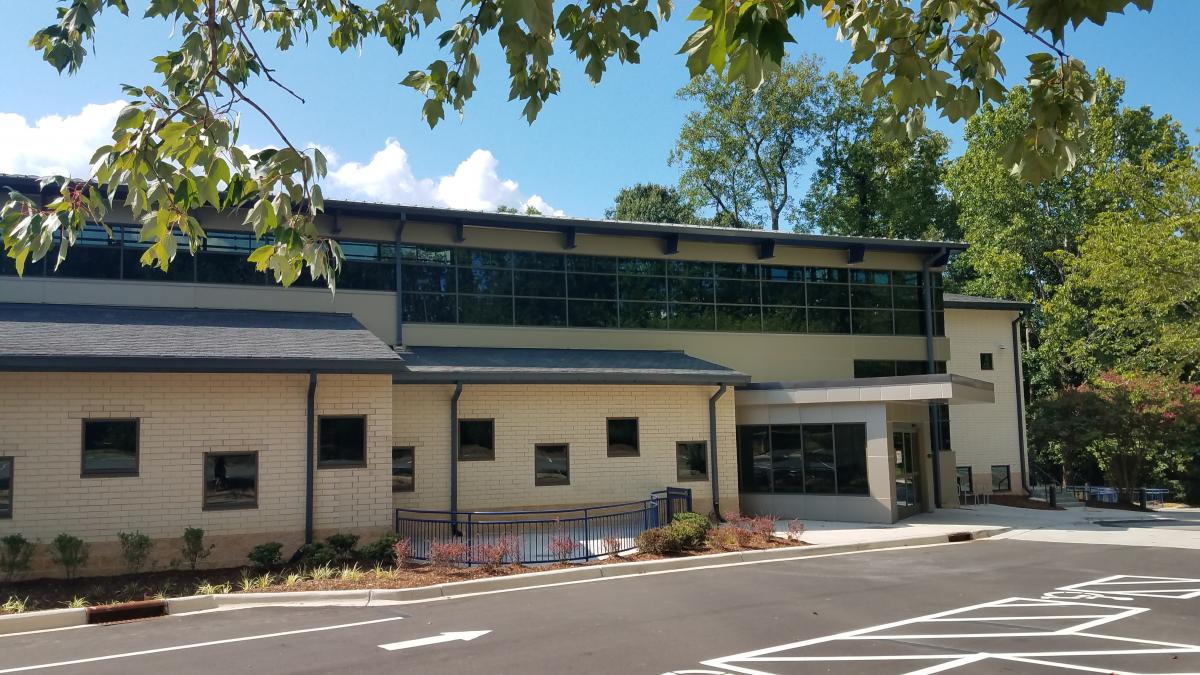 One of North County Regional's newest features is an exterior drive-through book/materials drop with a new traffic flow in the parking lot to accommodate this improvement. (Book/materials drop open October 7.) Please watch for and follow the directional signs.
There were also major upgrades to the HVAC system to ensure efficient operations and user comfort. Public funding for the North County Regional project was approved in 2014 by Mecklenburg County and cost approximately $6.78 million. The project was managed by Mecklenburg County's Asset and Facility Management Team, the architect was McMillan Pazdan Smith Architecture and Optima Engineering, and the builder/contractor was Encompass Building Group. The North County Regional renovation is the second of several projects for the Charlotte Mecklenburg Library system; Morrison Regional Library was renovated and re-opened in 2017, and South County Regional Library is scheduled to close later this year for renovations.
When's the celebration?
Charlotte Mecklenburg Library will host a Fall Fest and Grand Re-Opening at North County Regional Library with a ribbon cutting ceremony and lots of activities inside and outside the branch on Saturday, October 26, 2019, beginning at 10 a.m.
See you at North County Regional soon!