Due to the COVID-19 pandemic and the Library's current level of services,  makerspaces and the Idea Box are closed until further notice.
Charlotte Mec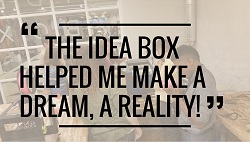 klenburg Library encourages visitors to get "creatively messy"
with free access to tools to design, build and co-create. Inside a glass room in Main Library in uptown Charlotte, you'll hear the whirring of machines. It's the sound of learning and comes from Idea Box, a makerspace that opened to the public in 2015.
What is a makersp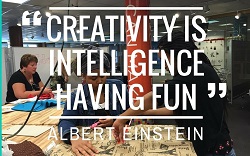 ace? It's a learning environment for people to connect with
others and create meaningful projects, using technologies and other tools that might not be easily accessible. Idea Box has 3D printers, CAD stations, vinyl and laser cutters, and sewing machines. Other equipment includes: MakerBot Replicator, LulzBot Mini, Epilog Laser Engraver/Cutter, Roland Vinyl Cutter and three desktop computers.
Idea Box is a place where anyone can explore new technology as well as design, prototype and build inspired ideas from start to finish. 
Prices
1/8" half board wood >> $1.50 >> Laser Cutter 
1/8"  full board wood >> $3.00 >> Laser Cutter 
Cardstock (per sheet) >> $.25 >> Laser Cutter
Cardboard >> FREE >> Laser Cutter 
3D Print filament (per gram) >> $.10 >> 3D Printer 
Vinyl (per square foot) >> $.50 >> Vinyl Cutter