Update: This page was edited in October 2021 to reflect updates and currency of progress on the new Main Library project. Final design details for the new library will be released when the design is complete.
Main Library: Past, present and future
For more than a century, a library has stood on the 300 block of North Tryon Street, reinventing itself to meet the changing needs of the growing Charlotte-Mecklenburg community. As the Library is poised to reinvent itself once again, the Main Library is positioned to become a major destination in Uptown Charlotte, a free, open and accessible information hub for the million-plus people in Mecklenburg County, as well as the next million to come.
In November 2019, Charlotte Mecklenburg Library publicly announced plans for a new Main Library in Uptown Charlotte. The new Main Library is poised to become a major destination in Uptown Charlotte. It will be a welcoming and inviting, architecturally-distinctive, state-of-the-art, technologically advanced knowledge center and public commons, where everyone in the community can access the resources of a 21st century library and use them to learn, grow, connect and engage with others in the community.
Demolition of the current Main Library will take place in early 2022 and construction is scheduled for completion in late 2025.
This is your new Main Library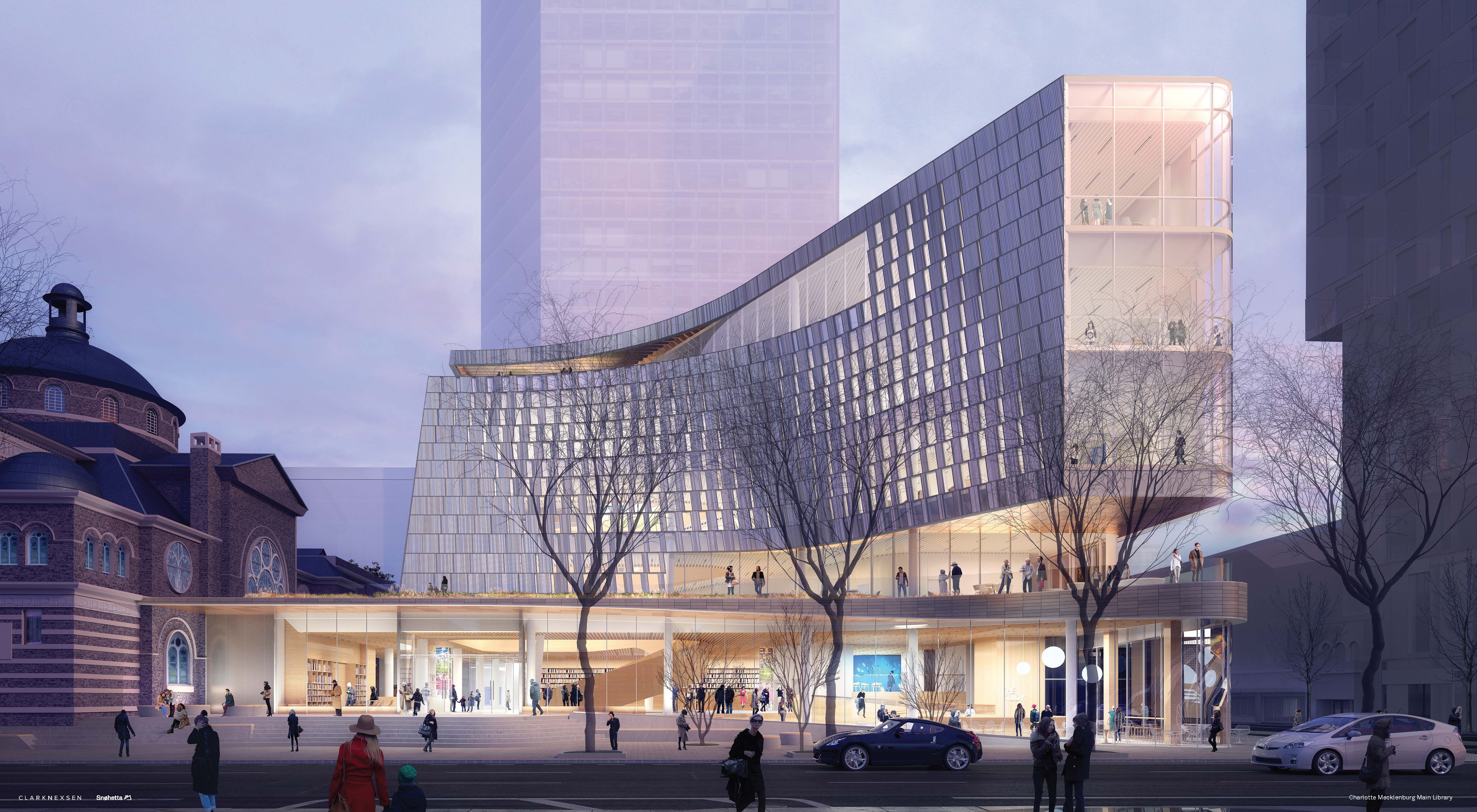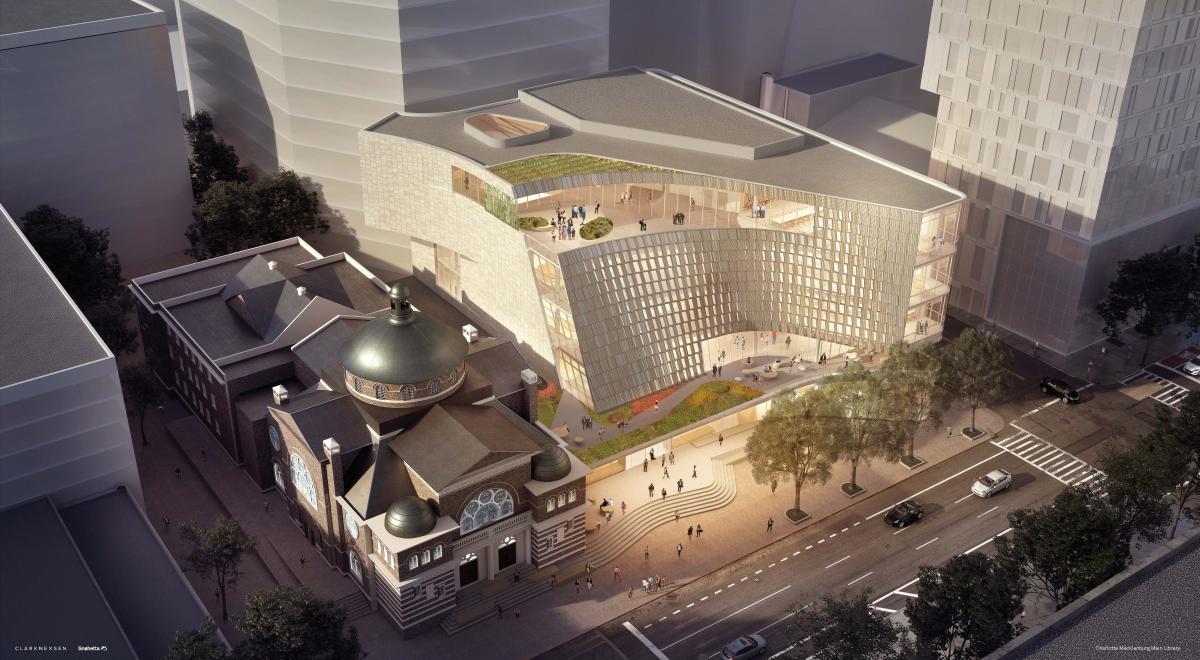 New Main Library, the flagship of our library system, is designed to provide flexible spaces to meet demand for print and digital collections, information and reading materials, public and private meeting rooms, study spaces, program and event gatherings and other specialized uses. The building is designed to be expansive and inviting, opening itself up to the surrounding city and offering a variety of integrated spaces that allow it to function as a place for knowledge, exchange and engagement.
Features of new Main Library
New Main Library will include five public floors for library and programmatic use, a restored main entrance on North Tryon Street, outdoor terraces for public use and events, an active lobby providing entrance to the Library and to the McGlohon and Duke Energy Theaters, a café, a sunroom, digital signage, a reading room for quiet study, and event, meeting and study room spaces for large and small programs, events and gatherings. New Main will also have public art and a gallery, and breathtaking views of Charlotte and the Uptown area.
The Library will boast large collections of popular and nonfiction resources for informational, educational and recreational reading and study, computers for public use and workforce development, technology suites and immersive technology theaters and a reimagined Robinson-Spangler Carolina Room providing access to the history of Charlotte, Mecklenburg County, North Carolina and more. It will also include a welcome center for newcomers to the area.
Funding and support for the new Main Library

Led by campaign chairs Charles Bowman, Rob Harrington and Holly Welch Stubbing, the Charlotte Mecklenburg Library Foundation is leading the CommonSpark, a public-private partnership to infuse $143 million into improving lives and building a stronger community via the Charlotte Mecklenburg Library. As of October 2021, more than $103 million (72%) has been committed towards the goal. Mecklenburg County generously invested $65M and the Library Foundation is raising $78 million in private support. To date, the campaign has raised $48 million in private philanthropy with exciting announcements of new gifts to come. The support will create a new main library; a new library administration center to permanently house back-office operations; technology, innovation, and programming initiatives throughout the library system; an endowment for the future; and annual operating support. Learn more about the CommonSpark campaign here.
The Main Library will be a remarkable place and space where the entire community can gather as it has since the original Carnegie Library opened at this site in 1903. The Charlotte Mecklenburg Library Foundation invites our entire community to invest in the next generation of readers, leaders and learners. Visit https://foundation.cmlibrary.org for more information and donation information. 
What all is happening on the block?: Sixth and Tryon
New Main will be the gateway to a reimagined North Tryon Street corridor, and a catalyst for additional redevelopment. Library Board of Trustees Vice Chair Brandon Neal and Charlotte Mecklenburg Library Foundation Executive Director Jenni Gaisbauer take you on a tour around the block in the video below:
Community ties: How Main Library is connected to other community initiatives
A reinvented Main Library is an integral part of several community initiatives: 
The new Main Library helps further our mission to improve lives and build a stronger community by strengthening public engagement, supporting economic opportunity, and connecting community resources.  With such wide acclaim and community support, the new Main Library is poised to become a major destination in Uptown Charlotte that is welcoming and inviting to everyone and will serve us well into the future.
All media kit information can be found here. 
Blog Posts About Main Library's Future