Friday, February 26th, 2021
Charlotte Mecklenburg Library is proud to announce South County Regional Library at 5801 Rea Road, Charlotte, NC 28277, opens its doors on March 1, 2021 at 9 a.m. for expanded public access under Level 2 of the Library's re-opening plan. Level 2 services will allow customers to browse materials and use express computers within branch occupancy limits. To see what other services are available in Level 2, please click here.
South County Regional, which closed to the public in November 2019 and underwent at 15-month renovation, re-opens with an increase of nearly 1,100 square feet and now offers 33,800 square feet of new and reimagined spaces. Here's what's new at South County Regional Library: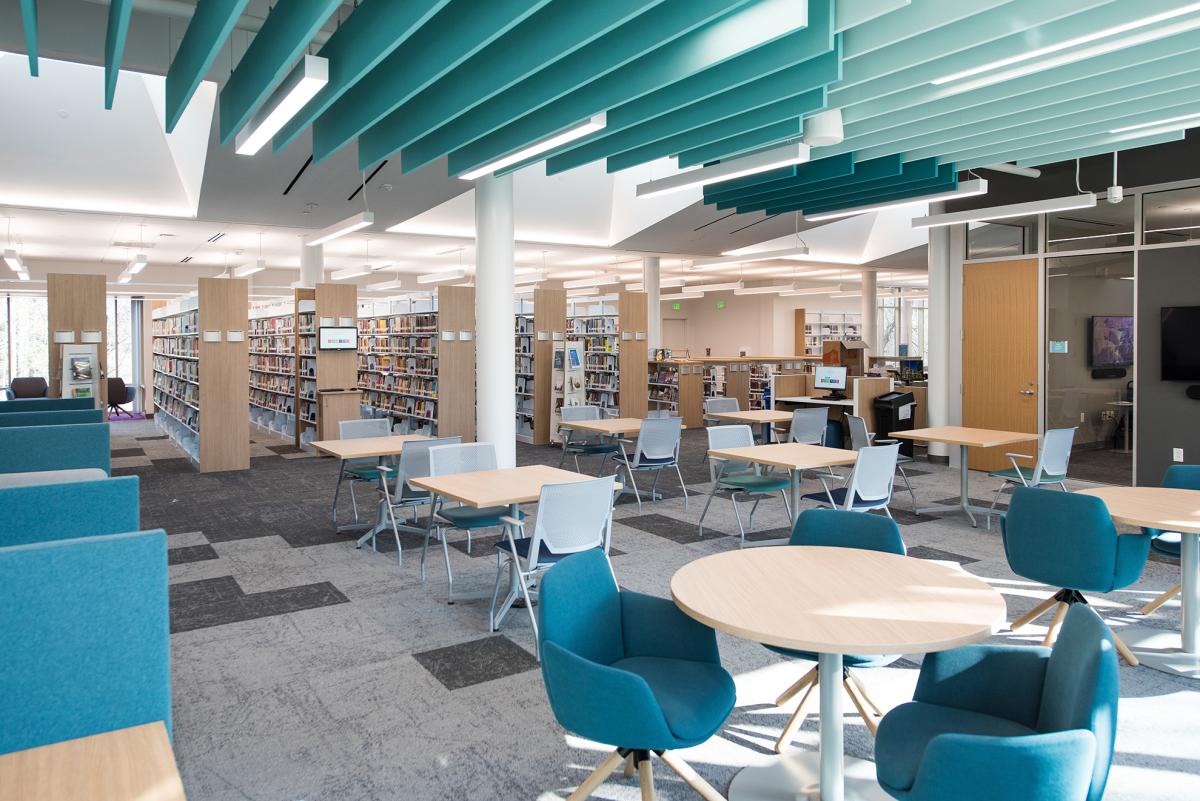 Starting on the second floor of the branch, customers will find a new Teen Loft, surrounded by ample open seating, computers, and cozy lounge areas with scenic views of the branch's beautiful trees and lush landscaping. It's the perfect place to find your next favorite Young Adult title or graphic novel! In addition to tempting cookbooks on display, when the branch is fully accessible to the community, customers will enjoy community seating and collaborative spaces, a public computer lab, a brand new community room, individual and group study rooms, a training lab/studio, laptop bar and bright alcoves overlooking the front of the branch.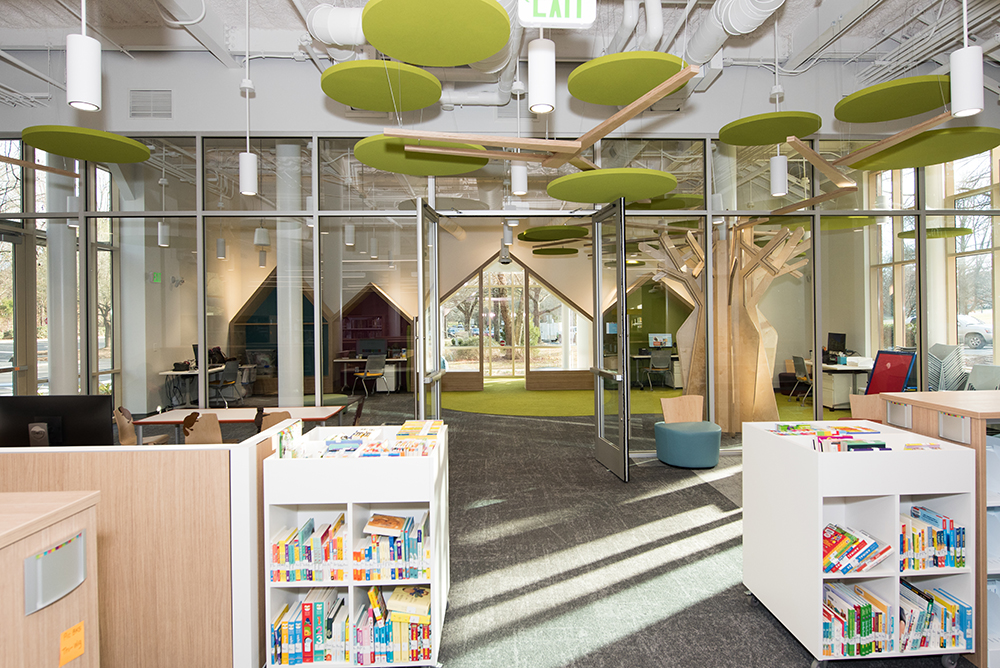 On the first floor, customers can enjoy the new Children's programming room, a second community room, vending café, patio and a Calming Room for anyone who needs a peaceful space such a nursing mothers, those who may experience sensory overload and more. Additionally, South County Regional features a refreshed collection that includes 40 new launchpads preloaded with educational apps for children. Customers can experience the best of the collection at South County Regional!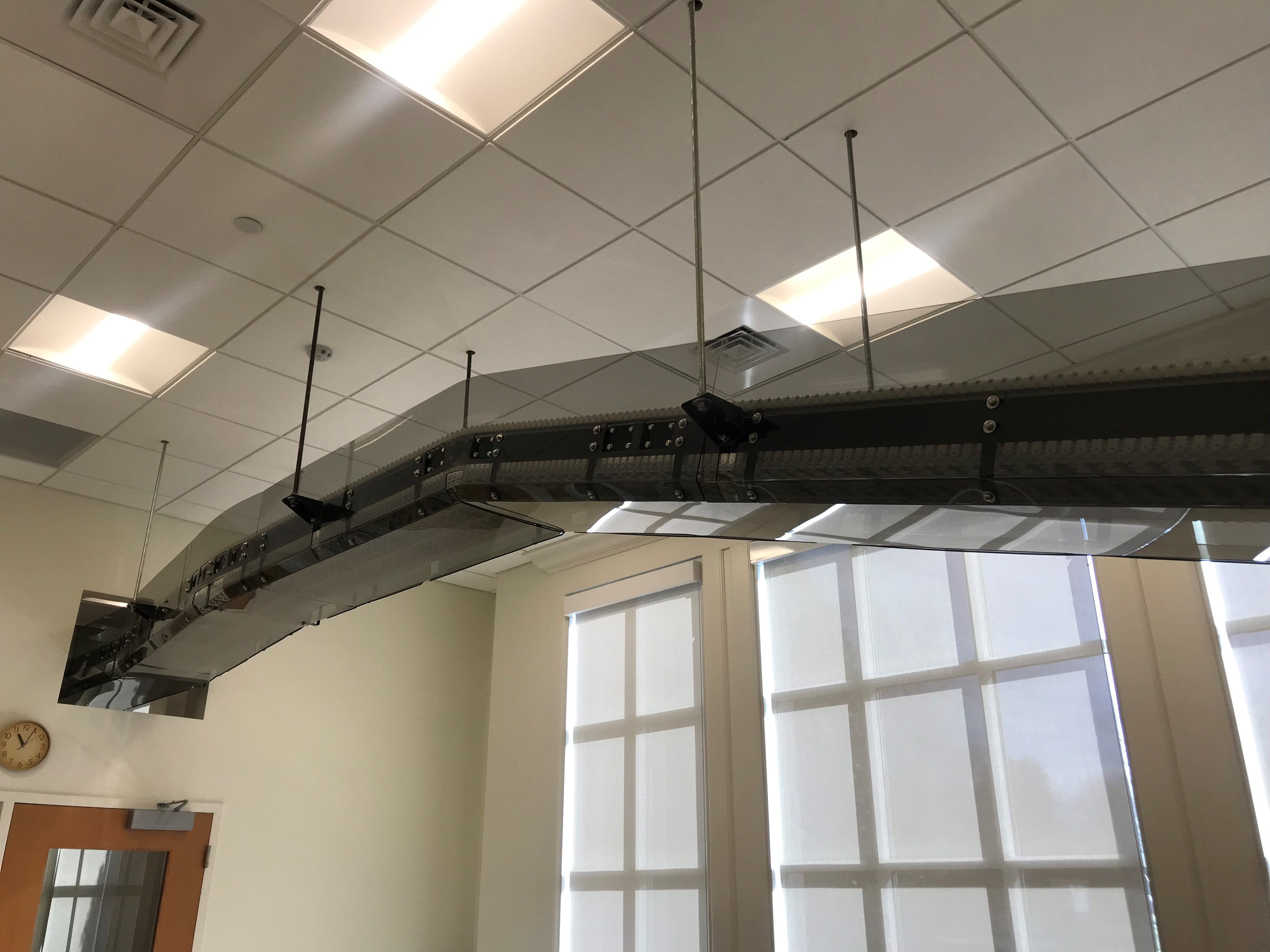 Other features customers can enjoy in the renovated library, include free Wi-Fi, an efficient checkout system using radio frequency identification (RFID), and enhanced audio-visual capabilities in community rooms and the training lab/studio. A new exterior book/materials drop that feeds to and an automated materials handling unit (AMH) is part of the new traffic flow in the parking lot which requires cars to travel to the left in front of the building and drive in a clockwise direction. Visitors are encouraged to pay attention to directional signs in the parking lot to ensure safety for themselves and others.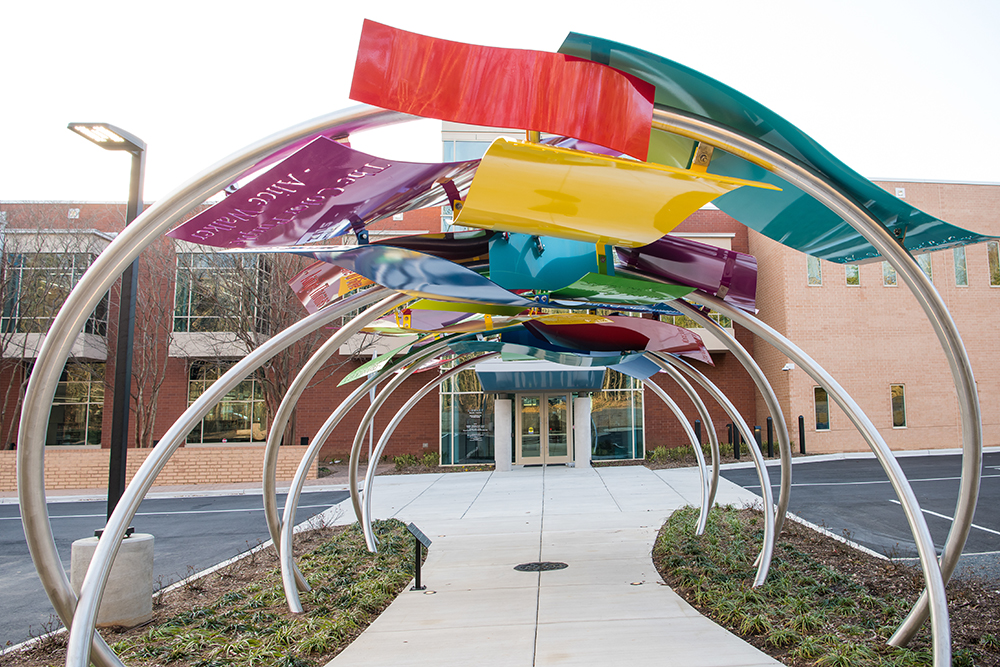 South County Regional visitors will also notice the new, interactive outdoor public art display Open Book, Open Mind by North Carolina artist and sculptor Jim Gallucci. The installment, made possible by the Arts & Science Council and the Public Art Commission in partnership with Mecklenburg County, is located at the Library's entrance and provides a welcoming and exciting walk through a whimsical canopy of colorful books featuring diverse authors and encourages visitors to explore and learn. The title of the work was chosen by the South County community and South County Regional staff chose the featured titles.
The entire location has been refurbished and reorganized to fit the needs of a growing community. Library hours of operation are Monday-Thursday from 9 a.m.-8 p.m., and Friday and Saturday from 9 a.m.-5 p.m. The branch is closed on Sunday.
New customers are encouraged to sign-up for a Library card online or at the branch.
Funding for the South County Regional Library renovation
Public funding for the South County Regional project was approved in 2014 by Mecklenburg County and cost approximately $11.1 million. The project was managed by Mecklenburg County's Asset and Facility Management Team, the architect was Liollio Architecture, and the builder/contractor was Edifice Inc. The South County Regional renovation is the fourth of recent projects for the Charlotte Mecklenburg Library system.
Celebrating the new South County Regional
Join us for a celebration of South County spirit May 16-22, 2021 with a week of assorted, themed activities for all.