Motivated by a passion for literature in her community, 18-year-old library volunteer Bre'Anna Clinkscales is a proud example of how a relationship with your Library leads to success. As a VolunTeen at the University City Branch, Bre'Anna is heading to Duke University in the fall of 2018. One of only 11 students to receive a full academic scholarship this year, Bre'Anna says this accomplishment was supported by the resources available with her library card. 
"I used tutor.com through the library to have a tutor review my college application essays before I submitted them," says Bre'Anna. Also, she adds many of the librarians were excellent resources for finding scholarships and references.  

Bre'Anna's future is as bright as she is. At Duke, she plans to pursue a degree in Biology and minor in Spanish, with an additional certificate in Child Policy Research. 
"My dream is to become either a pediatrician or a principal. I want to work with children in some capacity. In the future, I hope I am able to continue to impact the next generation," says Bre'Anna.  
For her, the Library is essential, even when she's enrolled at Duke University. "I believe I will continue to use the library services for college papers and research. The SIRS databases and other academic databases the Library provides access to will be an incredible resource while pursuing my degree. I will also continue to use the digital services, such as ebooks and Hoopla, for my own interests," adds Bre'Anna. 
"I've used the library since I was five years old," Bre'Anna reflects. "I believe my passion for reading motivated me to volunteer at the library. My time as a library volunteer has been a positive experience because I have been able to enhance my interpersonal and intrapersonal skills, better preparing me for a fulfilling life and career." 
Bre'Anna says a favorite memory of the Library was the first day her brother, David, joined her as a VolunTeen. "I was so excited to teach him how to shelve books, and also share my love and passion for literature with him. I was so happy he was following in my footsteps, and we would have time to improve our community and strengthen our bond."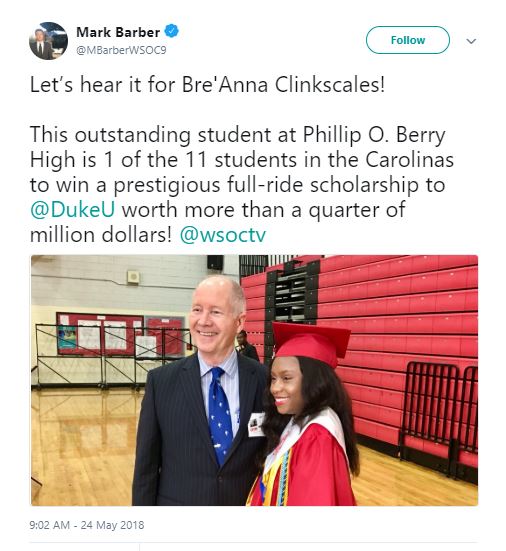 Native to Charlotte, Bre'Anna cares about inciting positive change in her hometown. Just before her graduation from Phillip O. Berry High School in June 2018, she was recognized by the Charlotte Observer as an All-Star Scholar nominee. The All-Star Scholars program recognizes students from across the Charlotte-region based on academic performance, citizenship, community service and extracurricular activities.  
"I chose to donate my time to the library because I am passionate about making a positive impact in my local community and increasing literacy rates in children." To anyone considering donating their time at a local Library branch, Bre'Anna advises, "Do it. It's a life-changing experience."  
Bre'Anna's creative spark and strong initiative is driven by her favorite quote from Mahatma Gandhi: "Be the change that you wish to see in the world." These famous words have inspired Bre'Anna to chase her dreams, and the Library has helped make them possible.  
Click here to find out more about the college resources available through the library.   
To check out Bre'Anna's favorite book, Kindred by Octavia Butler, click here.