Wednesday, August 29th, 2018
You know you can borrow books, movies, CDs, audiobooks and even e-books from Charlotte Mecklenburg Library. Now, thanks to a grant from the Institute of Museum and Library Services, the Library also lends podcast kits, free of charge, for up to three weeks.
All you need is a library card.
You've already got a Library card? Great! Keep reading to find out everything you need to get started on your podcasting adventure. (If you don't have a library card, what are waiting for? Apply online to get your library card today.)
---
Reserve your podcast kit from the Library
Each podcast kit is housed in a numbered suitcase (think Deal or No Deal), complete with a lending barcode for easy checkout. Inside the sturdy yet portable suitcase, you will find almost everything you need to podcast; just add a computer for the editing and hosting steps of the process.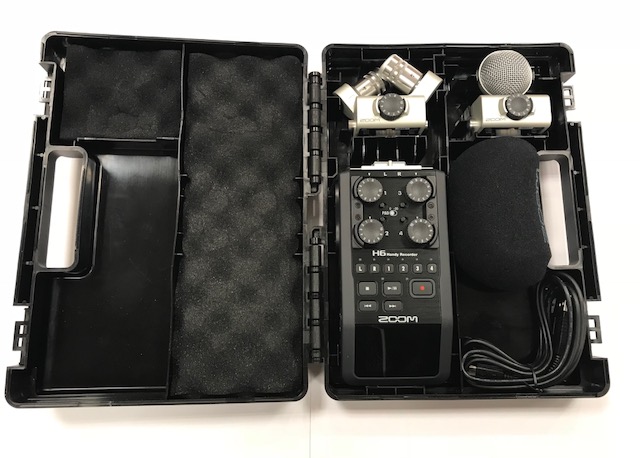 Kits include:
Four microphones
Three foam microphone windscreens
Two microphone cables
Two microphone stands
One H6 Handy Recorder (with manual)
One USB cord
One 64GB SD card
Kits also come with a set of instructions, including a list of valuable podcasting and library resources to help newbie podcasters get started on and complete a professional-grade podcast.
Podcast kits can be requested through the Library's online catalog, and can be returned to any library location.
---
Resources to get you started
If you are considering starting your own podcast, check out these library resources to learn how to walk the podcast walk before you try to talk the podcast talk.
The Value of Podcasts (available through Films on Demand)
Podcasts provide a powerful way for a businessperson to connect to a core audience. Entrepreneur Pete Williams explains how to create a podcast and use it effectively, why there is a market for podcasts for even a seemingly boring industry and how to measure the impact of your podcasts.
Lynda.com – Producing Professional Podcasts
You'll learn how to create a podcast to match any budget, using proven techniques that get listeners and results. Learn how to set up a small studio; record audio, video and even group video chats; edit your podcast; and create a podcast feed. The class is taught by Rich Harrington, who has produced, hosted, or consulted on several podcasts that are routinely featured as the best of iTunes.
Podcasting for Dummies
More people than ever are turning to podcasts for on-demand, mobile entertainment and information. Podcasting for Dummies offers a fast and easy way to get the know-how you need to produce and distribute one of your very own.
Podcast Master
Industry-leading broadcaster, Ben Green, provides a one-stop insider's guide to everything you need to know about hosting, editing and producing online shows.
Speak Out! Creating Podcasts and Other Audio Recordings
Readers ages 8-10 will find tips and instructions for creating and sharing audio recordings online.
---
Just add a computer
Once you have finished recording your audio, you'll be ready to take the next steps in your podcasting adventure by uploading the un-edited audio to a computer.
Need help with editing? We've got you covered. Check out these great (and free!) resources for professional-grade editing:
Audacity is a free, open source software that can be used on any computer (PC, Mac, Linux). The features of this program are robust and it has a plethora of resources generated from an active online community.
If you own or use a Mac, chances are you already have Garageband. This program is for Mac OS only, but it is robust and comes with a wide variety of features to support editing podcasts.
Wavelab IE requires an account, but the software is free and allows you to record up to three tracks per session.
---
Share your masterpiece
The Library would love to find out how customers used these kits to create podcasts or other audio projects. Be sure to let us know when you create your masterpiece, so we can brag on your accomplishments. Tag us on social media with #CMLPodcastKits and #CMLibrary.
As always, we are constantly working to improve our customer's experience with the Library and our programs and services. If you'd like to share your story, or provide feedback on your podcast kit experience, please let us know.
Best of luck on your podcasting journey!
---
These kits were made possible through the support by grant funds from the Institute of Museum and Library Services under the provisions of the federal Library Services and Technology Act as administered by the State Library of North Carolina, a division of the Department of Natural and Cultural Resources.