Wednesday, March 21st, 2018
Charlotte Mecklenburg Library's Children's Services Coordinator, Emily Nanney, was honored to serve on the 2018 Caldecott Selection Committee. Here, Emily shares her experience and the 2018 winners.
Serving on the 2018 Caldecott Selection Committee has been a professional highlight over the past year and a half. As a result of serving on the committee, I attended the past two American Library Association (ALA) midwinter conferences (in Atlanta in 2017 and Denver in 2018) and the Chicago ALA Annual conference in 2017, where time was spent working on the committee.
Beginning in 2017, I read and studied illustrated books published during the 2017 calendar year for children ages 0-14. Shipments of books to preview began arriving in the spring. It was so much fun to receive envelopes and boxes of books each week; almost 1,000 books throughout the year. I always looked forward to arriving home to see what books were waiting on the front porch for me. I examined and re-examined these books throughout the year. I also pored over new books from Charlotte Mecklenburg Library this past year since all books do not come directly to committee members.
The 2018 Caldecott Selection Committee was made up of 15 members from around the country, including Alaska and Hawaii. We were a diverse group with a variety of backgrounds and experiences. Our common thread was all of us loved and had a deep appreciation for children's literature and were committed to selecting the most distinguished American picture book for children published in 2017.
Our committee spent time at ALA meetings discussing, reviewing, listening and remembering to take time to look at each book in its entirety including: spine, dust jacket, binding, end pages, font, how illustrations and words work together, etc. Committee members submitted monthly suggestions from March-December and then nominations during October, November and December of 2017. We reviewed the nominations from all team members intensely during the winter and deliberated in Denver.
Deliberations took many hours over a Friday and Saturday. These high-level discussions, where all voices are heard, are highly confidential. We devoted time to each book during our deliberations and heard book positives and concerns. We voted, chose a winner and selected honor books. Once the vote was finalized, we spent time working on the press release on Sunday morning. Early Monday morning we met in closed quarters in an ALA press office at the Convention Center while we listened in as our chair announced the winners.
Calling the Caldecott Winner and Honor Books was an amazing and unique experience. It was such a pleasure to hear the winners' reactions and have an opportunity to cheer for them.
2018 Medal Winner
Wolf in the Snow 
Illustrated and written by Matthew Cordell
In this spare, nearly wordless picture book, a girl and a wolf cub each get lost in the snow and rescue each other. Cordell uses pen and ink and watercolor wash to capture the frenzied snowfall and the brave girl's frantic, frightful journey. Fairy tale elements and a strong sense of color and geometry offer an engrossing, emotionally charged story.
"Committee members were astonished that a deceptively simple book could be such a dramatic story of survival.
2018 Honor Books
Big Cat, little cat
Illustrated and written by Elisha Cooper
Simple and joyful domestic routines underscore the deeply entwined lives of two feline companions and the impact of loss on one.
Cooper uses expressive black-and-white line art with strategic, evocative washes of color to convey the reassuring circular nature of life. 
Sometimes a haircut is so much more than just a haircut. Sometimes a haircut makes you royalty.
A love-letter to the contemporary barbershop experience and the empowerment it affords. Gordon C. James' impressionistic oil paintings capture every bit of the bravado, swagger and joy of this African-American institution.
A Different Pond
Illustrated by Thi Bui, Written by Bao Phi
An early morning fishing trip between father and son provides food for that evening's dinner and time to reflect on a similar pond in Vietnam.
Bui's evocative thick black ink brushstrokes with graphic novel panels create a cinematic experience, powerfully capturing facial expressions, mood and quiet moments. 
Based on the experiences of both the Vietnamese American illustrator and author, this story depicts the immigrant experience as well as universal themes of family, love and survival.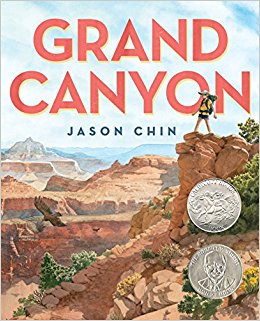 Grand Canyon
Illustrated and written by Jason Chin
An Asian-American father and daughter explore this national park, from the Inner Gorge to the South Rim. 
Chin uses watercolor, gouache and pen and ink to render sweeping landscapes, culminating in an epic gatefold panorama. Diagrams, die-cuts and field-guide inspired illustrations of animals, plants and fossils reveal the multiple layers of eons of formation.