Friday, January 17th, 2020
Did you know that Dr. Martin Luther King Jr. visited the Queen City in 1954, 1960, 1963 and 1966?  
Martin Luther King Jr. was born on January 15, 1919 in Atlanta, Georgia to Martin Luther King Sr. and Alberta Williams King. His father was a Baptist pastor and his mother was a former schoolteacher. Dr. King was highly intelligent and attended Morehouse College at age 15 to study medicine and law. He went on to earn his Bachelor of Divinity degree from Crozer Theological Seminary, followed by a doctorate in Systematic Theology from Boston University. He met Coretta Scott, a singer studying at the New England Conservatory of Music, who he married and raised a family beside in Montgomery, Alabama.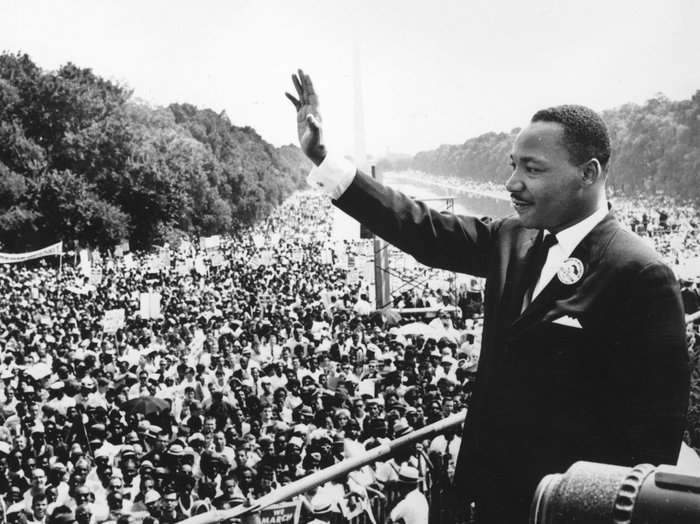 Dr. Martin Luther King (1929 - 1968) addresses crowds during the March On Washington at the Lincoln Memorial, Washington DC, where he gave his 'I Have A Dream' speech. Courtesy of Agence France Presse/Getty Images. 
Dr. King dedicated his life to ending racial segregation in a nonviolent manner. He had many accomplishments in his career, but he first became widely known for his efforts in the Montgomery Bus Boycott in 1955. In 1957, he founded the Southern Christian Leadership Conference (SCLC), and in 1963, he led the March on Washington where he delivered his famous "I Have a Dream" speech.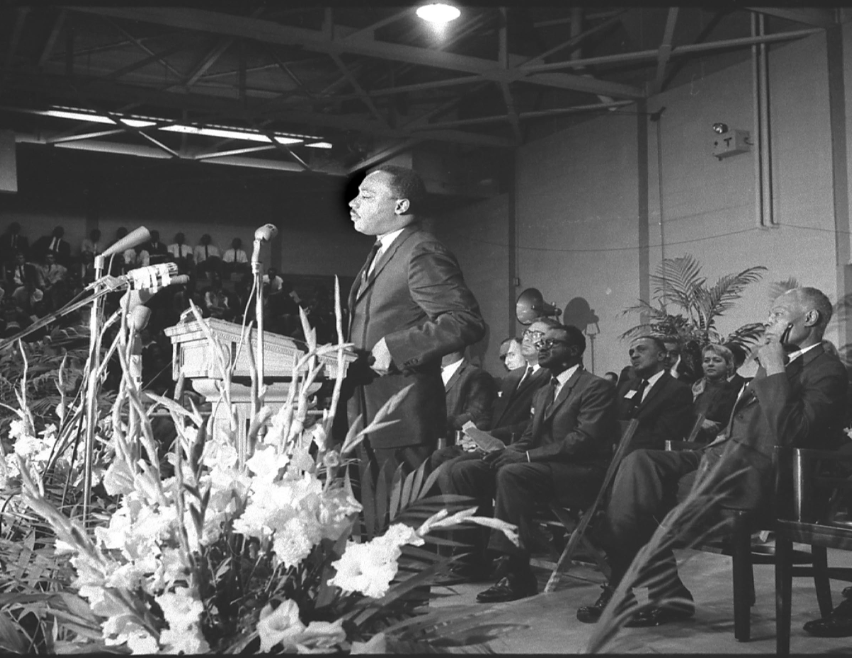 In May 1963, Dr. King visited Charlotte to speak to six black high schools during convocation. Ten days prior to his visit, Johnson C. Smith University (JCSU) students marched downtown to protest segregation.  Martin Luther King Jr. returned to Charlotte in September 1966 to speak to more than 3,000 people at JCSU about moral action and his opposition to the war in Vietnam. 
His dynamic leadership did not go unnoticed, as he received the Nobel Peace Prize in 1964. He played a leading role in the passing of the Civil Rights Act in 1964, as well as the Voting Rights Act in 1965.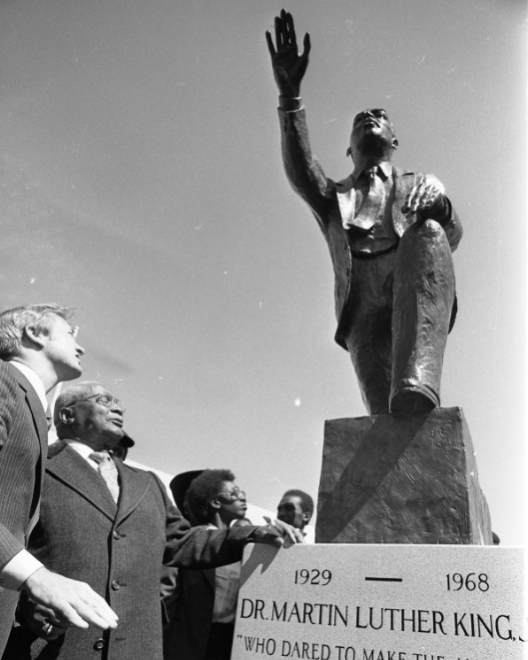 Dr. Martin Luther King Jr. statue in Marshall Park 
On April 4, 1968, Dr. King was assassinated in Memphis, TN while supporting a sanitation workers' strike. The evening before, he spoke at the Mason Temple Church: 
"I've seen the promised land. I may not get there with you. But I want you to know tonight, that we, as a people, will get to the promised land. And I'm happy tonight. I'm not worried about anything. I'm not fearing any man. Mine eyes have seen the glory of the coming of the Lord." 
In April 1980, the city dedicated a monument in Dr. King's honor in Marshall Park. The statue was sculpted by Selma Burke, the same African American artist who sculpted the Franklin D. Roosevelt bust that appears on the dime. Martin Luther King Jr. made a lasting impact on our nation and his sacrifices will never be forgotten. 
Main blog photo is of Martin Luther King, Jr.  surrounded by media in 1962. Photo courtesy of Getty Images/Ernst Haas.
--