Ah, summer. Lawn mowers are humming, tropical drink recipes are being Pinned, and parents are scrambling to find things to keep high-energy youngsters occupied. Now is the perfect time of year to turn to your Library for free inspiration. You've been doing a great job checking in with us already. Keep it up this summer by visiting us online or in person anytime you need a respite from the heat. (Our air conditioning is free.)
Here are a dozen ways we can help you stay cool in June.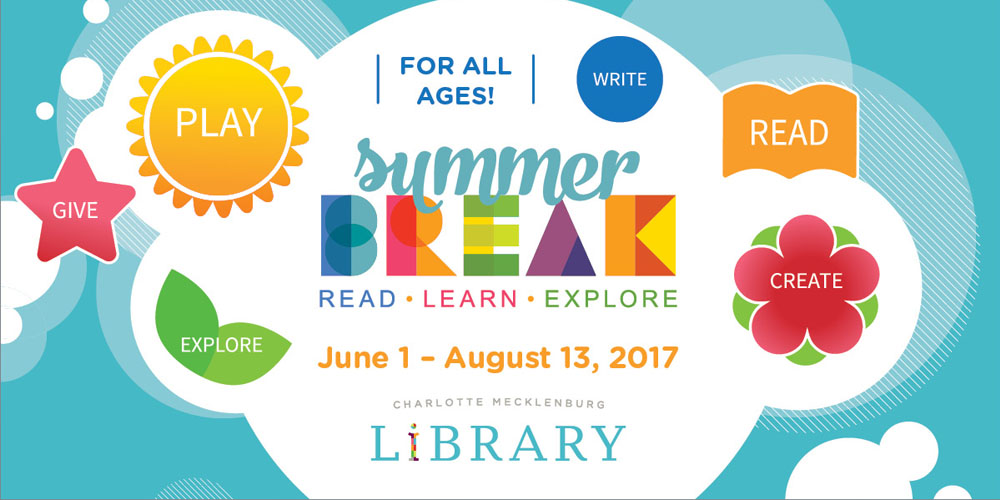 1. Read, learn and explore—with Summer Break.
June 1 to August 13
Challenge yourself to read and learn new things all summer long with our summer learning program, Summer Break: Read, Learn, Explore. You can even earn prizes or books for children in need in our community. It's free for all ages—kids, teens and adults —and it's easy to join. Learn more and sign up.
See the prizes we'll be giving away in week one!
This month, we're offering nearly two dozen Summer Break kickoff events—for kids, teens and adults. They include live music, science shows, balloon twisting, popsicles, BBQ, and more. Find a kickoff event near you. 
Summer Break is made possible by the generous support of PwC Charitable Foundation, Wendy's and Charlotte Mecklenburg Library Foundation.
2. Bring the kiddos to the Tinkertoy exhibit.
TINKERTOY®: Build Your Imagination™ 
May 20 to September 10 at ImaginOn | Admission: Free
This 1,500 square foot exhibit, targeted to children ages 3-10, offers young visitors the chance to enjoy a variety of activities that promote imagination and collaboration. Plan your visit.
The TINKERTOY®: Build Your Imagination™ exhibit was developed by the Betty Brinn Children's Museum incollaboration with PLAYSKOOL® and GE. TINKERTOY is a trademark of Hasbro, Inc. and is used with permission. © 2017 Hasbro. All Rights Reserved.
3. Focus on health at our Wellness Weekend.
Saturday, June 10 at Main Library 
Join us for a jam-packed day of free activities and presentations focused on health and well-being, with chair yoga, Qi Gong, Heartfulness Meditation, and essential oils—plus library resources to help you along your journey. Learn more and sign up. 
4. Explore our city's past, present and future.
Charlotte Time Capsule: A Public Commons at Main Library event
Wednesday, June 7, 12pm to 1pm | Main Library, 1st floor
Bring your lunch and join us for an hour of stories about our city's past, present and future, featuring perspectives from locals. Speakers include:
Brenda Tindal: Historian at the Levine Museum of the New South
Shelia Bumgarner: Robinson-Spangler North Carolina Room librarian
Susan Patterson, Journalist and former Knight Foundation program director
Moderated by Sam Shapiro, Charlotte Mecklenburg Librarian and Film Series founder.
This event is one of a series of pop-up events, as we prototype new ways to engage the community through Main Library programs.
5. Download an audiobook, to have a great read wherever you go.
Audiobooks are the perfect entertainment for all of your summertime activities, so it's fitting that June is National Audiobook Month! The Library has a variety of resources, both physical and digital, for finding the perfect audiobooks for your summer. Start listening.
6. Get a head start on our Community Read book picks.
Charlotte Mecklenburg Library has selected Today Will be Different, by Marie Semple, as the signature title for this year's Community Read. This book and similarly-themed titles chosen for younger audiences, will be the focus of events and activities taking place throughout the month of October.
The companion titles for younger readers are: The Sun is also a Star by Nicola Yoon (for teens), The Snowy Day by Ezra Jack Keats and The Day the Crayons Quit by Drew Daywalt (for children), and 11 Birthdays by Wendy Mass (for young readers). 
7. Escape the heat with a great (free) film.
Join us for our newest film series: TODAY WILL BE DIFFERENT: 12 Movies in "Reel Time," inspired by our upcoming Community Read, which this October will focus on Maria Semple's delightful book Today Will Be Different.
Each of the films in this series takes place within a 24-hour time span (or less). The series kicks off June 10 at ImaginOn with George Lucas'
American Graffiti
.
See the full lineup.
8. Get the inside scoop on Charlotte's hottest eateries.
Final Draught is a new quarterly themed speaker series, organized by the Library Foundation's Friends Council.
First up: Explore the evolving Charlotte food scene on Thursday, June 8. Come thirsty for the inside scoop on Charlotte's hottest eateries—and of course, food and drinks! Learn more. 
9. Keep your vehicle in tune. (You've got places to go!)
With so many people traveling during the summer, it's no wonder June is Car Care Month. Tune up your auto repair know-how with ChiltonLibrary. Whether you are a car enthusiast, studying for your Automotive Service Excellence (ASE) test, or just curious about that strange sound coming from somewhere in the darkness under the hood of your vehicle, the Library provides access to authoritative (and money saving!) auto repair guides with ChiltonLibrary. Read more. 
10. Nonprofit professionals, take your proposal to the next level.
Recognizing that nonprofits play a vital role in our community, Charlotte Mecklenburg Library is collaborating with Foundation Center to offer more learning opportunities for nonprofit volunteers and staff.
On Thursday, June 22, the Library will host Grant-Ready Program Development and Operations at the Main Library in Uptown Charlotte. This in-person training with non-profit and Foundation Center leaders Zohra Zori and Maria Azuri will teach you how to craft program designs and processes that will make your proposal stand out. Register now.  (Fee: $40 per person)
12. Download our app to have your library on the go.
Whether you're at the beach, on the bus, or in your own backyard, your library can be nearby. If you don't have the latest version of our app, download it today, and take your library with you. Search for cmlibrary wherever you download apps.
These are just a few of the many things your library has to offer! You can find much more by visiting our branches or browsing our web site. 
We look forward to seeing you at the library!