Thumbnail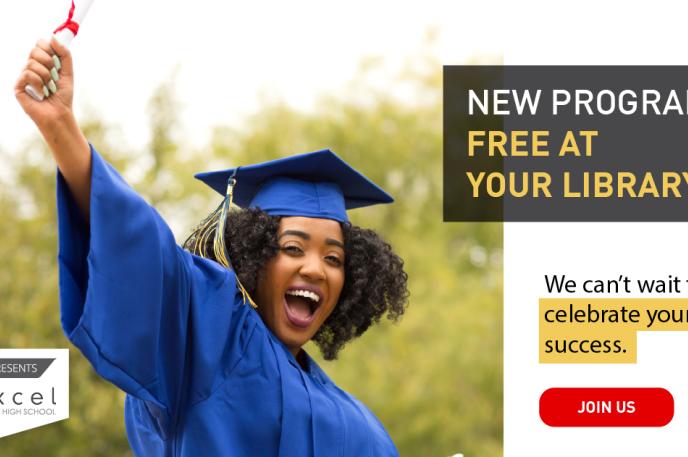 Earn your high school diploma for free at the Library
September 1, 2023
This blog was written by Chantez Neymoss, senior program manager for adults at Charlotte Mecklenburg Library
We are very excited to announce a new opportunity for adults - Excel High School! This is a new resource that will allow adults in Mecklenburg County to apply for a scholarship to complete their high school diploma. Applications will open on September 1st and will close on September 15th, or after we receive 100 applications.
What is Excel Adult High School?
The Excel Adult High School program is available in partnership with Gale. This resource is paid for by the library and offered at no cost for qualified adult learners to earn their high school diploma. It is a self-paced online program that allows students to transfer in existing high school credits and must be completed within 2 years.  The program is designed to help adults obtain their high school diploma entirely online, as well as prepare them for college or the workplace. As this is a pilot year, we will only be offering 5 scholarships.
Features of the Program:
The accredited high school diploma is accepted by colleges, employers, and the military (not an equivalency exam).
The 21.5-credit curriculum is aligned to national standards. Learners can select from more than 100 core academic, elective, and college-level courses.
There's no cost to eligible students.
The program is 100% online, with 24/7 access to courses.
The schedule is flexible and self-paced—learners can finish in 24 months or less. Students can graduate sooner with transfer credits.
Transfer credits are accepted from previous high school(s) and passed portions of the GED®, HiSet®, or TASC exams.
Unlimited one-on-one tutoring sessions and support from success coaches is offered.
Course translations and read-aloud tools for English language learners are available.
Students can earn up to 21 free college credits through ACE (American Council on Education) courses.
The counseling team can assist with course selection, college planning, or career guidance.
You can submit your application here: https://www.excelhighschool.org/library/charlotte
And please feel free to email us with any questions as [email protected].