Thursday, June 28th, 2018
PLEASE NOTE: ImagiCon has been moved to Main Library. We hope to see you July 21 from 10 a.m. to 4 p.m. for ImagiCon at Main Library in Uptown Charlotte.
Calling all superheroes, supervillains, super friends and super foes, get ready for a day of fun fandom celebration as ImagiCon takes over the Library.
ImagiCon, Charlotte Mecklenburg Library's third annual mini comic con, takes place Saturday, July 21 from 10 a.m. to 4 p.m. at ImaginOn. This family-friendly festival celebrates the culture surrounding comic books, graphic novels, anime, fandoms and gaming, and is geared towards fans ages 0-18 and their families.
With ImagiCon, the Library aims to provide a safe space for fans to explore their interests, find inspiration and learn about local industry careers and artistry opportunities.
Here is what you can expect to see at ImagiCon:
Workshops + Panels
Attend exciting activities for the entire family including a LEGO® panel discussion, Comic Drawing 101, DIY Constumes, Cosplay and more.
Special Guests
Browse artist tables, displays from local comic retailers, industry leaders in gaming technology and other local organizations.
Gaming
Participate in both vintage and modern electronic video and board gaming, including Nintendo, Sega, Super Nintendo, Xbox, PlayStation, Wii and many more.
Cosplay Showcase
Don your cape, tights and mask and stop by Studio i in The Teen Loft to participate in our Teen Cosplay Showcase.
Children's Activities
Spangler Library will host a variety of activities throughout the day tailored specifically to fans ages 0-11. This includes a Superhero Storytime, Superhero Story Explorers, cape and mask stations, a superhero movie marathon in The Block and a cosplay parade.
Featured Guests
2nd and Charles
501st Carolina Garrison
Advertising and Graphic Design at CPCC
Be Your Own Hero Cosplay
Bots of War
Dr. Michael Kobe
Hayley Burson
Holly Raychelle Hughes
Jonathan Reyes
Kenya Sloan
Kev Lyely and Rodney Traynham
Mary Jane Capps
Murphy McCully
North Carolina LEGO® Users Group
Piper Nelson
Queen City Harry Potter Alliance
Soby Doodles
The Charlotte Geeks
Twitch Charlotte
UNC-Charlotte ESports
UNC-Charlotte Special Collections
Your Local Game Store
Schedule of ImagiCon Fun
(Schedule is subject to change as we add more fun to the day!)
Children's Schedule
All Day | Design a Cape | Spangler Library
All Day | Design a Mask | Spangler Library
All Day | SuperHero Scavenger Hunt | Spangler Library
All Day | SuperHero Movie Marathon | The Block
All Day | SuperHero Rock Scavenger Hunt | Spangler Library
10:30 a.m. | Superhero Storytime | Spangler Library
11 a.m. | LEGO® panel | The Round
11 a.m.-Until | Wand Making |Spangler Library
11 a.m.-3 p.m. | Face Painting | Spangler Library
12 p.m. | Kids Cosplay Zone | The Round
12:30 p.m. | Kids Cosplay Parade | The Round
2 p.m. | SuperHero Story Explorers | The Round
Teen Schedule
10-11 a.m. | Guess That Anime | Studio B
10-11:30 a.m. | Cosplay Showcase | Studio i
10 a.m.-2 p.m. | Video Game Room | Studio A
10 a.m.-2 p.m. | Bots of War | Tech Central
10 a.m.-2 p.m. | Artist's Alley | The Teen Loft
10 a.m.-2 p.m. | Now Showing: Crunchyroll | Computer Lab
11 a.m. | Workshop: Discussion on Understanding Comics | Studio C
11 a.m. | Panel: Hail to the King | Board Room
12 p.m. | Cosplay Voting | Studio i
12 p.m. | Panel: Streaming on Twitch | Board Room
1 p.m. | Workshop: Cosplay on the Cheap | Studio C
2 p.m. | Panel: What is Esports? | Board Room
2 p.m. | Workshop: DIY Comics and Graphic Novels | Studio C
2-4 p.m. | Now Showing: Black Panther | Studio B
3 p.m. | Panel: History of Comics | Board Room
---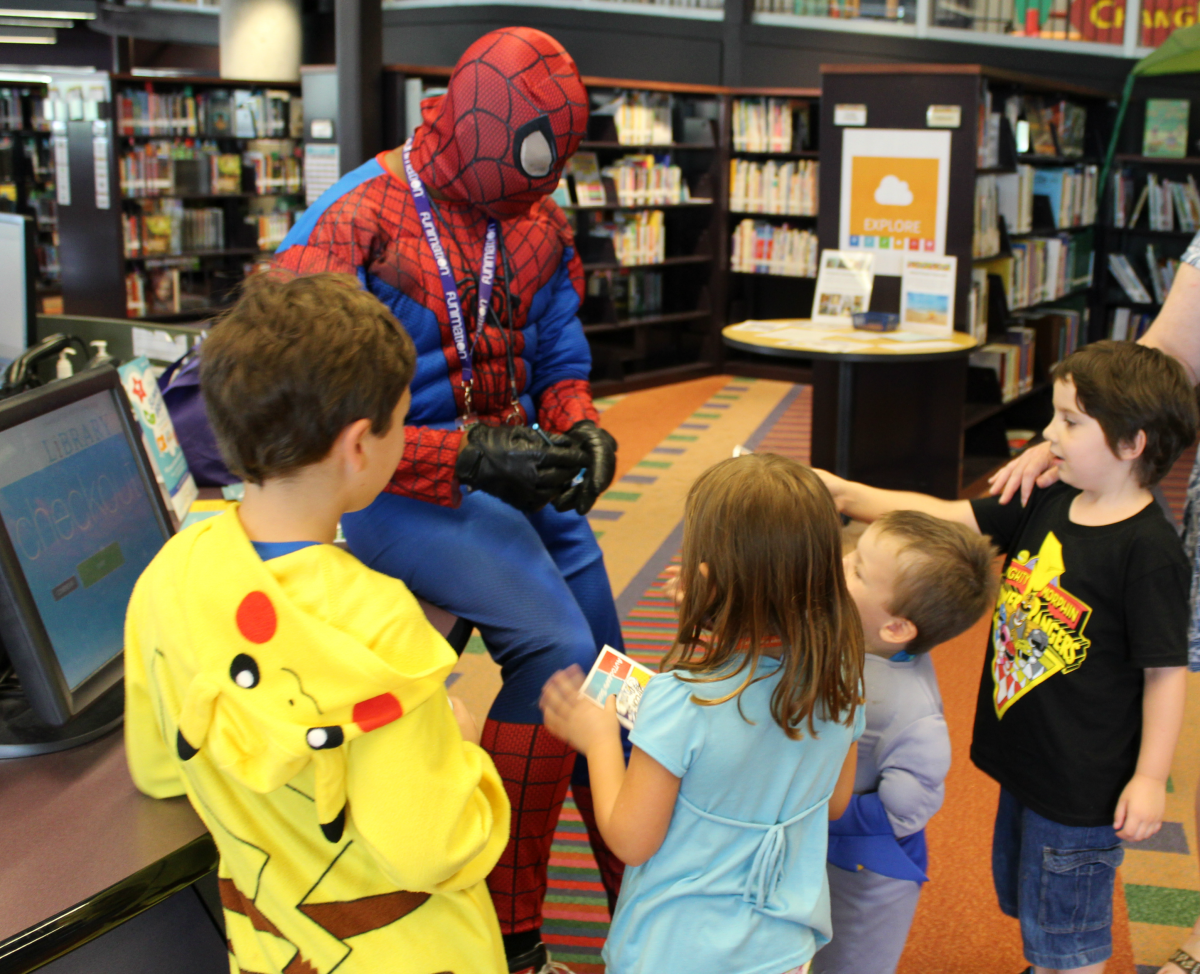 Charlotte Mecklenburg Library is where many young people are first introduced to comics through the graphic novel and manga collections house as all 20 locations. ImagiCon aims to recognize and celebrate this interest in comics and grow the audience for the genre.
Admission to ImagiCon is free. Costumes are not required, but strongly encourage.
We hope to see you at ImagiCon on July 21!